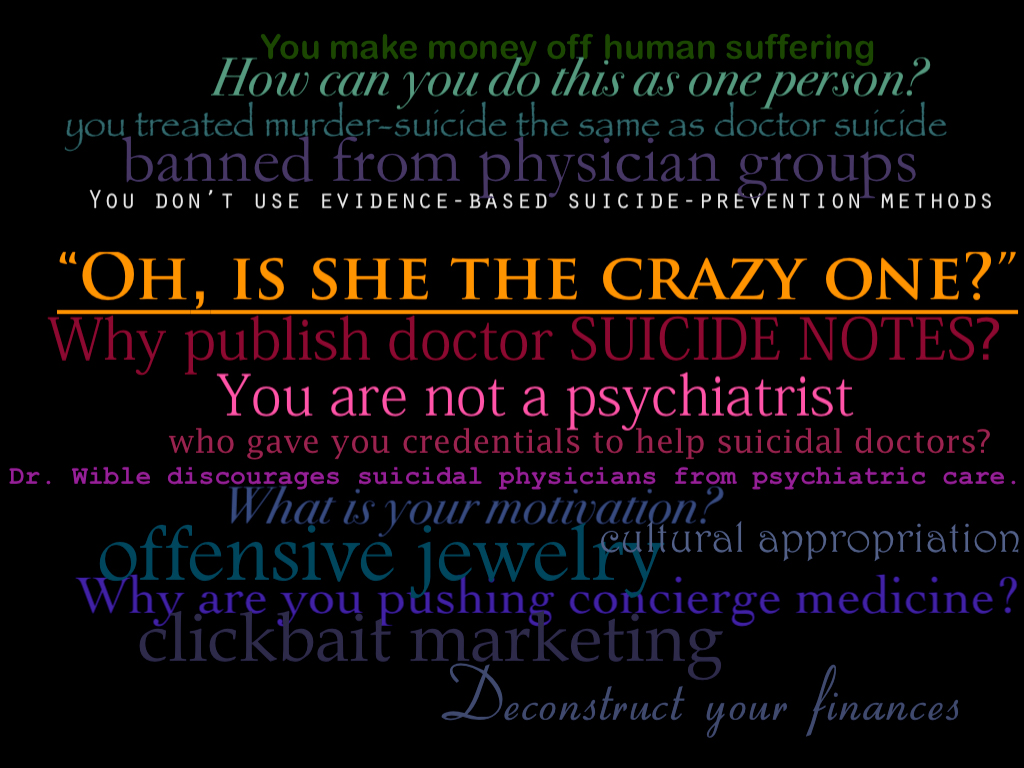 My request: Since 2012 I've dedicated my life to the doctor suicide crisis. Yet not everyone is in favor of what I'm doing. Some feel I'm unethical, insensitive, greedy—even a "nutcase." I'll now formally respond. I don't need your compliments. I don't need you to like me. Now is your chance to share your concerns (or things you hear others saying about me when I'm unavailable to respond). Be brutal.
I've organized all criticism I've collected over the years plus feedback received from my social media request above. Here are my responses.
1) Why respond to haters? I'm open to all criticism. If you didn't care you wouldn't engage at all. Even "haters" have something to teach. I've not always had time to address objections online so I've taken several days to collect criticism and formally respond. Conflict resolution requires honesty not ad hominem attacks. Caveat: I prefer speaking by phone or in person (online communication is prone to misinterpretation and devolves quickly—especially with emotional topics as suicide). For concerns that remain unaddressed, contact me here.
2) What is your motivation? My primary motivation is to end medical student and doctor suicides, eradicate human rights violations in medical training, and help all health professionals live their dreams in medicine. Why do I care? I lost both men I dated in medical school to suicide and nearly lost my own life to suicide as a physician. I feel compelled to understand why doctors are dying by suicide. Many feel oppressed—even abused—by their employers. Leaving assembly-line medicine and launching my own ideal clinic resolved my suicidal crisis. Restoring physician autonomy is one solution (among many) for doctors trapped in a toxic medical system. Plus I love liberating physicians to live their dreams and care for patients the way they always intended.
3) How can you do this as one person? You are modeling something that can't be healthy—being on call for all the doctors and medical students in the country (the world?) who might consider suicide. If your work is to be sustainable (and all our lives depend on it, in some way) you need to be sharing your workload and training your replacements. Maybe you already are. Show us. You are correct. I can't be on call for all medical students and doctors in the world—and care for myself. I never intended to be on call for doctors 24/7/365. I keep responding to emails and calls while training psychiatrists who will be providing telemedicine to physicians nationwide. Some are dedicating their entire practices to medical students and physician trainees (with housecalls for doctors—100% confidential!).
4) What about helping doctors' wives or husbands? What about nurses and veterinarians? What about the opioid crisis? While I'd love to solve all the world's problems, I'm one person. My goal is to remain congruent with my primary motivation (see question #2). By preventing doctor suicides and helping physicians live their dreams in medicine, life will be better for physician families—and patients will be more likely to receive ideal medical care. I'm hopeful that our success in physician suicide prevention will help suicidal nurses and veterinarians too.
5) You recommend DPC too heavily. DPC is not an option for everyone. Why are you pushing concierge medicine? Physicians assume I practice DPC or concierge medicine. I don't. I accept insurance. I submit claims on behalf of my patients. I've been in network with most insurance companies in my private practice. I also welcome uninsured and I've never turned anyone away for lack of money since launching in 2005. I don't charge extra fees. I'm not pushing any business model over another. When physicians need my business advice, I help them choose the right business and payment model for them. There's no one-size-fits-all model. I'm currently working on effective solutions and interventions for specialists and hospital-based physicians. Stay tuned.
6) I thought you had a map of ideal clinics on your website. I can't find it. Patients across the country often request referrals to doctors. I had a map on my site listing ideal clinics. I found it challenging to track all the clinics and—more importantly—I don't certify ideal clinics and can't guarantee that health professionals on the map are practicing medicine in a way that I deem safe. I no longer offer a map of ideal clinics. If you're looking for an independent, holistic, or ideal clinic, just Google your town plus keywords important to you, then review websites and meet the doctor to see if you two are a good fit.
7) Recently a colleague asked what prompted me to consider leaving my job. I told him about your story and how little you spent to start your own practice. He responded with, "Oh, is she the crazy one?" Apparently you'd gotten a reputation. I responded, "Crazy or not, she's a lot happier than you right now." He didn't have much to say after that. How do you respond when physicians call you a nutcase? My feelings aren't hurt easily so I respond to attacks with genuine curiosity. Recently a 28-page Facebook PDF was leaked to me with vicious attacks ("Fuck her" "This woman is a nut job") from a private forum in which mainly female physicians seemed to be seeking reinforcement for their views about my character (without ever speaking to me). Physicians rarely criticize me to my face. I'd welcome that conversation over dinner (my treat). Instead, doctors lash out with "she's crazy" comments online. Physicians who cast vitriolic attacks on me are often unwilling to identify themselves by name therefore it's challenging to engage in a real conversation. When invited for a phone call, they decline. Attacks without honest conversation are counterproductive. Of course, the most counterproductive physician behavior is infighting among doctors who attack each other (I don't feel singled out). While third parties profiteer off physicians—divided and conquered—we perpetuate our own cycle of abuse by failing to unite amid common goals. I hope my responses here will forge relationships with those who have previously misunderstood my motives. Several older male doctors have apologized for calling me a "nutcase" and thanked me for my dedication to physicians so I'm ever optimistic.
8) How about not using the term "nutcase." It is unprofessional and stigmatizes mental illness. You of all people should know better. (I am being brutally honest per your request). I avoid terms that stigmatize mental health. "Nutcase" is given as an example of the character attacks on me.
9) You are not a psychiatrist so what gives you the credentials to help suicidal doctors? I never intended to devote my life to suicidal doctors. When I began writing and speaking about doctor suicides, I was inundated with physicians asking me for help. Physicians tell me they're grateful I'm available in the middle of the night when they're struggling. I often get emails that start with the line: "I would have been one of your statistics, but . . ." and doctors share that my blog, video, or returned call saved their life. Although I'm not a psychiatrist, I'm compelled to continue given their feedback. Of course, I recommend physicians have a local psychiatrist. I do not give medical advice. I am not their psychiatrist. One reason my peer-to-peer support is so effective is that I avoid pathologizing doctors. I validate their experiences. I've heard hundreds of tragic accounts of punitive, pathologizing responses to doctors who need help and instead are harmed by PHPs and administrators ever ready to scapegoat our doctors.
10) What referral sources do you use for physicians in distress? My initial call may be two hours or a few minutes when I'm between patients in my clinic. Often I follow up with struggling doctors and may speak with their family members. If suicidal, doctors must be under the safety plan of a local psychiatrist. I don't always have names of local resources in each city though I'm amassing a list of psychiatrists available for physicians via telemedicine. For those with legal issues needing representation with an attorney, I have several I recommend. For those with malignant program directors, facing termination from residency, workplace sexual harassment, or in the midst of complex interpersonal relationships at home/work, I recommend a consult with Sydney Ashland who has great success with physicians in these situations. I favor referrals to those with excellent outcome-based results. I've personally met with all the attorneys and psychiatrists I refer to and have known Sydney Ashland since 2009 as her client. I've witnessed her success with my own complex patients and hundreds of physicians firsthand for more than a decade. Many professionals I utilize will fly out to see physicians personally or be available for emergency sessions by phone or Skype. Several offer free consultations or discounted fees for students. I've never charged any fee for my thousands of phone calls with struggling doctors and med students since starting my helpline in 2012.
11) My only concern was when you treated a murder-suicide in the same category as a doctor suicide. It was the one where a doctor murdered his wife then himself. To me that seemed more along the lines of abusive marriage turned homicidal. Why don't you separate murder-suicides from suicides? I compile and investigate all doctor suicides regardless of whether preceded by homicide. To remain congruent with my mission of preventing doctor suicides, I avoid vilifying suicide victims—despite innocent lives sacrificed. After investigating nearly 1200 doctor suicides, I believe the cycle of abuse in medical training destabilizes doctors—particularly during residency. This cycle of abuse—often internalized by the victim and reinforced by our profession—is passed right on to their own family. I'm now aware of a Facebook group for domestic abuse victims married to physicians. If doctors were protected by labor laws and assured safe working conditions that protected their rights and encouraged non-punitive mental heath care, I bet there wouldn't be so many neglected/abused physician spouses and children. Just a thought. Not excusing any crimes against humanity (whether perpetuated by hospitals or individuals).
12) What are the human rights violations you keep referring to in medical education? Extreme sleep deprivation, 80+ hour work weeks (many working more and forced to lie on hospital computers about their "work-hour violations"), lack of access to food/water, lack of HIPPA protection when seeking mental health care, lack of protection by ADA, invasive licensing mental health questions, censorship, sexism, racism, bullying, hazing to name a few.
13) What's your problem with the word burnout? Burnout is 1970s slang for end-stage drug addiction—now weirdly applied to doctors. Physician burnout blames the victim not the medical system rampant with human rights violations that injures doctors—and patients. Physicians have the highest suicide rate of any profession and "burnout" distracts us from eradicating human rights violations that lead to physician suicide, PTSD, anxiety, depression—when our doctors are overworked, sleep deprived, bullied, hazed and mistreated in manners illegal in other industries. Meanwhile burnout is a cash cow for physician predators—all the burnout coaches teaching docs to take deep breaths and keep gratitude journals amid the abuse. Instead of eradicating abuse, medical institutions appoint "Chief Wellness Officers" who force "wellness modules" on the overworked while telling doctors they must have "burnout." Please view 2-minute video below:
14) Detail the ways in which you avoid publicizing the death of a physician, when the family asks that you do so. There have been 3 instances since 2012 when I've been asked by a family member to remove a public photo, post, or blog about a loved one as detailed below:
1) In 2016, a woman inspired by my work on physician suicide reached out to me. Her father—a surgeon in the prime of his career—died by suicide in the 1960s. After several emails and phone calls, we became friendly. She sent photos of her dad and requested he be honored in the Do No Harm film Wall of Remembrance. With her approval her father was also included in a few lines of a blog. When the Washington Post asked to publish my blog, she decided against including him in the article and the film. Her wishes were granted immediately by me and by the filmmaker.
2) In 2017, I published a RIP Facebook post about a resident in the week after his suicide. Upon the request of a family member I removed the post.
3) In 2018, I received a flurry of emails commanding me to take action in the aftermath of a physician suicide in NYC. One was from an executive at the hospital and others were from residents and their families who live and work with the victim who stepped off the 33-story building. I was told to lead a candlelight vigil for Dr. Deelshad Joomun. She was here on J-1 Visa and her family lives overseas in Mauritius (She is the second doctor from Mauritius to step off this same building in 2 years). I had no intention of inserting myself in the aftermath of her suicide, yet I was inundated by emails begging for my help. So I flew to NYC and led her candlelight vigil and 10-hour memorial exactly one week after her suicide. Read her eulogy here and article by her friend, a journalist with Refinery29 here. Turns out Deelshad was the third in a cluster of suicides at Mount Sinai and staff told me that if any reporters attended Deelshad's service they'd be arrested. I was disturbed by the secrecy around her suicide. After posting her eulogy, I was contacted by her family who claimed she died in a car accident despite video surveillance from the rooftop. Some family members asked me to remove her eulogy and other family members requested I leave the eulogy online because "the world has to know how doctors are treated by the medical system in the US and I am wondering whether we have cause for filing legal action against the hospital." After weighing censorship versus the need to honor suicide victims and hold hospitals accountable, I held firm in my posting of Deelshad's eulogy.
15) Have suicides really been covered up by medical institutions and families? We've known about the high doctor suicide rate since first reported in 1858. More than 160 years later, root causes remain unaddressed—largely due to secrecy and censorship by medical institutions and families. Thankfully many families are now speaking out. Progressive medical institutions are discontinuing censorship policies around medical student and physician suicides and helping students and staff grieve in the aftermath of suicides.
16) Families have a right to hide doctor suicides. It's a private matter. Have respect for the family. Approximately 400 US doctors die by suicide annually—the size of an entire medical school of students lost. This number—considered an underestimate by researchers—doesn't include medical students dying by suicide. Each doctor (depending on specialty) cares for 2000 – 3000 patients so each year (do the math) more than one million Americans lose their doctors to suicide. Physician suicide is a public health crisis and must be treated as a public health crisis with accurate data, body counts, and real investigations. Families (and medical institutions) don't have the right to shield the truth during a public heath crisis. We need facts.
17) Do you ever release names of suicide victims before the family is notified? I've never released a victim's name before next of kin are notified. I don't share detailed suicide stories that have not already been released by media or approved by family. I've not publicized information about physician suicides when families request this not be revealed. Police from multiple states have explained suicide protocol to me. In the aftermath of a suicide, the body is identified through a friend/family member/neighbor and/or police on a welfare check. Police secure the scene by removing firearms and then make a "courtesy call" to the family. They investigate, identify a suicide note if present, interview family, neighbors, witnesses, and write up their report that is available as public record through the Freedom of Information Act. All suicides are public record. Moving forward, I'm adopting policies that most media outlets use which is to report on suicides. I always do so after families have been notified.
18) If you're going to be so cruel as to blame families for their loved one's suicide, you really need to have ironclad evidence to back up your assertions. I have never blamed a family for their loved one's suicide.
19) How do you support families in the aftermath of a physician suicide? I'm extremely close to many of these families. Most suicides in my presentations are from families that have granted permission and are thankful that I am sharing their loved one's life. I started a Facebook support group for families who lost loved ones to suicide in medicine. I've facilitated support calls and even led all-expense paid retreats for family members in the aftermath of losing a loved one to suicide.
20) Why must you publish doctor suicide notes? Publishing physician suicide notes is gross and over the line. It is triggering and upsetting because so many of us have lost classmates and now you're making money on that book. On their pain. That makes you like the Jerry Springer of doctors. In my book—Physician Suicide Letters—Answered, I have approval from all families that contributed notes. Few are actual suicide notes. Most are letters between me and suicidal doctors—still living. All book proceeds are used to prevent suicide, run the helpline, offer retreats to survivors and families. Doctors are great at documentation and they often leave clear reasons for suicides in their notes. To stop the doctor suicide epidemic, we must analyze their notes and take action to ameliorate the conditions leading to doctor suicides. Burying notes with victims does nothing to advance our understanding or prevent suicide. In India, doctor suicide notes are read on the evening news and those responsible for tormenting the victims are brought to justice immediately. Secrecy won't solve a public health crisis.
21) You are not supposed to share how someone died by suicide. If we never studied the method of suicide, how could we prevent doctor suicides? Suicide methods vary by region and gender. Women prefer to overdose. Men choose firearms. Gunshot wounds prevail out West. Jumping is popular in New York City. In India doctors are found hanging from ceiling fans. Male anesthesiologists are at highest risk of any gender/specialty. Most die by overdose. Many are found dead inside hospital call rooms. Doctors jump from hospital windows or rooftops. They shoot or stab themselves in hospital parking lots. They're found hanging in hospital chapels. Physicians often choose to die where they've been wounded—often inside hospitals. I don't share gruesome details or sensationalize at the expense of accuracy. Just the facts. Without the facts, how are we to solve this crisis?
22) Media guidelines recommend the opposite of what Wible does—they say don't use sensational words like "epidemic" or "crisis." How can we solve a public health crisis if we can't use the word crisis? Why minimize and censor a lifesaving conversation?
23) Publicizing suicide can trigger copycat behaviors in others. One hesitates to say such an awful thing, but she wanted brutal honesty. What if failing to use journalistic best practices to report on some of these physician suicides heightened the risk for some of those who were on the brink? One side effect of prescribing anti-depressants is suicide. Does that not mean we stop prescribing anti-depressants? No. One side effects of reporting on suicide may be triggering those on the edge. Does that mean we censor suicides? No. Censoring physician suicide for more than a century is not an effective awareness or prevention strategy. I've chosen a more honest (albeit controversial) method of addressing physician suicide by collecting real data and sharing lessons learned from more than one thousand case histories of doctor suicides. Media guidelines that censor suicides have undermined our ability to address this crisis. As scientists we must analyze each suicide and determine the actual reasons we're losing our colleagues. My mother, a retired psychiatrist, used to ask me each day after work, "Have there been any copycat suicides today?" Her way of ridiculing the notion that breaking through the suicide taboo with the truth would harm doctors more than censorship.
24) Please focus on the causes of suicides instead of on posting so immediately and bluntly ALL the time about the suicides. I think it's okay to do that sometimes, but a shift toward more energy on holding accountable those who generate the cultures or are complicit in them might be a better strategy. I totally agree.
25) Dr. Wible discourages suicidal physician from seeking psychiatric care. Untrue. Anyone who is suicidal requires safe and confidential psychiatric care.
26) You don't use evidence-based methods in suicide prevention. The only evidence I need is feedback from people who claim something I did prevented their suicide. I do more of what helped saved their life. If someone claims a desire for self-harm from something I did (and I've never received such feedback), I'd avoid repeating that.
27) Dr. Wible reinforces the narrative that physicians with mental illness are not fit to practice medicine. She states repeatedly on her blog that if you have a history of anxiety or depression, you shouldn't pursue a medical career. All potential medical students (and their families) must receive informed consent of the mental health risks of medical education and practice. Am I concerned when a premed student with a history of suicide attempts and IV drug use wants to pursue anesthesiology? Yes, and I share my concerns and advise them accordingly. Yet the choice to pursue medicine is their decision. Many physicians suffer from mental illness. Most are occupationally induced or exacerbated. All physicians require confidential mental health care. Since 2012 I've devoted most of my life to helping physicians with mental illness get the care they need so they can continue practicing medicine—safely. Mental illness does not equal impairment.
28) Dr. Wible implies that taking psychiatric medications is somehow a marker of personal or professional failure. Taking appropriate medication for psychiatric illness is never a personal or professional failure; however, when the majority of medical trainees are on stimulants, anti-depressants or both just to make it through the day, that is a marker for failure of the medical education system.
29) Why are you encouraging medical students to drop out? Dropping out of medical school is not a failure—it's a legitimate option for anyone that doesn't feel medicine is the right fit. Students should be helped, not hindered and shamed to remain in a career that increases their misery and risk of suicide.
30) I lost a great deal of respect for when you embraced clickbait-style marketing techniques for suicide prevention. I brought this up previously and feel you brushed me off.  I'm certain that I did not thoroughly respond to your concerns as evidenced by the fact that I'm having to look up the definition of clickbait marketing—desperate for attention, marketers are resorting to quick-hit emotional headlines to generate clicks—whether or not they actually have something meaningful to say. Absolutely I tried everything to get medical students and doctors to click on articles that I knew could help save their lives. My headlines are emotional (how could they not be when dealing with suicide?). After writing this article How to graduate medical school without killing yourself I got this letter:
"Dear Dr. Wible, I'm not sure you read your [Facebook] messages but feel compelled to thank you. I was finishing term two of med school and had a bottle of Xanax in my hand. I was ready, as so many of us are. I took three then three more and came across this link, "How to graduate medical school without killing yourself " which I believe may have saved my life and a couple of close friends who are also suffering. I'm near the top of my class and praying for death to escape the trap I'm locked into. I was in true delirium from lack of sleep and fear of failure. Studying in my sleep and waking up every hour in panic. Med school is doable but why must it be taught in this format? I read your stories and I'm just in shock how many others feel like I do or I feel like they do. Please keep sharing. You are saving lives, friend. Chris"
After reading this letter, I spent $3000 boosting this blog on Facebook to medical students. I'll spend any amount of money and create any headline that will save the lives of medical students and doctors. I have an overwhelming sense of urgency to reach these students. Put yourself in my shoes for a few minutes: I'm on the phone with a mom who lost her only child to suicide in med school and she tells me, "If my son would have attended your retreat, I think he'd still be alive" I'm thinking she's probably right. So how the heck am I going to get all these med students to my retreats? I've spent at ton of money to reach these people. FYI: suicidal medical students get scholarships to retreats so spending thousands of dollars on marketing med students is a huge financial loss for me.
If clickbait marketing saves even one life, I'll do it. Do the lives saved from clickbait headlines outweigh the risks of weakening my credibility? Would more people be alive if I used a more conventional academic headlines? Would Chris have completed his Xanax overdose without an emotional clickbait headline? I'll have to ask him.
31) Using sleazy promotional techniques pioneered by multilevel marketers and internet pyramid scheme peddlers to prevent suicides has damaged Dr. Wible's reputation. My motivations are pure (see question #2). Don't kill the messenger or lifesaving message over marketing techniques utilized with genuine intent to save lives.
32) You are making money off of human suffering. All doctors make money off human suffering. I've never charged a med student or doctor for mental health help. Never. I make money in my clinic by helping patients with human suffering like all doctors and by providing business strategy to help doctors launch independent practices. (please see deconstructing my finances at end).
33) Dr. Wible is wearing the wrong clothing, has the wrong hairstyle, offensive jewelry and has cultural appropriation issues. In 2013, I was first criticized for my clothing, hairstyle, and jewelry after my article "Why I'm Loving Private Practice" was published in a medical journal. In a letter to the editor, a male clinic manager in Chicago wrote:
"I don't know about you but I don't want to see my physician with frilly hair, dangly jewelry, Levis and clogs—look professional for goodness sake! Hasn't she ever heard of the physician placebo effect? Look like you know something. You are not the patient's mall shopping buddy, you are her physician."
My response:
"The patriarchal medical model is becoming obsolete. The traditional doctor draped in a white coat is not so favored by patients. People today value authenticity over authoritarianism. My clients want the real me—the Pamela with frizzy hair, tribal jewelry, comfy Levis, and colorful clogs. A recent thank-you card reads, 'It is so refreshing to meet a real doctor with a real personality.' A man shares, 'Well, I for one would love to see doctors in less formal wear. I hate the overly stuffy and holier-than-thou look of what should be bygone days.' Times are changing. Patients don't want one-size-fits-all medicine or cookie-cutter doctors. Let's be real. Compassion, intelligence, and authenticity will always be more therapeutic than a placebo outfit."
After my TEDMED talk on doctor suicide, I was chastised again for my outfit, hair, and jewelry. Meanwhile men get up on stage wearing backward baseball caps, ripped-up jeans, and flip flops and the audience bows to their expertise. When my necklace is the only ammunition my adversaries have left, maybe that means I've prevailed.
34) I feel like ripping the bindi off her face without a fucking clue what the significance of the symbol is. Shameful cultural appropriation of the Indian culture is extremely offensive and inappropriate. Your message is lost when you pull those kind of antics. Symbolism of Indian spirituality should not be a branding commodity. First, it was never my idea to start wearing bindis until medical school when my entire social circle were students from India. They encouraged me to wear bindis and their saris to parties. I dated 2 men from India and was engaged to one who I dated for 3 years. We were planning a wedding in India. His family in India wanted me to wear the bindi and traditional attire—even daily. I'm a spiritual person who subscribes to much of Hindu philosophy and they were thrilled that I was vegetarian, speaking in Hindi, singing the bindi song which I still know by heart. Now suddenly I am being disrespectful to an entire culture that welcomed me with open arms—encouraged me to dress this way everyday. I guess since we decided not to marry but remain friends, the bindi must be "fucking ripped" from my forehead by a female physician who doesn't even know me. I've been told by Indian women doctors that I can only wear a bindi to an Indian function but not while advertising my "brand." I'm not advertising any brand. I'm being me. I've been wearing glitter and sparkles and bindis since 1990 without any flak from anyone. Now that I'm on the taboo topic of doctor suicide, my 5 millimeter bindi is suddenly offending an entire culture.
35) You don't dress or behave like the female doctors that taught me in residency. I've been told I'm not a "cookie-cutter" doc. Though casual in my appearance, I'm very conservative and cautious in my medical decision-making. I'm an eccentric, fearless free spirit at my core (and that makes physicians who prefer predictability and structure nervous). I'm also very loving and committed to people and causes that I hold dear. I will move mountains to help others.
36) Physicians undergo residency training because it's absolutely necessary to practice medicine safely, competently. Telling people to try to find shortcuts through or routes around that process does not get them to the same endpoint as going through it properly. It is easy and expedient, to encourage people to enter practice with only a year of training, or to try a back door approach like opening an unsupervised NP practice in one of the states that allow that travesty. Far easier and faster and headline grabbing than seeking to impose higher standards on medical training with regard to resident wellness. Telling doctors to drop out and open their own clinics is an effective solution for some of those docs, but it ignores and even undermines the work that needs to be done to really fix the broken healthcare system. We agree the entire system needs to be revamped. We agree some doctors launching their own clinics without completing residency is an effective solution for them and their patients. There is a bottleneck in medical education that allows unmatched med school graduates to be unemployable in clinical medicine while NPs with lesser education launch independent clinics unsupervised. Unfair? Yes! While I'd love to wave a magic wand and fix the structural flaws in our medical training system, my first goal is to keep the doctor alive on the other end of my phone line. If there's a way to help suffering physicians salvage their careers and practice medicine safely and competently after one or two years of residency in an outpatient primary care setting, I see no reason not to help. Regarding residency training, I strongly believe in personalized tracks. I shouldn't be forced to do NICU and OB rotations as a family doc if I don't intend to deliver babies. Another family doc who plans to work in rural Alaska can grab my NICU/OB months. Subjecting doctors to a one-size-fits-all residency training is not ideal to meet individual needs of doctors, particularly those who have left residency due to medical illness or abuse.
37) Here's my only issue: focus on doctors not midlevels. The encroachment of NP/PAs on our jobs is a giant reason for doctor stress and discontent. They are taking our jobs, work a fraction of the time with a fraction of the education and all of the rights and privileges and very few of the restrictions and requirements we have. They attack our profession and insult us with the 'heart of a nurse brain of a doctor' campaign. I think the primary issue is frustration with a system that allows NPs/PAs to enjoy pay parity, practice independently without supervision with a fraction of the training of residency-trained physicians. Is it fair for PAs/NPs to enjoy physician pay with a fraction of the education? No. Is it fair for NP/PAs to launch independent practices with lesser education while doctors with far more education are prohibited from practicing independently in the same state? No. Should corporations motivated by greed replace doctors with PA/NPs? No. Should NPs be graduating from quickie online programs and bypass doctors who have 7+ years of training? No. None of this is fair and thankfully physician groups are actively combating theses inequalities.
My primary motivation (see question #2) is to end medical student and doctor suicides, eradicate human rights violations in medical training/practice, and help all health professionals live their dreams in medicine. The question is one of competency. Who is competent to practice independently without supervision? I know some residency-trained physicians with questionable competence who have harmed patients. I know some NPs practicing in ways I consider equally harmful. I know even more medical systems that force competent doctors/NP/PAs to work in 7-minute increments that certainly harm patients and undermine their otherwise competent style of practice.
I believe the safest medical care is delivered by someone with enough training/competence, time, and curiosity to solve medical conditions within their scope of practice. I wish health professionals weren't pitted against each and that we could all work collaboratively. I'm on the front lines of helping individuals who are suffering mental health issues often from being forced to deliver big-box assembly-line medicine. Most health professionals who seek my help are doctors who have completed residency and want the autonomy to practice medicine the way they always imagined. A minority of physicians come to me having not been able to complete residency for a variety or reasons. Some PAs and NPs seek me out because they are fed up working in assembly-line medicine for the same reason as doctors. I help them find collaborating physicians or launch independent practices within their scope of license. Is this ideal? I don't know. I'm working with individuals as they present themselves to me. I don't have all the answers. I'm trying to keep health professionals alive and fulfilled in practices where they can care for patients competently outside of assembly-line medicine. The system seems to be rigged against doctors. I'm dealing with struggling individuals on a case-by-case basis. Some are not suited for independent practice and those who are I do my best to support them.
38) What's your relationship with the Do No Harm film? Do No Harm is a documentary exposing the doctor suicide crisis by Emmy-winning filmmaker, Robyn Symon. I'm interviewed in the film along with many physician experts and families from all over the USA. The film honors nearly 100 doctors and medical students who have died by suicide from all across the globe. Though the filmmaker consulted with me at times when she had questions about doctors and suicides, Do No Harm is not my film. I've never received money from the filmmaker. The film was funded from grassroots donations via Kickstarter from concerned patients and physicians all across the world. I have no financial relationship with the film or filmmaker. I do not receive any proceeds from the film.
39) Were you banned from physician groups? Why? Details please. 1) In July 2017, I was banned from the Physician Moms Group—a Facebook group for women doctors who discuss everything from challenging cases to new business ventures. Women docs give and receive advice on book covers, clothing line launches, and share cute pics of their kids. I was banned for posting the Do No Harm film poster with this request: "Morbid post. Need help. We are designing film poster for Do No Harm film to prevent doc suicides and we've got an internal dispute about BEST angle for slitting one's arteries for suicide. Here are two versions. Definitely appreciate any help. Specifically what angle would a doctor use? Thoughts?" An extremely lively conversation ensued with more than 150 thoughtful comments until I was banned for self-promotion.
2) On 11/8/14 after several medical student suicides were prevented by my blog How to graduate medical school without killing yourself (see question #30), I shared it on Student Doctor Network. Apparently I'm not allowed to post blogs (or excerpts from my blogs) on doctor suicide—even if information can prevent suicides of their own members on Student Doctor Network. So I was banned.
3) After the suicide of a former internal medicine resident and an anesthesiology resident (in which no grief counseling was offered) my book was banned from the Duke anesthesia department. An attending purchased 6 copies of my book Physician Suicide Letters—Answered to distribute to her residents. She was summoned to the office of the division chief who stole the books she had left for residents in the anesthesia workroom and told she was not to distribute these books to the residents. The mishandling of suicides at Duke (and my banned book) is now part of a federal lawsuit.
4) After the AMA invited me to deliver my TEDMED talk, I was disinvited shortly before the event because they were "uncomfortable" with the topic of physician suicide.
I am eternally grateful to TEDMED, Kevin Pho MD, Medscape, The Washington Post, and other major media outlets for never censoring me or my doctor suicide prevention efforts. I've never in my life been banned from anything before speaking out on doctor suicide. I've never been publicly criticized for my hair, jewelry, and clothing until speaking about doctor suicide and empowering physicians to break free from abuse. I've never been called cruel, told to fuck off by a physician, or had such vicious attacks on my character until I began speaking out about our doctor suicide crisis. And I've only been censored by other doctors (and mostly female physicians).
40) Deconstruct your finances. Detail the fact that you make zero profit from retreats and seminars and such, as I assume is the case. Give numbers with regard to physicians with whom you have spoken, for free, about their stressors etc. Detail volunteer work that you do in the tragic arena of physician suicides. My income: 1) Treating patients in my clinic since 2005 (without ever turning anyone away for lack of money) 2) Helping doctors and medical trainees who want business strategy and mentorship to create their ideal clinics through seminars and retreats. 3) Inspiring doctors and med students to live their dreams through speaking events. 4) Two books on preventing physician suicide and living ones dreams in medicine (100% proceeds to suicide prevention)
These four things fund my philanthropy: 1) Free helpline for doctors and med students. I've spoken to thousands of suicidal medical students and doctors since 2012 and I've never charged a cent (though I appreciate all the unsolicited donations). 2) Scholarships to retreats and seminars for medical students and residents. 3) $10,000 yearly scholarships to needy residents and med students to help them live their dreams in medicine 4) Doctor-suicide-related events like flying to lead memorials and candlelight vigils for physician suicide victims and free retreats I've held for survivors of doctor suicide.
In summary, I've never made money from suicidal medical students of physicians. I've spoken to thousands of physicians/medical students since 2012 related to their mental health and guidance on an array of other topics—for free. I earn money primarily from treating my patients and providing business strategy for physicians and trainees who want to launch independent practices. I am also now paid to speak on health care delivery and physician wellness. I live a simple life in a 900-square-foot house with no debt and no children. I have just signed the papers with my attorney to leave 100% of my estate to scholarships for medical students and physicians.