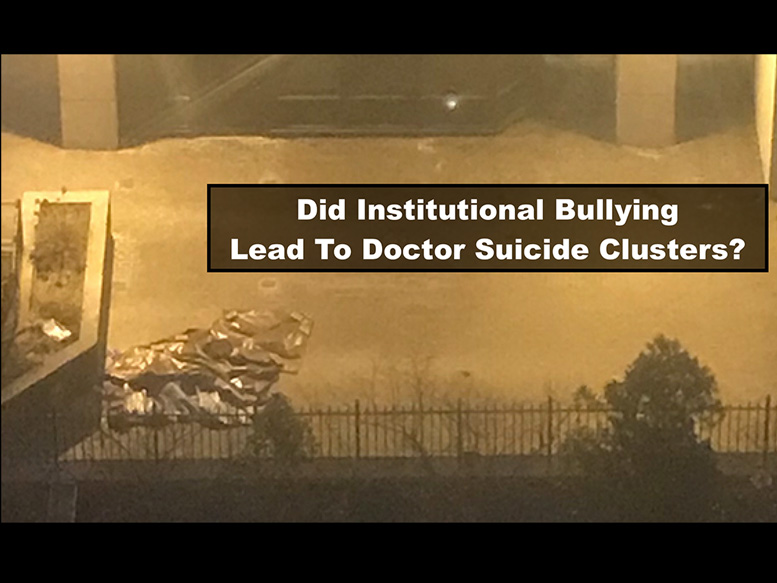 Pamela Wible: I am consulting with Sydney Ashland about the recent suicides in New York City. There were two at NYU within five days of each other—a medical student and a psychiatry resident. Today I received this email:
"Dear Dr. Wible, two residents have killed themselves within a single month at NYU Langone. One of them hanged herself in my finance's building. The building's windows were jammed to not open more than a couple of inches after another resident jumped to her death two years ago. I guess they thought this and offering student counseling services would stop residents from killing themselves. A part of me wants to apologize for the last sentence and ward off my cynicism, but I won't because, as you said, we need to shine a light on medicine's dirty little secret before it's too late. There are posters offering counseling services and heartfelt emails being sent to the students, but here's one thing no one in power to help is mentioning—the supervisors and their bullying."
[I've received several letters like this indicating bullying may have played a role in these suicides]. What do you think about that Sydney?
Sydney Ashland: Well I think that this is a malignant problem that is an actual disease process that is mirroring and mimicking what we see in a malignant cancer process where there are malignant cells that take over this host system or body and begin to really wreak havoc with the entire system.
Pamela Wible: That's a fascinating way of looking at it. So you have these sort of cancer cells on the loose in power positions in some of these institutions especially I've heard quite a bit from people at these New York hospitals, a number of them that there are bullies on the loose and that these people have played a role in many of these suicides (I've now got 949 on my registry). Just to recap just some recent clusters, there were the two at NYU that I've just mentioned within five days that were this month and then three from Mt. Sinai. A resident, an attending, and a medical student all jumped from one building within two years. I'd also like your thoughts on what's going here. What kind of toxic educational environment would lead to so many suicides at certain institutions while others like don't seem to have this problem? Do you think it's just the bullying or do you think it's a combination of factors?
Sydney Ashland: Well certainly it's a combination of factors, but I think that it's obvious that the stress becomes so great that people cannot abide that level of stress anymore. It's like asking the question "When a building is burning, why do some people jump out of the windows and in other situations people remain in the building?" I think it is due to the fact that those that remain in the building have an either distorted or limited sense of the danger whereas those who jump and take the leap actually realize that their very existence is at stake.
Pamela Wible: I just want to say I absolutely loved my residency at the University of Arizona Department of Family Medicine where I trained in Tucson. It's foreign to me actually to hear all these horrific working conditions. This was not my experience. I do think there are some locations in this country that have particularly horrific working conditions for residents, and New York City seems to be one of those places.
I want to share with you a letter that I got after Deelshad Joomun died earlier this year. As you know I led her eulogy, and she was the third woman that stepped off the roof at Mt. Sinai's 515 W 59th Street building that houses hundreds of residents. This is an email that I actually got within an hour or so after she died:
"I'm a physician. I have a career ahead of me which I'm too scared to speak out against. I came home again to another suicide, another doctor dead from Mt. Sinai in New York. I think New York is a horrible place to work. Conditions are deplorable for doctors, and you should investigate. Both suicides were horrible. Jumped from our high rise. I'm convinced it's the exhaustion, the demands to perform at 100% 24/7 to meet ridiculous administrative and financial demands. We need to change healthcare. In New York, doctors are blamed for everything the nurses, techs, janitors, and staff don't do. We have to do every job and document and be nice 100% of the time. Everyone is protected by unions except doctors. We're criticized and destroyed with unbelievable debt. I don't know how anyone is willing to go into this field. I love what I do, but I have grown to hate this system. I have lived in a culture of shame for too long. Would you please expose these Manhattan hospitals? They lack compassion. They are all obsessed with finances, prestige, and scores. This suicide today was horrific. I came into my building a crime scene. Don't let another doctor's life go unspoken for. They will likely say she was troubled, but why was she troubled? Because she wasn't efficient enough? Sad and overworked? Our hospital will make it again about her like the girl that died last year. She was too sad."
There's a lot of victim blaming and I do feel like there is something going on with certain hospital systems that sort of set them apart with these clusters. What is your sense about New York City hospitals versus, say, Tucson, Arizona and other locations?
Sydney Ashland: Well I think we're looking at a region where the population is very dense. Stress factors are increased where there are high populations, where cost of living is high, where the external stressors are high. Then within the system, you have outdated, outmoded, dysfunctional, and toxic ways of treating each other especially in the hierarchy of administration and power. The people that are most victimized by this are the people that are experiencing tremendous amount of pressure in their environment whether that's their personal environment as well as their professional environment. But the personal environment obviously is not enough in and of itself to create a suicidal scenario.
In those cases, someone who's having troubles in their relationship, with finances, feels like they're in too densely populated a region goes for therapy, finds solutions to their problems. But when you're going to a workplace where your very existence is dependent upon someone who has power over you deciding what you can and cannot do, deciding whether you get to stay in this country, deciding whether you get to stay in your residency program or whether you're going to be discharged at the eleventh hour for some bogus cause, this creates so much anxiety, so much desperation within these individuals that they feel blinded to the fact that they have any choice at all. Those administrators fuel that belief system. I just am horrified.
Pamela Wible: When thinking about New York because I've been there now three times in the last month or two, it seems to me the high cost of living, the lower reimbursement rates given the high cost of living which really hurts in a place like that, and the high pressure sort of backstabbing climb-the-ladder atmosphere at these old guard brand-name schools, right? That on top of the population density with high needs Medicare and Medicaid patients who are more likely to sue patients in that region than Oregon and other very sweet locations in the country where the malpractice situation is not nearly as volatile, I just think people seem to be on edge. They're literally just sort of climbing all over each other without any regard to crushing and killing people inferior to them in these hierarchies.
Sydney Ashland: Well think about the Industrial Revolution and the fact that there were very large factory systems in these big cities where child labor was prevalent. They had to do a lot of work to change those systems. When you look at child labor in some of the more agricultural regions, less densely populated within the United States, certainly children were used in agriculture and environments and on their farms, but they didn't experience the atrocious human rights violations, abuses that were experienced in those factories. I think there's a parallel here in terms of medicine will be called up short. Medicine will absolutely experience the demand of those patients and students and residents and physicians who no longer will tolerate these abuses. Change will need to happen. However just like the Industrial Revolution and child labor laws, it takes time and it takes a united and consistent effort from the masses to really call it out and say it's wrong.
Pamela Wible: So what would you suggest now for, say, the two people that emailed me recently asking for help, begging for help really. I mean my sense is that we're never going to solve a problem unless we say it out loud. We absolutely have to start talking about suicide like we do high blood pressure, diabetes, or anything else. In order to create the right treatment plan, we actually have to investigate the circumstances that led to the suicides. We actually do need to claim that bullying, power-tripping, gaslighting, whatever it is played a role in these deaths.


That would be sort of my call to action. The people that were there that knew these individuals take this investigation on on your own. Try to figure out what it was, read the suicide notes if you have access to them, identify what's really going on because we're not going to get anywhere unless we investigate this. Literally bolting windows shut and putting chain link fences on the roof is just another way to keep people locked down in what I consider modern-day medical sweatshops that are going on in these first-world cities. It's deplorable. My big call to action is let's just tell the truth. The truth is what's going to lead to an answer. What would you say to these people?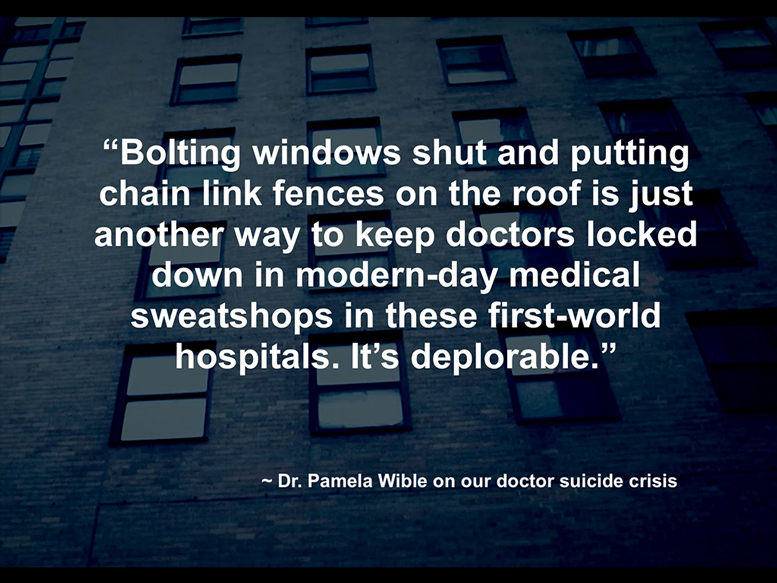 Sydney Ashland: Well I would say that this kind of malignancy only can continue to grow where it isn't seen and where it isn't acknowledged. In order to really make a difference, you have to start telling the truth like you said. Refusing to maintain anyone else's secrets in the system. So it doesn't matter if you're a secretary or you work in the autoclave department or you are a wife or husband of somebody who is experiencing this level of pressure and stress and intimidation. It really needs to start with people speaking the truth and joining others in speaking the truth. Truth in isolation just leads to hopelessness. It has to be truth in collaboration in relationship.
Pamela Wible: Wonderful. So telling the truth, basically uniting with your peers so that you're not in isolation.
Sydney Ashland: Yes. Creating some sort of collaboration and relational situations so that you are in power to do so. What systems do is divide and conquer. They keep people in isolation. They don't allow people to talk to each other, to commiserate with each other, to problem solve together. Instead these people are told what the new policies are. They're expected to abide by these policies and not say anything or to complain because those who complain or say something are targeted. You have to start reaching out to each other. Reach out to people that feel safe. Begin to build your confidence, and begin to get other people to buy in to the very real threat that is present so that you can create a plan of action and a call of action. Plan of action, call to action. Those are the two elements that absolutely have to be in place.
Pamela Wible: I feel like what leads to a lot of these suicides is just that terrible sense of hopelessness and isolation. So if we know that we're not alone, if you can reach out to other people. This is the classic way that power structures maintain their power over people, with divide-and-conquer tactics. This is an age old technique here. It's nothing new, but I think what would really help is I'm going to give two examples of something that I did in medical school and what I heard that another gentleman did in medical school. I actually started a petition during my medical training and had my class sign the petition along with me. This was in response to standing up against the dog labs, and I prevailed. I was let out of the dog labs. There's power in numbers. When it's more than just one person on a petition, when you can get 20, 30, 40 people in your class, it looks like bad PR if they fire that many people at once. I mean you have power when you're with one another.
Another example I think you might remember a blog that I wrote long ago from a pediatrician. This was maybe 30, 40 years ago they had a professor that was bullying their class, and they decided that the next time that he did that they would all stand up en masse and walk out. That's what they did, and they walked straight to the dean's office. Guess what? They never saw that professor again. That's a good way to get rid of the cancer, wouldn't you say?
Sydney Ashland: Exactly. Cut it out. It's not just about sort of throwing up your hands and saying "Oh, no. There's a malignancy and nothing to be done." There's always something to be done. Cancer is merely a disruption in the growth of normal cells that become abnormal over time. If we look at these people who are fueling these toxic work environments, who are bullying and intimidating others, what they most need is to be taken out of the situation not only for those they serve but for themselves because it is something that will create disease and disruption in themselves as well. It needs to stop.
Pamela Wible: What's really interesting is this is the actual term that medical students and residents will use to describe their program directors and superiors. They will call them malignant. So it is very interesting that you used the cancer metaphor because there are malignancies in some New York hospital system programs and other residency programs around the country, and these malignant people need to be removed because there's only really a few bad eggs. Everyone else wants to do a good job and wants to be healers. That's why we're there for healthcare. I would encourage anyone listening to this to take a stand, to identify who those malignant people are. Who are the malignant cells in your organization? Call them out in unison as a group and remove them so that you do not lose anymore classmates, any more brilliant healers who are our brothers and sisters in medicine.
Sydney Ashland: Agreed, agreed, agreed. Hear, hear. Thank you, Pamela.
Pamela Wible: Awesome. Get back to us if we can help. We're here.
Dr. Wible is author of  Physician Suicide Letters—Answered available as a free audiobook below.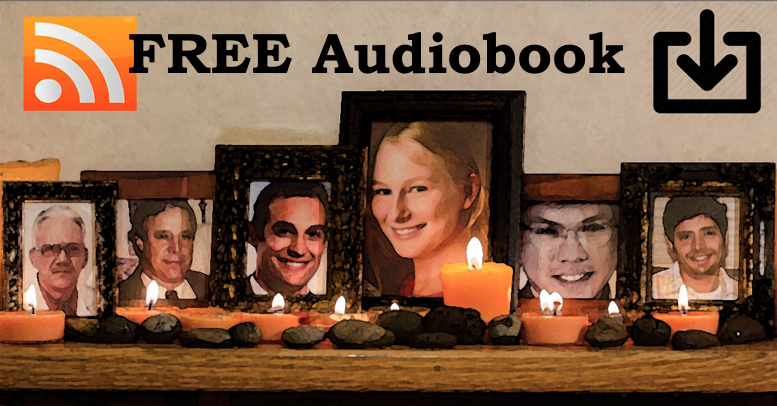 * * *
Dr. Pamela Wible and Sydney Ashland lead retreats for depressed and suicidal med students and doctors where they also help physicians launch ideal medical clinics. Join the next retreat (scholarships available for med students/residents). Can't make the retreat? Join the seminar or fast-track course.