A few months ago a physician friend Facebooks me:
I only have 7 days of clinic left. Just finished two weekends back to back so it will be something like 20 days in a row that I worked before I get a chance to breathe. One weekend was "punishment" for my subpar production due to attending your retreat. Just have call on Christmas and I'll be done. I'm already getting calls for the new clinic, so things are looking up!
She writes back today:
Man, there is so much I wanna tell you! So much has happened! First it seemed like nothing was happening and then everything happened at once. We opened our doors last Friday and have seen 22 patients so far. We are trying to start slow, but our phone is blowing up!
I thought I would maybe be seeing one patient a day, but it's been 4 to 6 AND I AM NOT EVEN TRYING! We haven't even told people we are open! I haven't even said anything on Facebook. It is fucking surreal! And get this—we had a 100% show rate, everyone arrived early, and they all paid without me asking for money. We paid our monthly overhead within the first few days.
So first day of clinic last Friday, we decided to do a "soft open." We basically only scheduled 2 patients—both who have seen me for over 2 years and wouldn't mind any hiccups. The visits are amazing. I don't feel like I'm a doctor at all. It feels like hanging out with friends. It's comfortable—like coming home and being able to just be yourself, but I am helping people and it feels—like me—like the me that I knew before I got lost in the insanity of assembly-line medicine. It feels like destiny—like I am doing exactly what I am supposed to be doing at this very minute—what I was born to do! Everything goes smoothly, and both my husband and I are beaming.
I had told him that morning I hadn't felt so hot, but I chocked it up to excitement and nerves. I'm trying to finish my charts up when it hits me. First diarrhea. Then vomiting. Ugh.
So here I am trying to knock out this last chart while puking into the trash can and making furious diarrhea runs to the bathroom (no pun intended). And I start laughing—laughing so hard I am crying and can't breathe. He thought I'd lost my mind. To answer his quizzical look, I said between gasps:
"I just realized that working in our own clinic—even though I am simultaneously puking and trying not to shit my pants—trumps the best day I ever had in assembly-line medicine."
And that's no lie!
Pamela:
YAY!!!!! TOLD YOU SOOOOO!!!!!!!! I'd love to talk to ya this weekend after you are done puking and PLEASE send me your website so I can promote you (not sure you even need more patients). Are you doing cash only or insurance or a mix? Let's talk soon.
She explains:
Doing all cash. I seriously can't believe that people pay cash to see me! It kinda blows my mind. Puking is over. So yeah, let me know when is good for you!
Website—not up yet and I'm kind of glad for now. Will wait until I feel like we can handle more people—it was a little overwhelming when we were getting all these calls and unable to see people. I will let you know when we get one though!
Pamela:
You TOTALLY have the market cornered because you are the ONLY ideal psychiatrist in the state I would bet!!!!! SO PROUD OF YOU!! SEEE!!! I TOLD YOU SOO!!!!!!!!!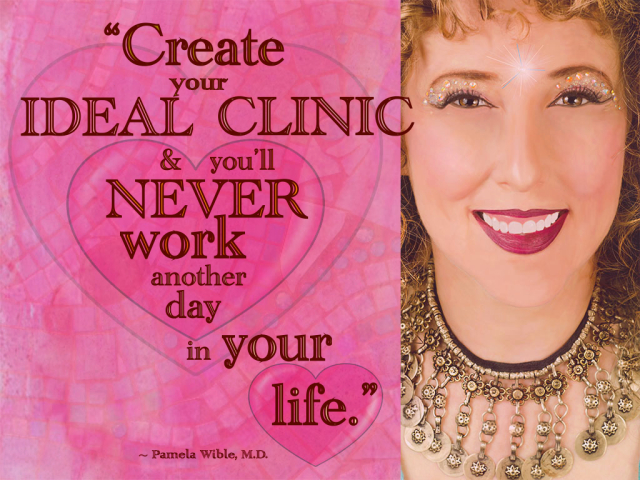 She replies:
Annnnnnd, you'll love my fortune cookie from tonight!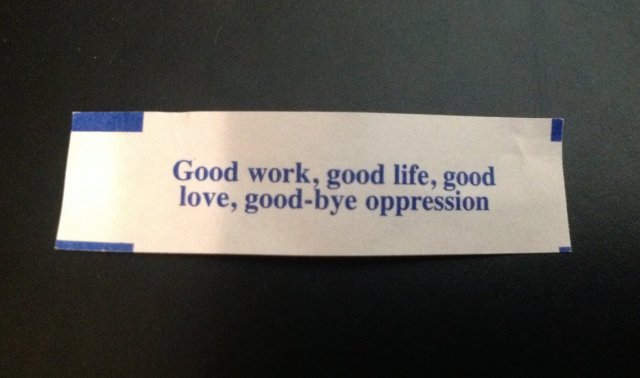 Pamela Wible, M.D., pioneered the first ideal clinic designed entirely by patients. Now she hosts physician retreats to help her colleagues off the assembly line and into their ideal clinics.