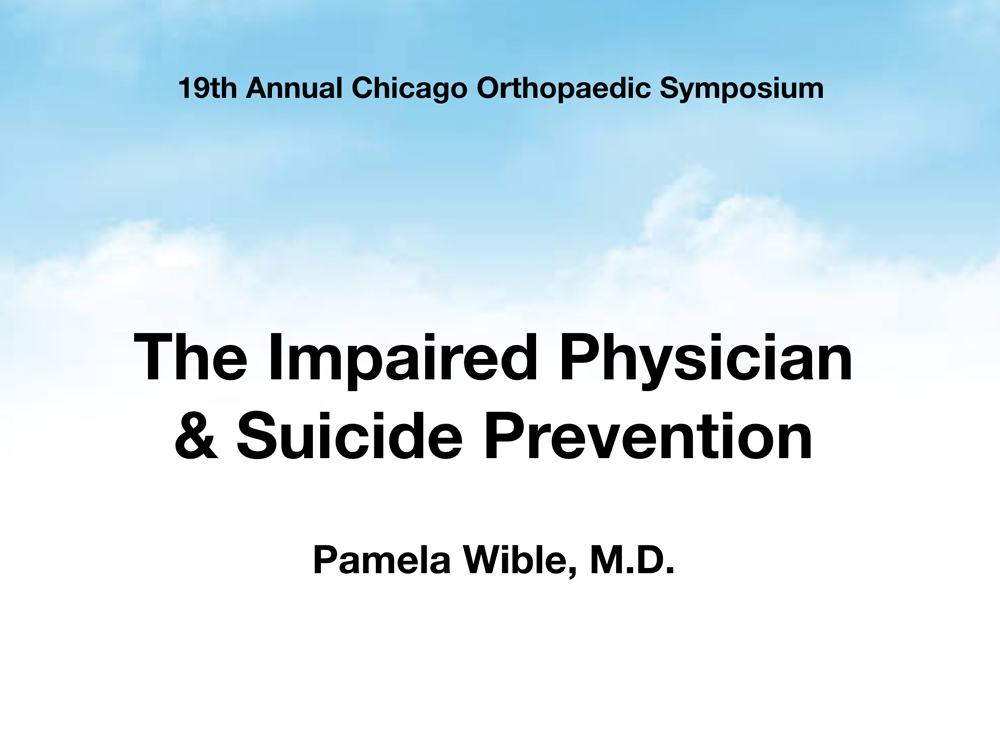 Dr. Wible's keynote delivered at the 19th Annual Chicago Orthopaedic Symposium (begins with a beautiful legacy to the life of Dr. Dean Lorich by Dr. Matthew Jimenez). Downloadable MP3 above.
Thank you. I'm truly honored to be here and extremely grateful that you have given me more than 10 minutes to discuss doctor suicide. Looking at your agenda (three days of q-10-minute lectures back-to-back) as a family doc, I'm just a little blown away that you can cover complex acetabular fractures and mangled lower extremity grade IIIC salvage versus amputation in 10 minutes when I can barely treat a patient with a UTI or step throat in 10 minutes.
I'd like to dedicate my presentation today to Dr. Dean Lorich—and to the many orthopaedic surgeons we've lost to suicide. I've had the opportunity to get to know many of these men through their colleagues who reported their suicides to me and more intimately through their mothers, sisters and children left behind.
Today, for the first time, I'm sharing my data—what I've discovered from investigating more than 1000 doctor suicides—and specifically the suicides of 33 orthopaedic surgeons. Data—often devoid of emotion and humanity—means little without a human face so I'll start by sharing the incredible lives of two orthopaedic surgeons whom I deeply admire, Dr. Steven Ortiz and Dr. Benjamin Shaffer.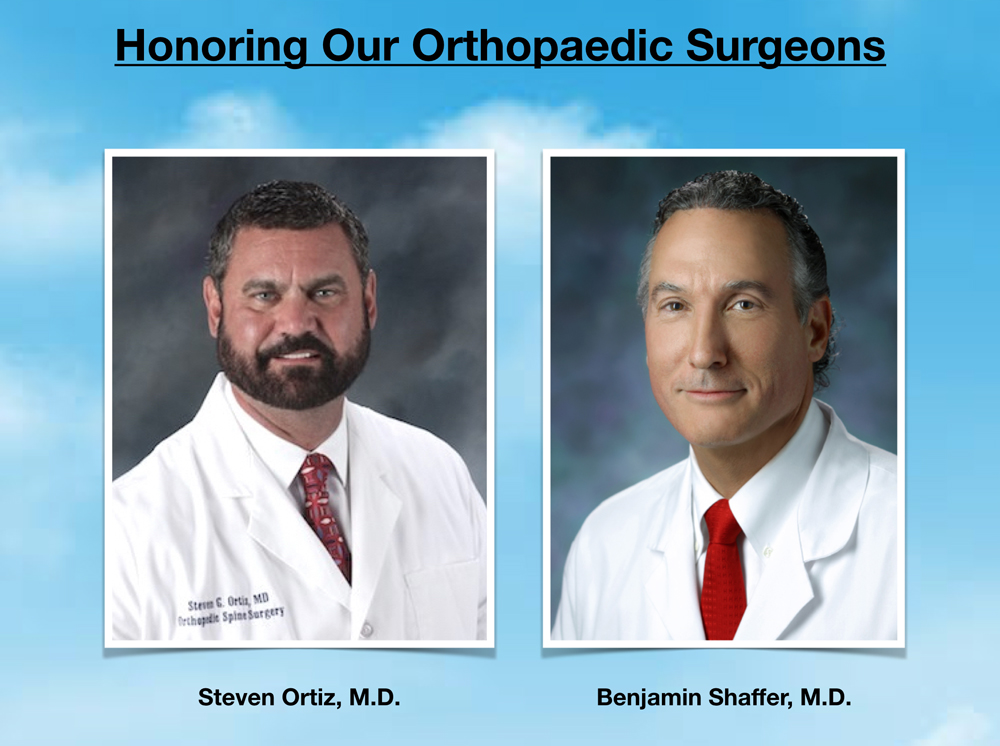 Most of you know Dean. Just curious how many of you know Steve or Ben?
Though we know each other professionally, how many of you feel you really know each other personally—the deep feelings and inner world of your colleagues? I want you to truly know these two men—not just as skilled surgeons—but as the amazing human beings we were blessed to have on this planet. And then I'd like to invite you to get to know each other (while you are still living) as deeply as I've gotten to know Steve and Ben posthumously. I'll begin with Ben . . .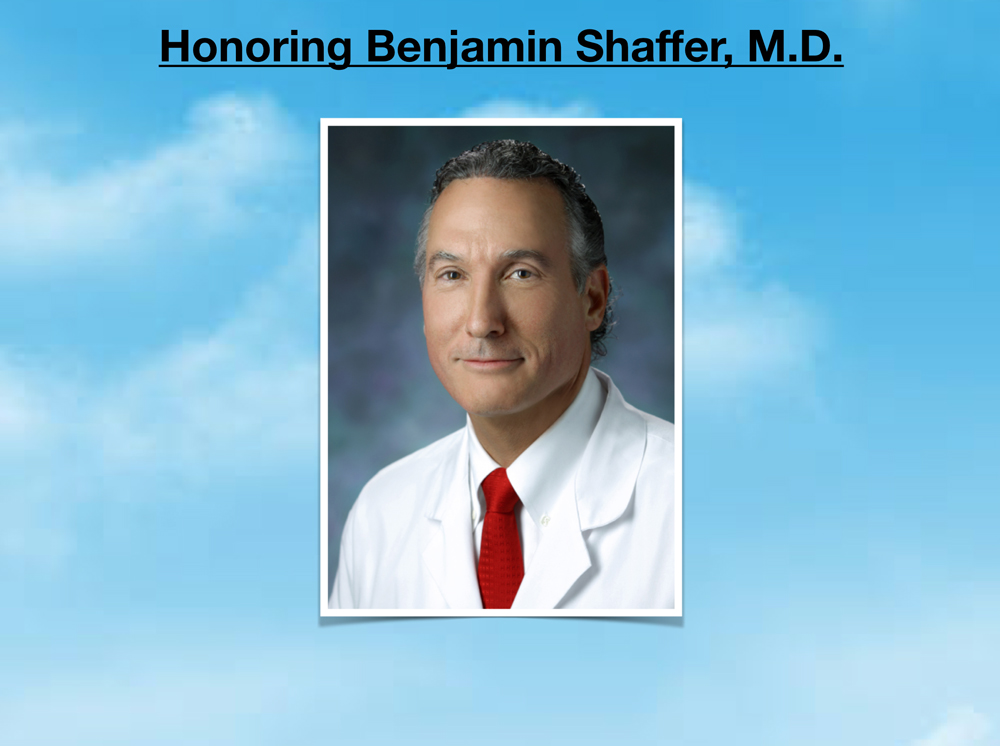 The orthopedic community suffered a devastating loss with the suicide of Dr. Ben Shaffer. He was in practice 25 years as a much beloved and trusted orthopaedic surgeon in Washington DC. Dr. Shaffer graduated from the University of Florida College of Medicine, completed his orthopaedic residency in NYC where he was chief resident, then specialized in sports medicine with a fellowship at the Kerlan-Jobe Orthopaedic Clinic.
The author of more than 50 publications (21 were textbook chapters), Dr. Shaffer trained orthopaedic surgeons around the world. He has an impressive 41-page CV (officially the longest I've ever read). He was the medical director or team physician to a gazillion professional sports teams in the DC area. Dr. Shaffer was also consultant to the National Ballet, NHL physician for the 2010 Olympics in Vancouver, PGA Golf Tour, Women's World Cup Skating, and the list goes on . . . Impressive! Right?
Yet Ben was more than a surgeon, he was a kind, sweet, brilliant sensitive soul who could relate to anyone—from inner city children to supreme court justices. He was gorgeous and magnetic and he loved helping people. So why does a guy this successful end his life?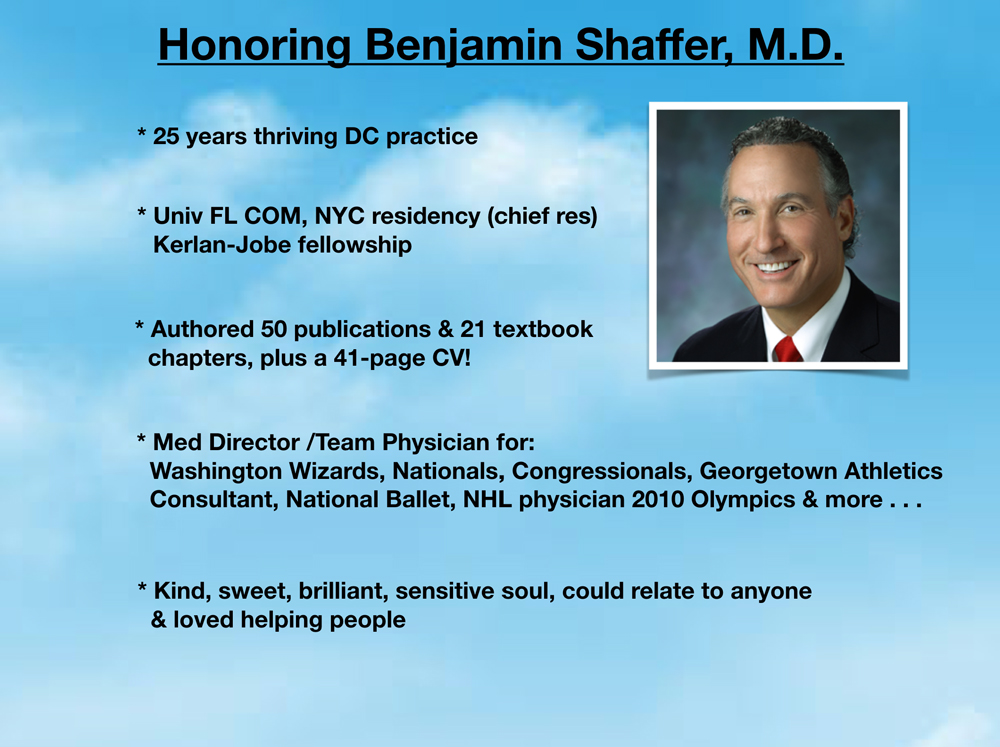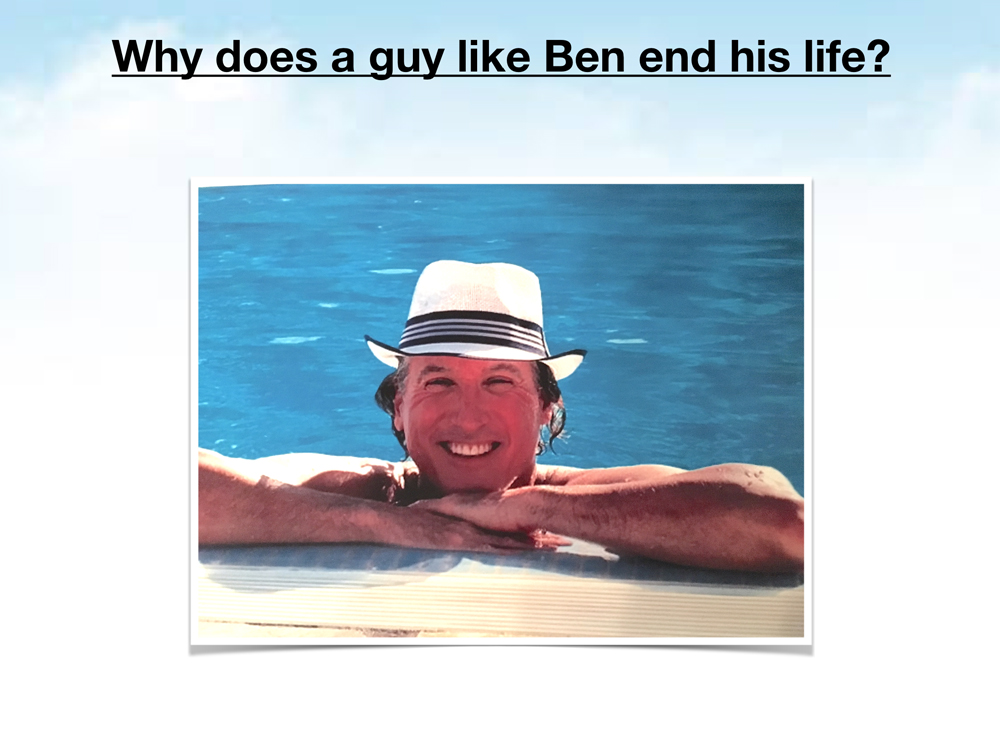 As with most suicides Ben's was multifactorial. He had marital distress, diminishing reimbursement, and personal health problems. He was recovering from recent back surgery and still dragging his foot so he couldn't run or work out (activities that would have made him feel better).
Ben also had chronic anxiety. He saw multiple therapists during his lifetime. His psychiatrist had recently retired and passed him on to a new one who didn't know him. He had been on anxiolytics for years and was weaned off two months before his suicide. Ultimately it was Ben's uncontrolled anxiety and insomnia (related to sudden change in medication regimen) that led to his death. For insomnia, he was told to take Benadryl or meditate—both ineffective as he was still sleeping just two or three hours per night and trying to operate and see patients each day.
Eight days before he died, he was prescribed Prozac and Seroquel which worsened his insomnia, increased his anxiety, and led to paranoia. Then his psychiatrist told Ben he'd be on medication for the rest of his life. Ben was devastated, hopeless that he'd ever have a normal life. Ben told his sister he felt backed into a corner with no good options and it was "game over."
Days before Ben died, his therapist asked him if he was thinking of suicide and he said, "Yes." He then asked Ben if he knew how he would do it and Ben said, "Yes." He then asked, "Are you going to do it?" Ben said, "No." (Ben was smart enough to know that "yes" could potentially cause a problem for a physician.)
Ben knew he should check himself into a hospital, but he was panicked because of career ramifications due to the stigma attached to doctors seeking help for mental health. He was terrified that he'd lose his patients, his practice, his marriage, and that everyone in DC—team owners, players, patients, colleagues—would know about his mental health problems and he'd be shunned.
The night before he died, Ben finally told his partners he needed the rest of the week off because he wasn't sleeping well. He was ashamed, yet they were fine covering for him. Ben left the hospital in sheer terror. He wanted to tell them that he had changed his mind.
Though he had slept that night, he awoke utterly wiped out on May 20, 2015. He had just returned from driving his son to school when he hanged himself on a bookcase with rope from a box that had been delivered earlier in the week. He left no note. He left behind his wife and two children.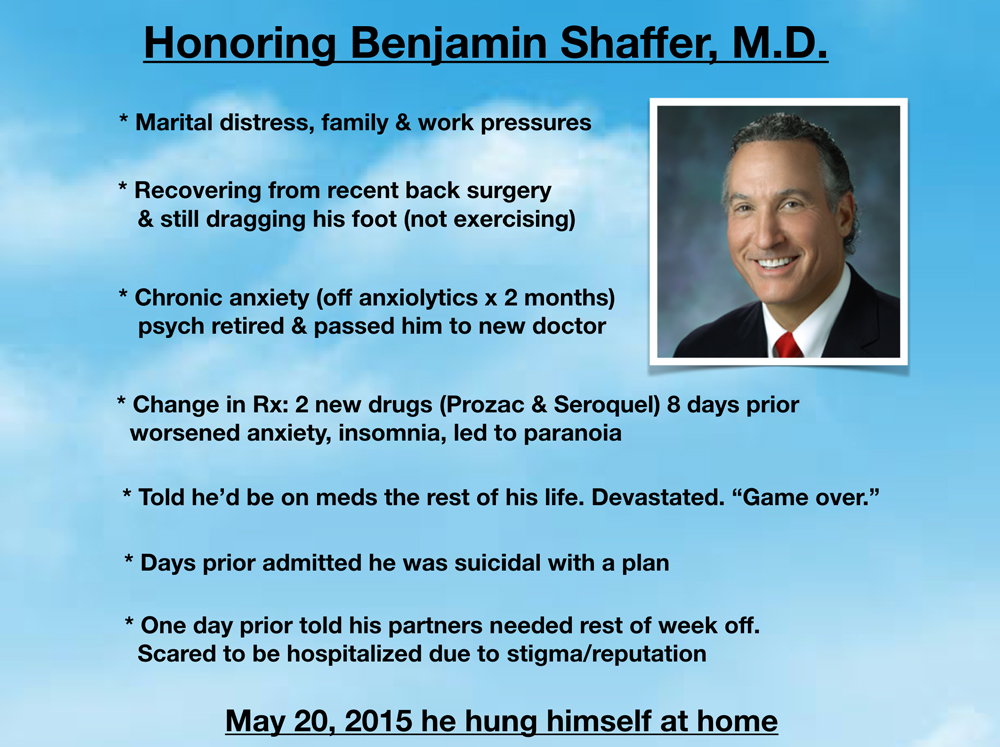 Dr. Steve Ortiz had a very different career trajectory, yet suffered the same outcome as Ben.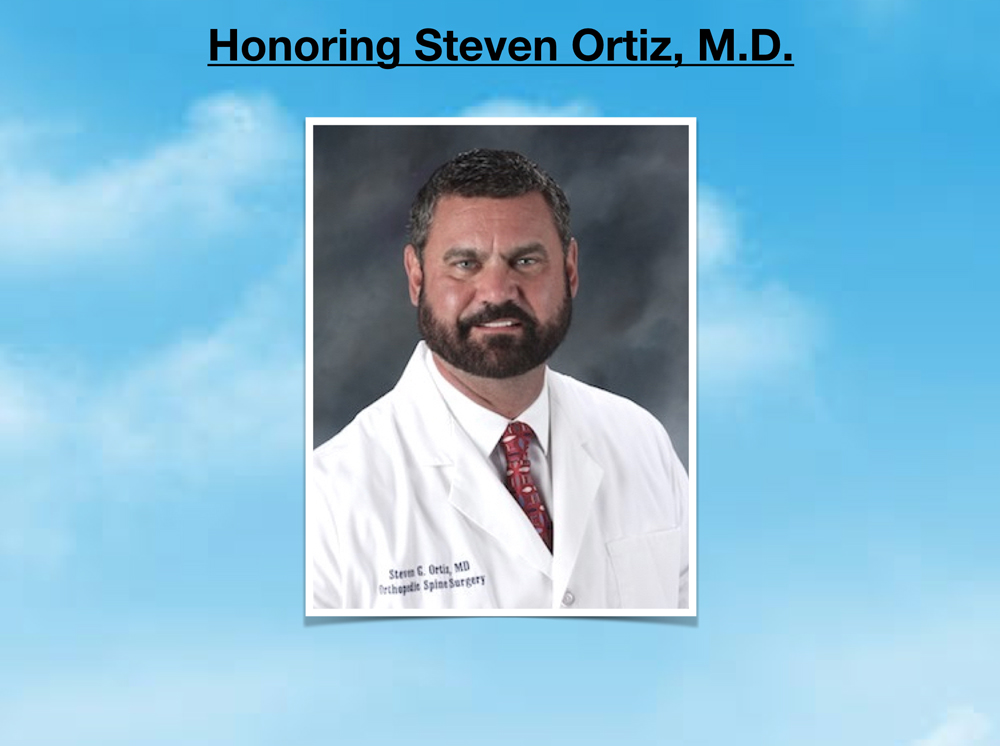 Steve was one of the most thoughtful, kind, compassionate, and highly ethical men you could ever hope to meet—especially if you needed back surgery.
Though we never met, I feel I know his heart and soul as my brother in medicine. Maybe it's because we're the same age and he went to Sheldon High School right down the street from me in Oregon.
After high school, Steve was a sprinkler fitter for 10 years then did construction. One time when working construction, Steve tore his meniscus. He had surgery immediately. On follow up when the doctor showed him his x-ray he almost passed out and had to be helped to sit down by the nurse. He literally couldn't stand looking at his own x-ray.
He returned to school at 28 earning a chemistry degree from Fullerton Community College then a full scholarship to UC Irvine and Stanford Medical School, orthopaedic residency in New York and spine surgery fellowship in Minneapolis—a total of 19 years of medical education!
Steve was one of those unusual guys who never forgot birthdays, holidays, or his family on special occasions. You'll never guess what he did for his daughter's thirteenth birthday . . .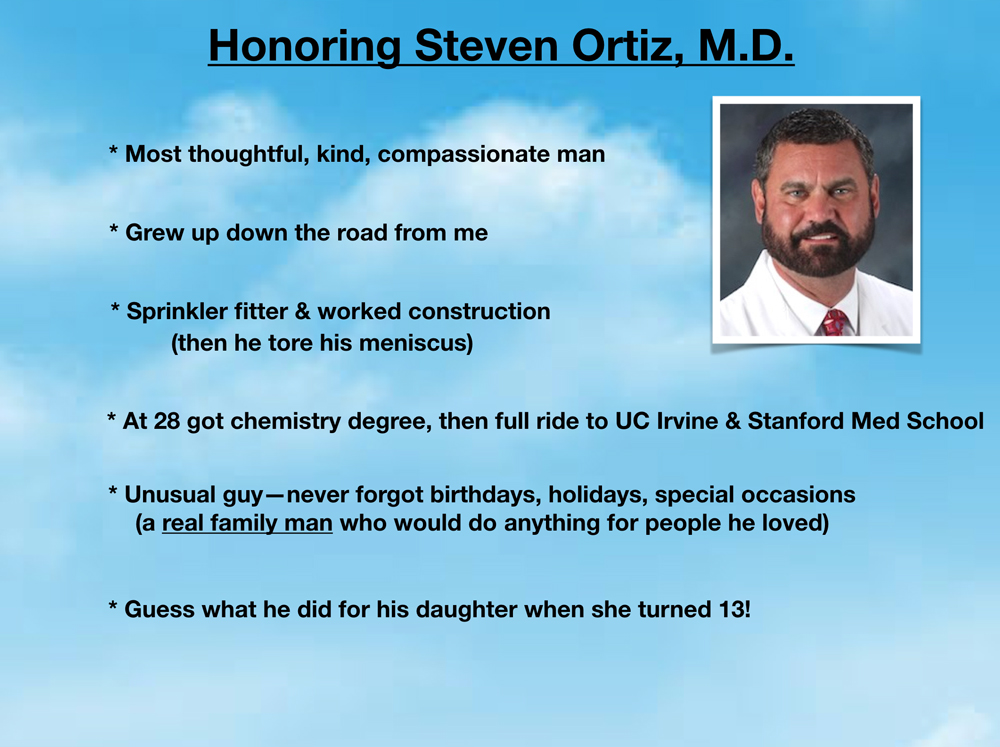 Since Steve had moved his family to Stanford for med school just before his daughter turned thirteen, she hadn't made many friends so didn't know how to celebrate her birthday. On her birthday her dad came home and told her he rented the entire medical school auditorium for the afternoon and he invited her whole soccer team to watch a movie and help her celebrate. He even rented a popcorn machine and bought everyone candy.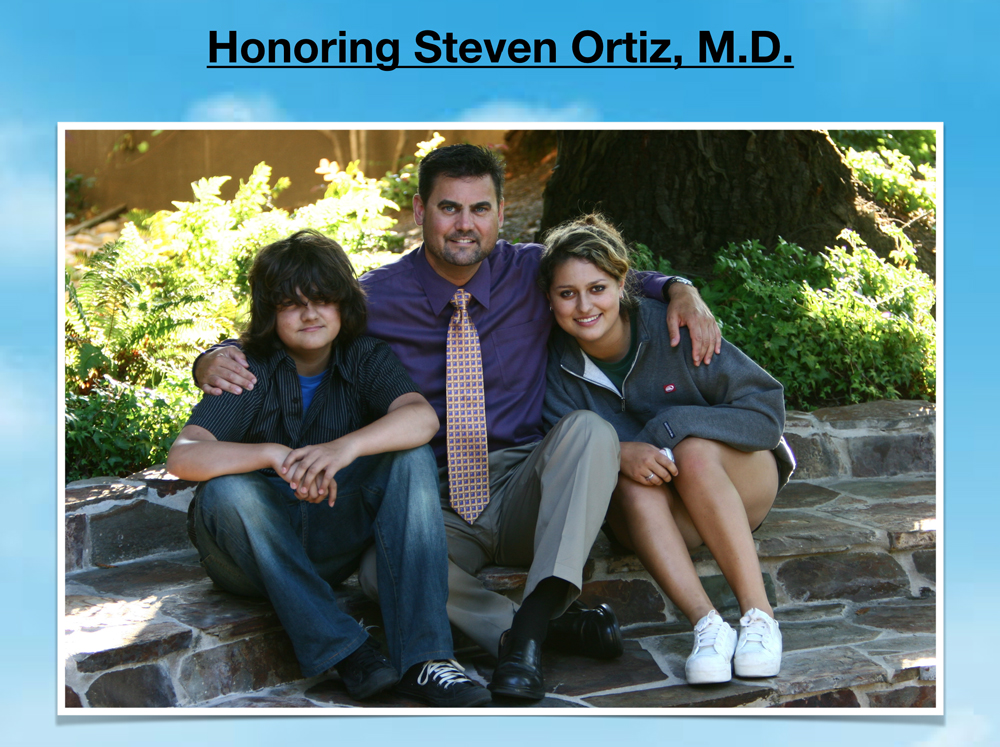 Yet Steve—such a devoted family man—had to sacrifice relationships with the very people he loved the most so he could help and heal others. With his kids and wife finally settled in California, he was distraught having matched in New York for orthopaedics. During his five years of residency he only got to see his kids once each year. That marriage eventually failed and he remarried a woman who wanted to be near her family in Florida. So, of course, Steve agreed. (He had trouble saying no!) After fellowship, he set up his practice in a Florida hospital where he was adored by patients and staff (just read comments on his suicide news article). He was always ready to help others. When one of his patients became ill, he flew home from his vacation to care for her!
Steve—the ultimate fix-it-guy—didn't like when things were in disrepair. There was a huge pothole in the hospital parking lot that was driving everyone crazy, but it was never taken care of by the powers that be until Steve went to a local hardware store and bought several bags of cement and gravel. Imagine a spine surgeon out in the hospital parking lot repairing potholes before work.
But Steve's problems with the hospital were deeper than parking lot potholes.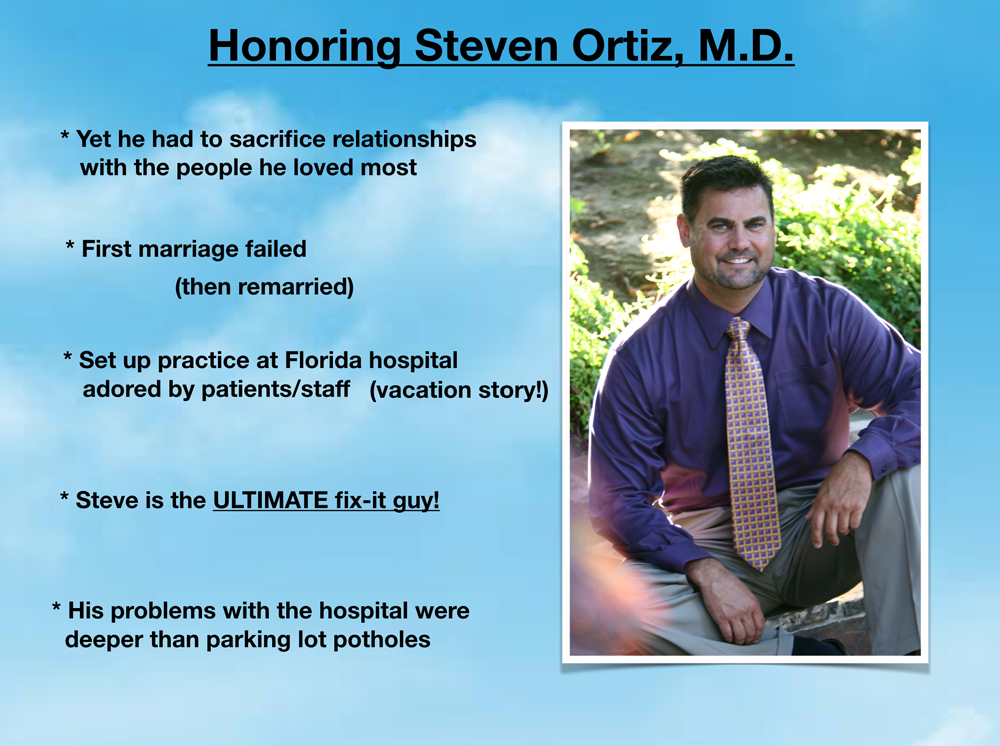 He refused to do surgeries when conservative treatments would be safer and more effective, particularly for elderly patients. Yet the hospital was making money from all these procedures and Steve felt he was being bullied to perform unnecessary surgeries. His colleagues said he should just "go with the flow." He wanted to leave and they wouldn't let him. They referred fewer patients to him and he lost 30% of his income. They threatened to ruin his career.
He called his mother the night before he killed himself to share these details. She knew none of these challenges he faced every day until that 30-minute phone call. He had already planned it. At 5:00 pm the night before he wrote a letter naming people and what he witnessed. (Due to an active investigation I'm not at liberty to share more.)
Dr. Ortiz was an open-hearted truth teller, a whistleblower who had only been out of training for three years. On February 8, 2017 at 2:00 am he tucked his patients in and wrote orders to make sure they were all okay. He sent a thank you note to a surgical nurse asking her to thank all his staff for taking wonderful care of his patients. In that note, he told her he decided to "check out." At 3:00 am he went out to the hospital parking lot (the one where he repaired the pothole) sat down in his truck, and shot himself in the heart.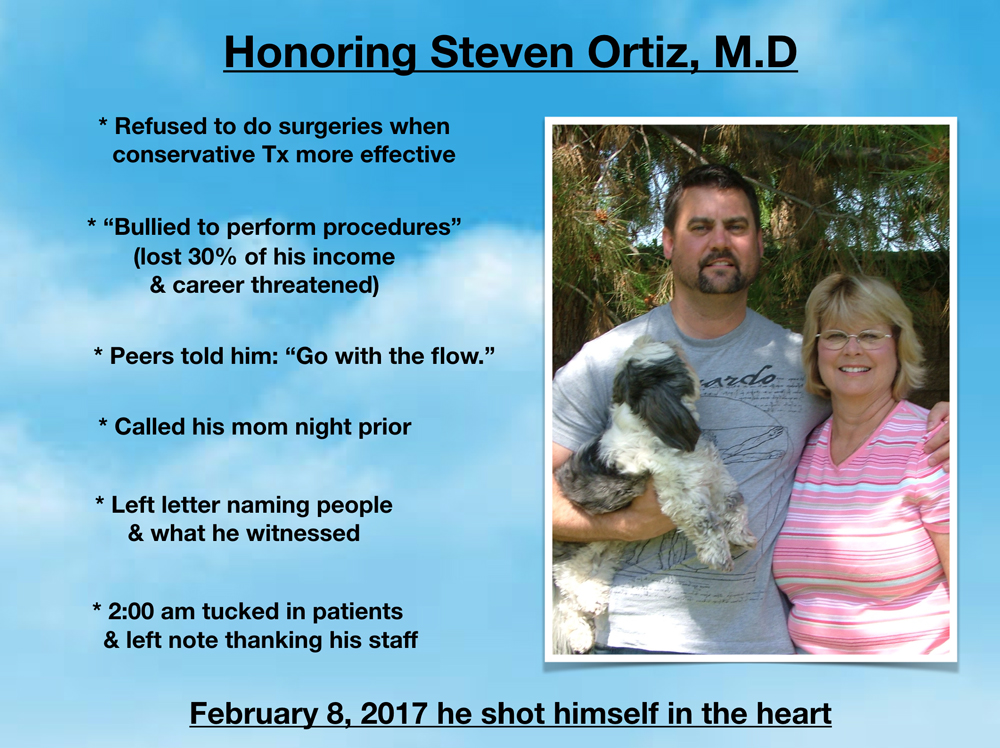 So how did I get involved in these crime scenes? Why am I so obsessed with doctor suicides? Three reasons. 1) I was a suicidal physician in 2004. I thought I was the only one. Maybe I was just too sensitive and idealistic. I have a personal stake in this issue. I feel it to my core. 2) Eight years later, I discovered doctor suicide is quite literally a hidden epidemic! It came as an absolute shock that so many of my colleagues were dying by suicide. 3) What created my relentless 24/7 obsession was the discovery that these suicides were being covered up—by my very own profession! That's when I got pissed and I couldn't shut up.
Full disclosure: I have OCD. My obsession—my disturbing recurrent thoughts that I ruminate over are about why all these doctors are dying by suicide. My compulsion—my daily (even hourly) ritual is tracking all the names and details of each case as they come to me. I'm a strong believer of channeling my mental illness into something productive. So rather than wash my hands compulsively, I'm tracking doctor suicides. By nature, I'm really more of an investigative reporter trapped in a doctor's body. I'm the type of person who can't stop a project until it's completed. Like Steve, I'm a truth teller and a whistleblower. I never went looking for these suicides. These suicides found me.
On October 28, 2012, at 3:00 pm my life changed forever.
I was sitting at the memorial service for the third doctor we lost to suicide in my small town—in just over a year. Top-rated doctors. Suddenly gone. Yet during the entire service nobody uttered the word suicide aloud. Kind of hard to solve a problem when nobody will talk about it. Everyone kept whispering "Why?" I wanted to know why. Sitting in the second row at that service I started counting dead doctors—doctors who died by suicide (or highly suspicious circumstances later confirmed as suicide). I suddenly realized BOTH men I dated in medical school—who died at 44 and 39 years old leaving wives and children behind—were likely suicides too! Later, I confirmed both overdosed.
Within a few minutes I had counted 10 doctor suicides.
I had to leave the service early because that evening I was teaching a business retreat for physicians who wanted to launch successful independent practices as I have (Yes! I'm one of the few rogue solo docs out there stilling doing house calls). On my two-and-a-half-hour drive up into the mountains I continued to obsess on doctor suicide: Maybe it's just the men that I date who die by suicide . . . Maybe Eugene, Oregon, is a hotbed of physician suicides. (People have actually accused ME of only dating guys who die by suicide and choosing to live in a town where so many doctors die by suicide.) Am I really the only one losing my friends, lovers, colleagues to suicide—ALL of them doctors!? (FYI: I've never lost any non-physicians in my life to suicide.)
When I arrived at the retreat, I opened the initial session with two questions: "How many of you have lost a doctor to suicide?" All hands were raised. Then I asked, "How many of you have considered suicide?" All hands remained up—including mine—except for a female nurse practitioner. By the end of the retreat they had all submitted names of these doctors on sticky notes, scraps of paper, and index cards.
So I started a doctor suicide diary as a way to track all of these suicides. I bought a beautiful journal with clouds (much like the background on my slides) where I began handwriting all the names and details. Five years later I had a registry with 547 doctor suicides. By then I obviously had to transfer all the data to an online spreadsheet where I'm tracking by case number, name, age, specialty, date, location and method suicide, plus any circumstances or backstory. All the while I keep relentlessly writing and speaking about doctor suicide—and people keep contacting me with more and more names for my registry.
I never went looking for these suicides. These suicides found me.
By January this year, I had 757 cases on my registry. As of today I have 1,013.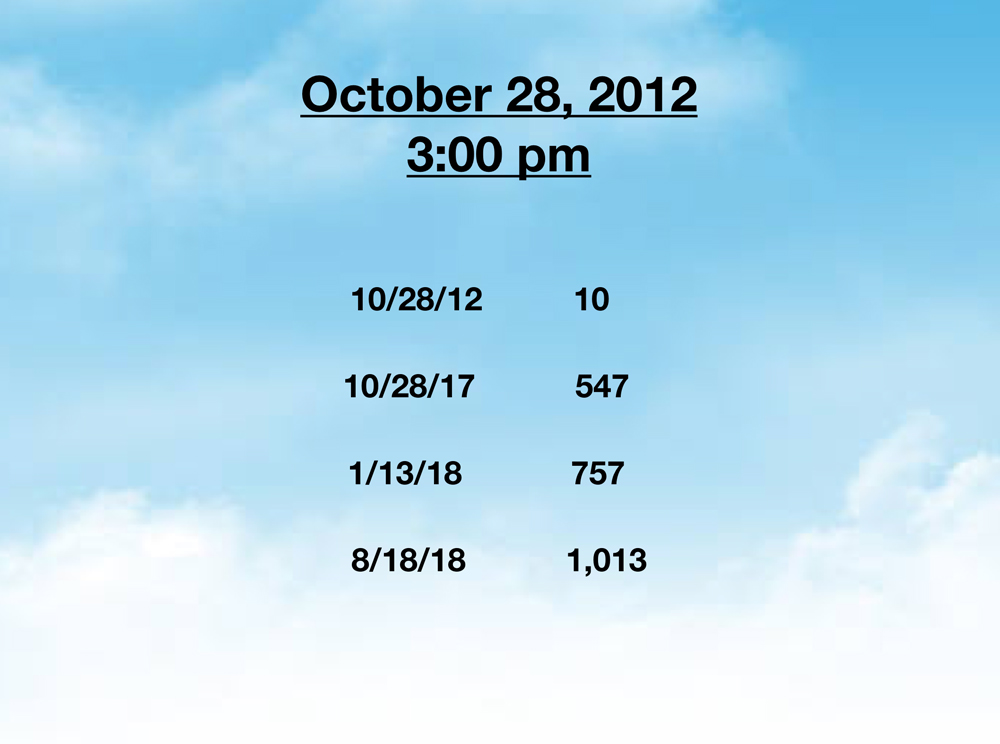 Meanwhile my house has turned into a shrine for our lost colleagues with entire walls covered with photos of suicided doctors and medical students. And because so many people keep calling and writing me, I've been running a de facto doctor suicide hotline from my home for nearly six years now. Yes, I'm up at all hours of the night on the phone with doctors I've never met who are having panic attacks at work in between patients and others who are sobbing on the phone with me. Again, I never intended to run a suicide hotline, yet doctors keep calling and I keep answering the phone. Truly a labor of love. After speaking to thousands of suicidal doctors and medical students, I now have a depth of understanding about physician psychology and suicide that is probably very unique in the world.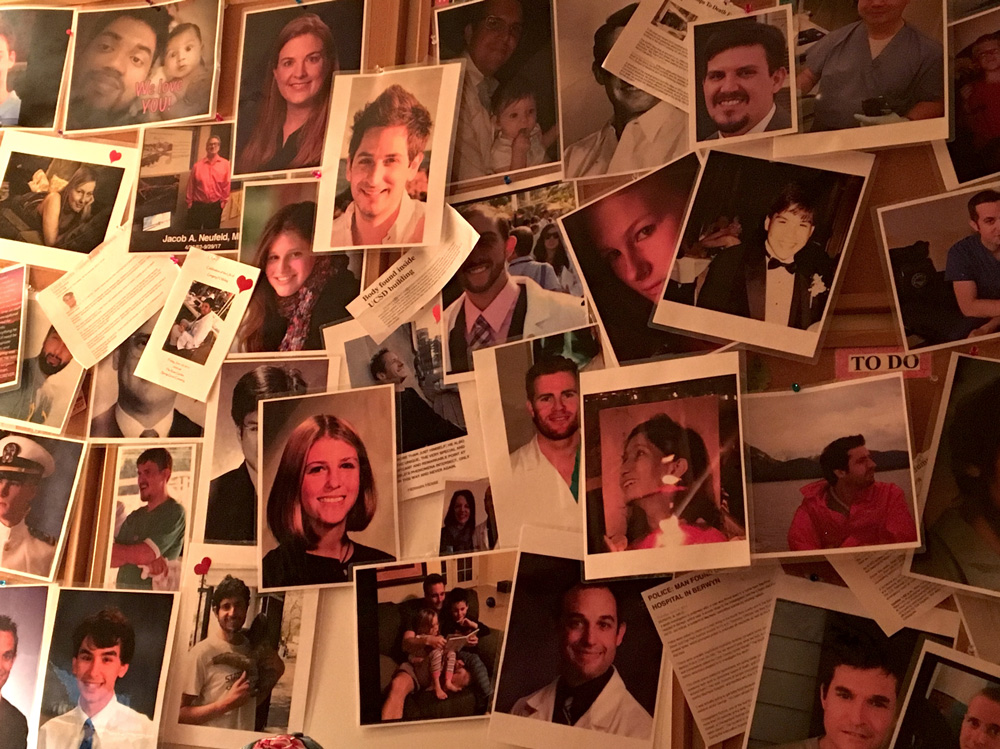 Here's what I've learned from 1,013 doctor suicides.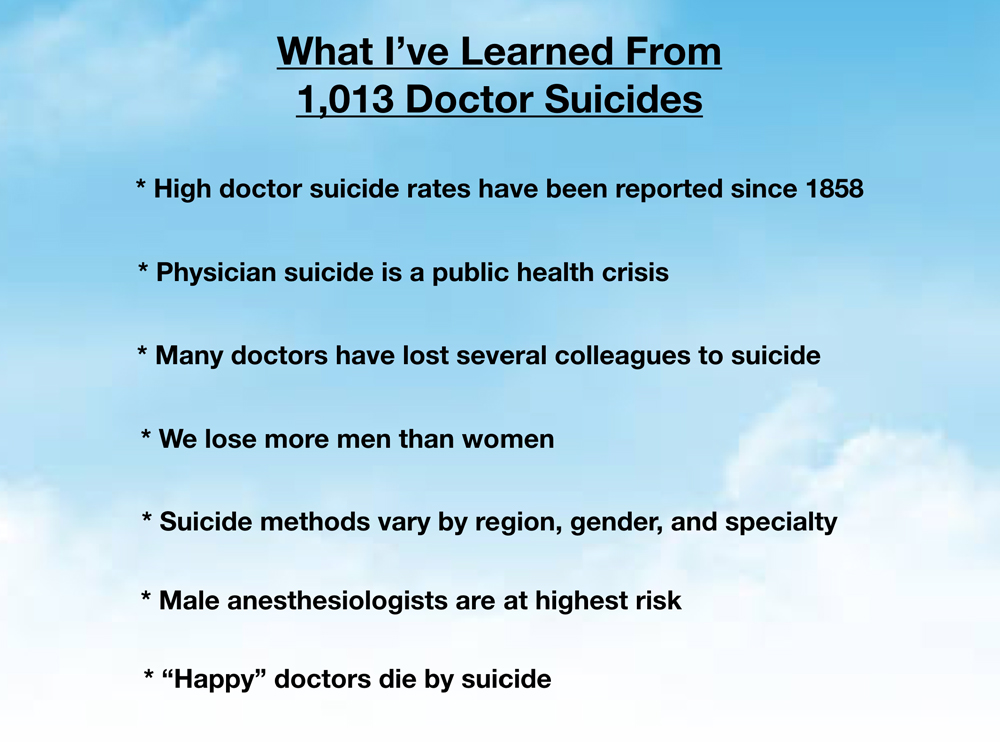 High doctor suicide rates have been reported since 1858. Yet 160 years later the root causes of these suicides remain unaddressed.
Physician suicide IS a public health crisis. One million Americans lose their doctors each year to suicide. Yet they are never informed the real reason why they can't see their doctor who just saved their life or delivered their first child. They're told to just pick another doctor!
Many doctors have lost several colleagues to suicide. Some have lost up to eight during their career. With no chance to grieve. In fact many medical institutions don't offer grief counseling services or allow any time off for surviving colleagues who are often forced to work more hours to cover the shifts of their suicided peers—and may not even be permitted to attend their funerals!
We lose more men than women. For every woman who dies by suicide on my registry, we lose four men.
Suicide methods vary by region and gender. Women prefer to overdose and men choose firearms. Gunshot wounds prevail out west. Jumping is popular in New York City. In India doctors are found hanging from ceiling fans.
Male anesthesiologists are at highest risk. Most die by overdose. Many are found dead in hospital call rooms. Google "doctor found dead in hospital" and I would bet most are male anesthesiologists.
"Happy" doctors die by suicide. Many doctors who die by suicide are the happiest most well-adjusted people on the outside. Just back from Disneyland, just bought tickets for a family cruise, just gave a thumbs up to the team after a successful surgery—and hours later they shoot themselves in the head. Doctors are masters of disguise. Even fun-loving happy docs who crack jokes and make patients smile all day may be suffering in silence. We are all at risk.
There is this perception that "happy" people don't die by suicide, yet often the people who are most happy on the outside—the very people who spend their days making other people happy (maybe a coping strategy?)—are the ones who are terribly lonely and depressed. Consider reaching out to your "happy" colleagues to see how they are doing.
When I read this excerpt from the 1858 Manual of Psychological Medicine I kept thinking of Robin Williams and all the happy doctors we've lost to suicide:
"Carlini, a French actor of reputation, consulted a physician to whom he was unknown, on account of the attacks of profound melancholy to which he was subject. The doctor, among other things, recommended the diversion of the Italian comedy; "for," said he, "your distemper must be rooted indeed, if the acting of the lively Carlini does not remove it.:" "Alas! ejaculated the miserable patient, "I am the very Carlini whom you recommend me to see; and, while I am capable of filling Paris with mirth and laughter, I am myself the dejected victim of melancholy and chagrin."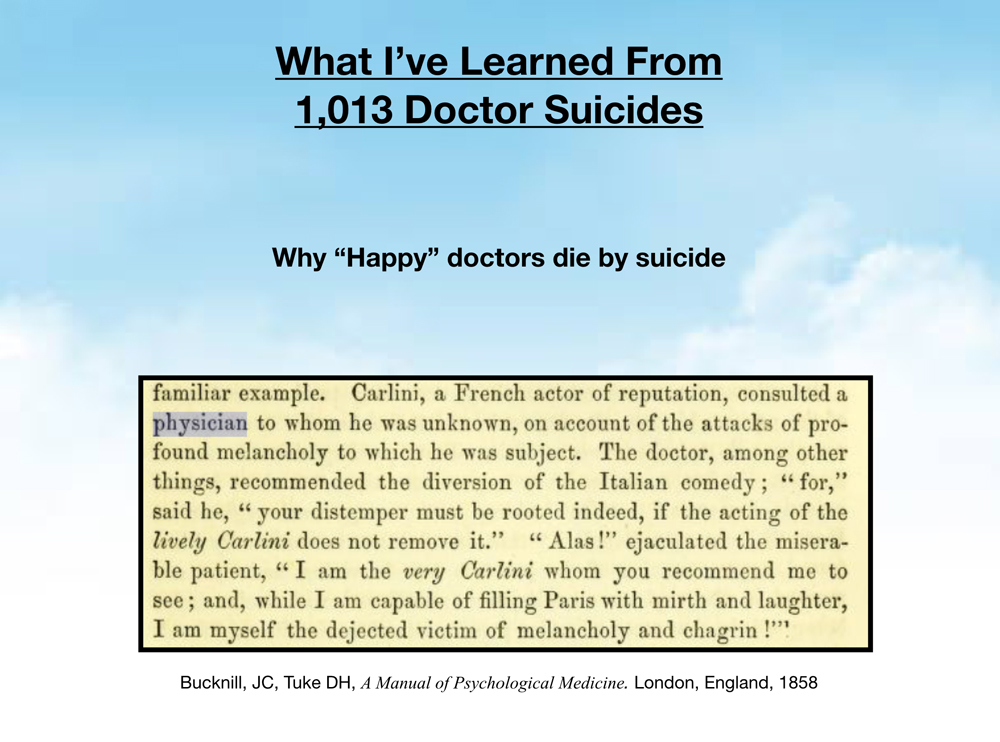 Sensitive souls are at highest risk. Some of the most caring, compassionate, and intelligent doctors choose suicide rather than continuing to work in such callous, uncaring and ruthlessly greedy medical corporations.
Doctors have personal problems—like everyone else. We get divorced, have custody battles, infidelity, disabled children, deaths in our families. Working 100+ hours per week immersed in our patients' pain, we've got no time to deal with our own pain. (Spending so much time at work actually leads to divorce and completely dysfunctional personal lives).
Doctors develop on-the-job PTSD. Especially true in emergency medicine and surgical specialties. Then one day they "snap" like this guy, a friend of mine who against all odds survived his suicide attempt to now enlighten others.
Patient deaths hurt doctors. A lot. Even when there's no medical error, doctors may never forgive themselves for losing a patient. Suicide is the ultimate self-punishment for the perfectionist.
Malpractice suits kill doctors. Humans make mistakes. Yet when doctors make mistakes, they're publicly shamed in court, TV, and newspapers (that live online forever). We continue to suffer the agony of harming someone else—unintentionally—for the rest of our lives.
Doctors who do illegal things kills themselves. Medicare fraud, sex with a patient, DUIs may lead to loss of medical license, prison time, and suicide. Even doctors who witness unethical things are at risk of suffering and not being protected as whistle blowers as noted above.
Assembly-line medicine kills doctors. Brilliant, compassionate people can not care for complex patients in 10-minute slots. When punished or fired for "inefficiency" or "low productivity" doctors may choose suicide. Pressure from insurance companies and government mandates further crush the souls of these talented people who just want to help their patients. Many doctors cite inhumane working conditions in their suicide notes. (Assembly-line medicine was 100% responsible for my suicidality in 2004. Thankfully launching my independent practice cured me!)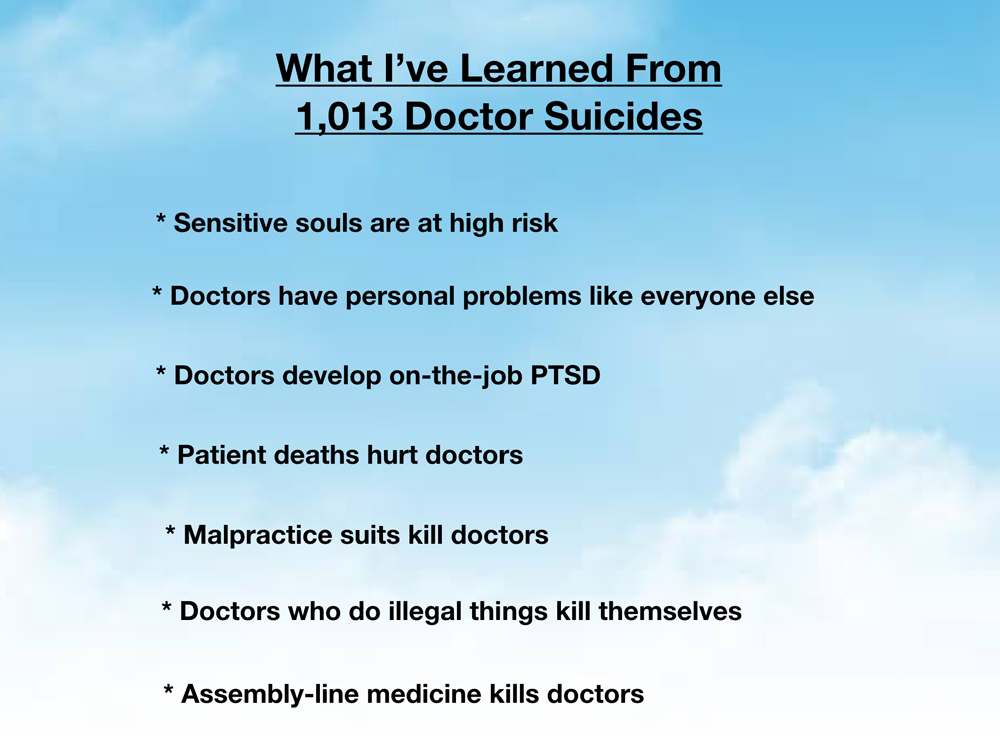 Bullying, hazing, and sleep deprivation increase suicide risk. Medical training is rampant with human rights violations illegal in all other industries. Physicians have suffered hallucinations, life-threatening seizures, depression and suicide solely related to sleep deprivation. Resident physicians are now "capped" at 28-hour shifts and 80-hour weeks. If doctors-in-training "violate" work hours (by caring for patients) they are forced to lie on their timecards or be written up as "inefficient" and sent to a psychiatrist for ADHD medications. Some doctors kill themselves for fear of harming a patient (or because they did harm a patient) from extreme sleep deprivation.
Blaming doctors increases suicides. Words like "burnout" and "resilience" are often employed by medical institutions to blame and shame doctors while deflecting attention from inhumane working conditions. When doctors are punished for occupationally-induced mental health conditions (while underlying human rights violations are not addressed), they become even more hopeless and desperate.
Doctors fear lack of confidentiality if they seek mental health care. So they drive out of town, pay cash, and use fake names to hide from state medical boards, hospitals, and insurance plans that ask doctors about their mental health and may then exclude them from state licensure, hospital privileges, and health plan participation. (Even when confidential care is available, physicians have little time to access care when working 80-100+ hours per week).
Medical board investigations may increase suicide risk. One doctor hung himself from a tree outside the Florida medical board office after being denied his license. In several of these orthopaedist suicides, ongoing hospital review or loss of privileges played a primary role in their suicides.
Doctors choose suicide to end their pain (not because they want to die). Suicide is preventable. We can help doctors who are suffering if we stop with all the secrecy and punishment. Why not support and care for the people who are here to care for us?
Ignoring doctor suicides leads to more doctor suicides. Thankfully an Emmy-winning filmmaker has completed a documentary that is now shining a light on the physician suicide crisis. View movie trailer here & attend a screening.
Doctor suicide notes reveal the true cause of suicide. Why aren't we studying these notes? I have a book of suicide letters I've published from 53 doctors (many writing to me debating the pros/cons of dying by suicide). The reasons doctors die by suicide are in the book. Download free audiobook here.
Doctors have a great work ethic until the end! Yes, we literally are checking on our patients, reviewing critical labs, and completing out chart notes before we orchestrate our suicides.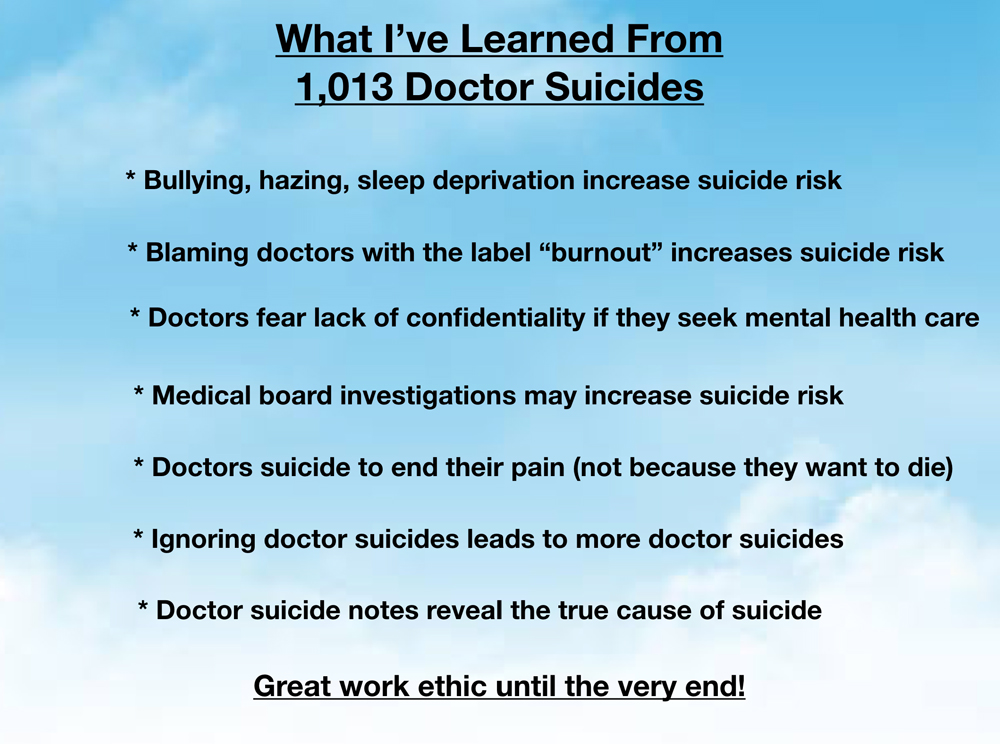 I've analyzed 1,013 physician suicides by specialty that have come to me via friends, family, colleagues over the past six years. Of these 1,013, 888 are physicians and 125 are medical students. The majority (867) are suicides in the USA and 146 are international. Surgeons (including surgical subspecialties excluding OB/gyn) have the greatest number of suicides, then anesthesiologists, family docs, internal medicine, emergency medicine, OB/gyn, psychiatry, pediatrics, and radiology. Males (light blue) far outnumber females (darker blue) in all suicides per specialty. The darkest blue represents doctors who have died by suicide with incomplete data on gender.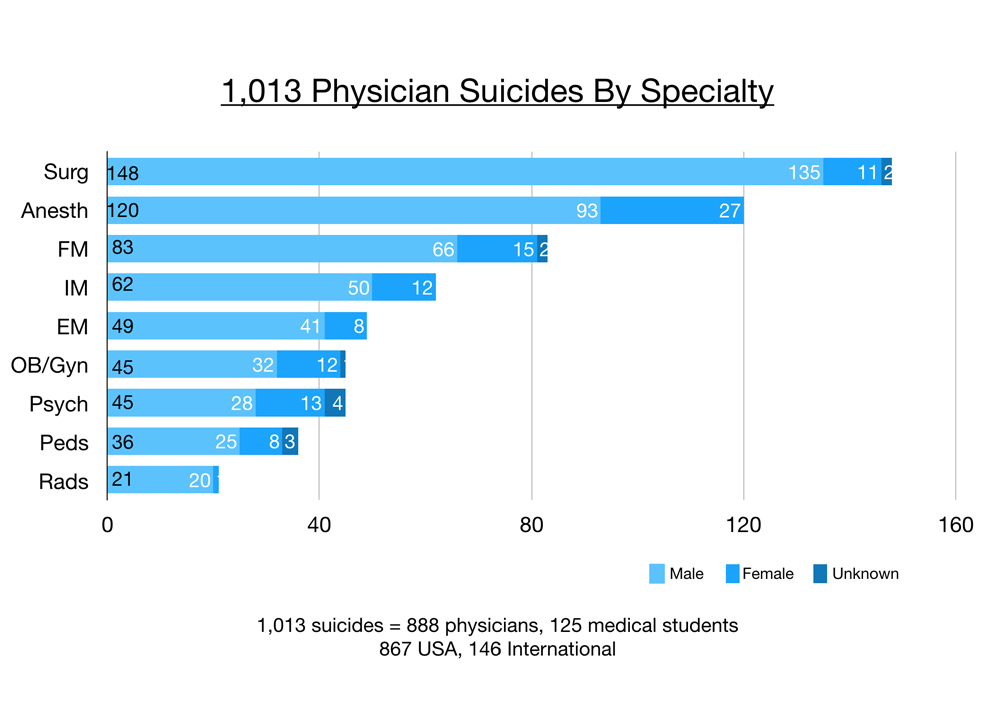 However, when accounting for numbers of active physicians per specialty, anesthesiologists are off the chart and far in the lead. Surgeons are number two, then emergency docs, OB/gyn, and psychiatry. Physicians per specialty are from the 2016 AAMC Physician Specialty Data Report that measured only the active physicians in the largest specialties. Still this gives us a sense of the prevalence of suicide per specialty. Then I analyzed the 148 surgeon suicides and divided them into their subspecialties.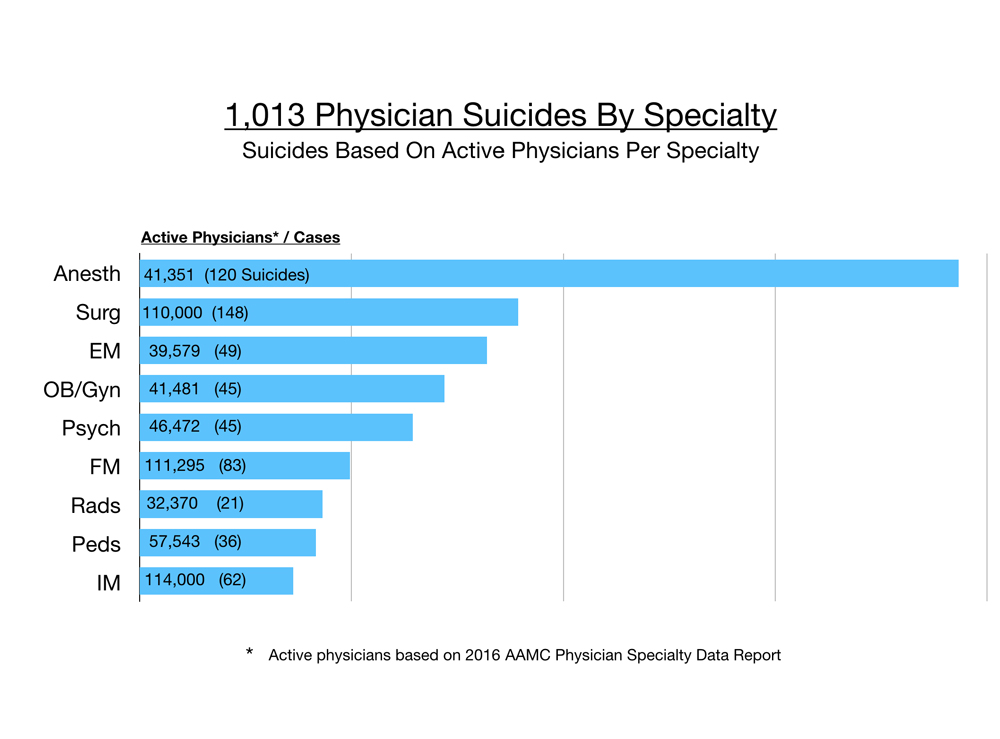 Raw numbers from my registry reveal general surgeons at 51, orthopaedic surgeons at 33, then urology and plastic surgery with 10 cases each, ophthalmology with nine, neurosurgery and ENT with seven, vascular six, and so on. Several of these surgical subspecialties only have a few thousand active practicing physicians and so the sample size is quite small and it does make it more challenging to analyze and reveal trends.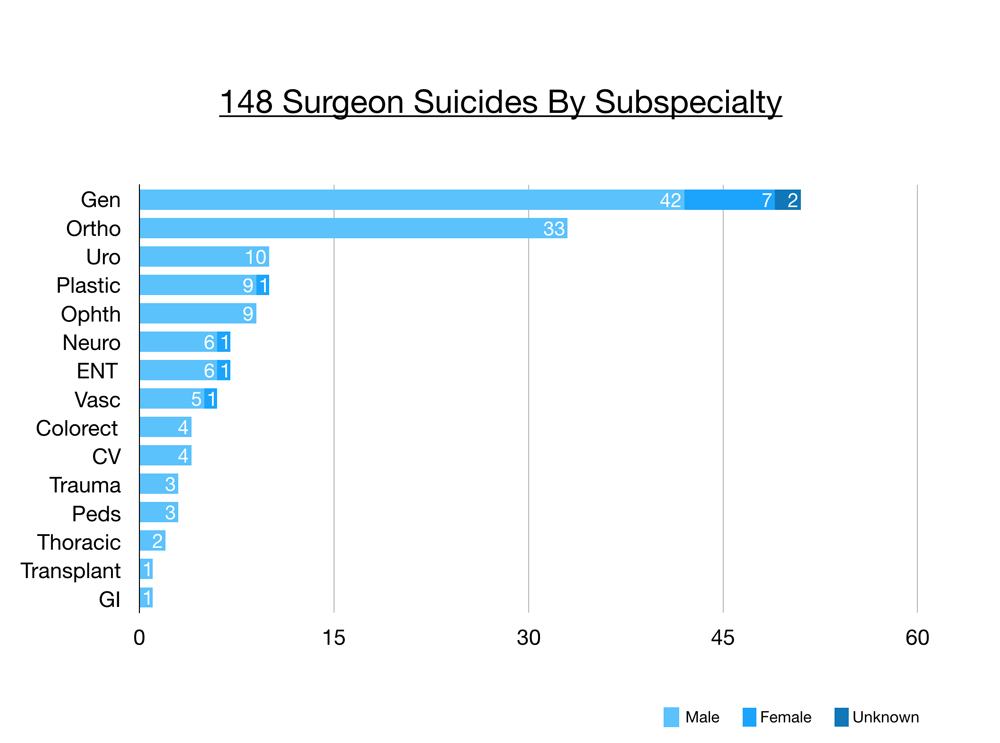 Today I'll focus on the 33 orthopaedic surgeons we lost to suicide. Why they chose suicide. And what you can do now so that you don't lose your own life or life of a colleague.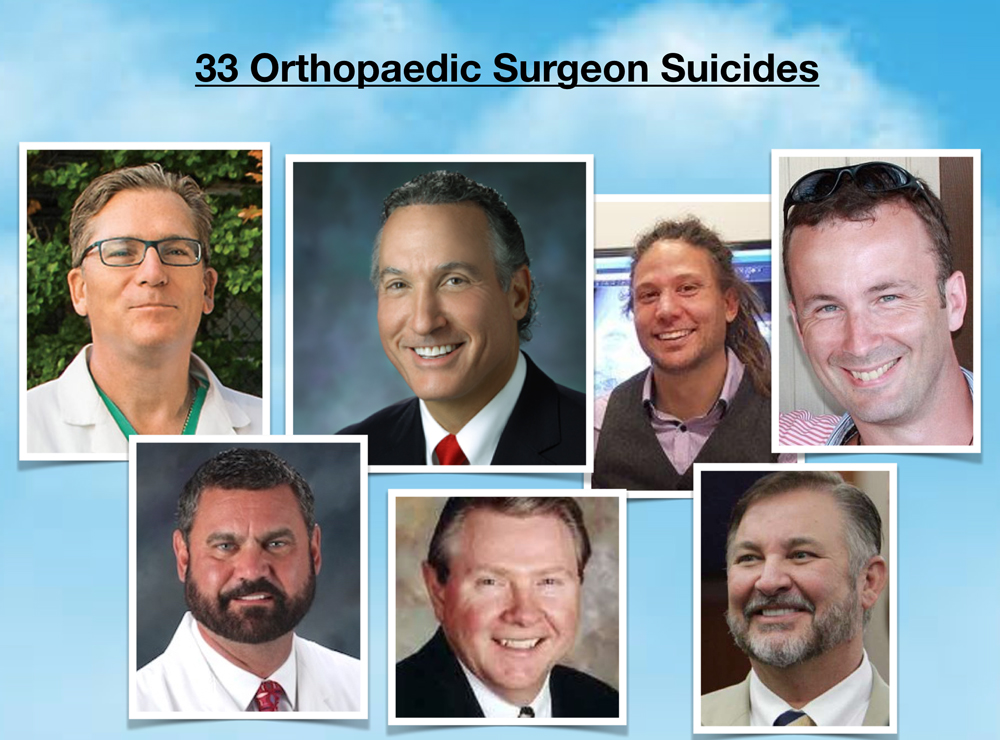 On review of the 33 orthopaedic suicides, 30 were surgeons and three were residents. Again most (27) in the USA and six cases international. One from each of the following countries: India, Nepal, UK, Australia, South Africa, New Zealand.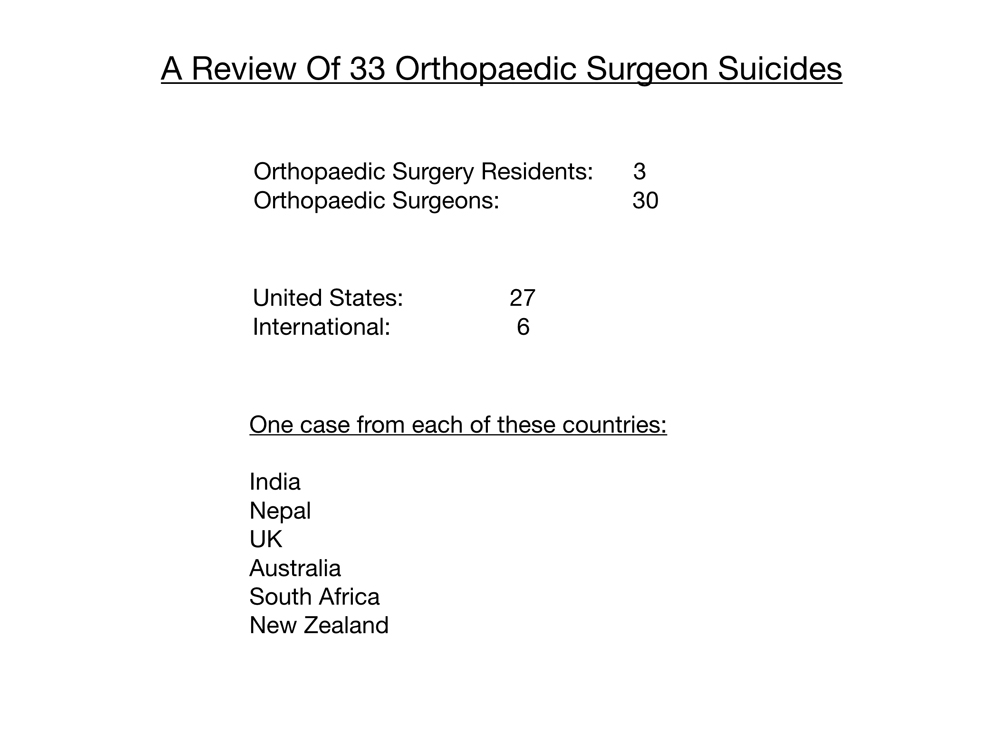 These numbers are the tip of the iceberg. I certainly do not have a comprehensive list, nor does anyone on the planet. Many doctor suicides are well hidden for a variety of reasons, stigma within society, the medical system, even families (who have asked me to lie about the suicides—even when video footage shows the doctor purposefully stepping off the roof of a hospital). Many times even death certificates do not specify suicide (even when there is a suicide note). Doctors may list cause of death on the death certificate as an accident (again for a variety of reasons including reputation of their colleague and life insurance payouts). Some physicians who die by suicide make their death appear to be an accident, again for reputation and life insurance.
Analyzing these 33 cases of orthopaedic suicides it is not surprising that in a male-dominated specialty (apparently 93% male per AAOS) all 33 orthopaedic surgeon suicides are male.
The average age at suicide among these orthopaedic surgeons is 49. Ages range from 25 to 73. Orthopaedic surgeons in their 50s tend to be a high-risk age group.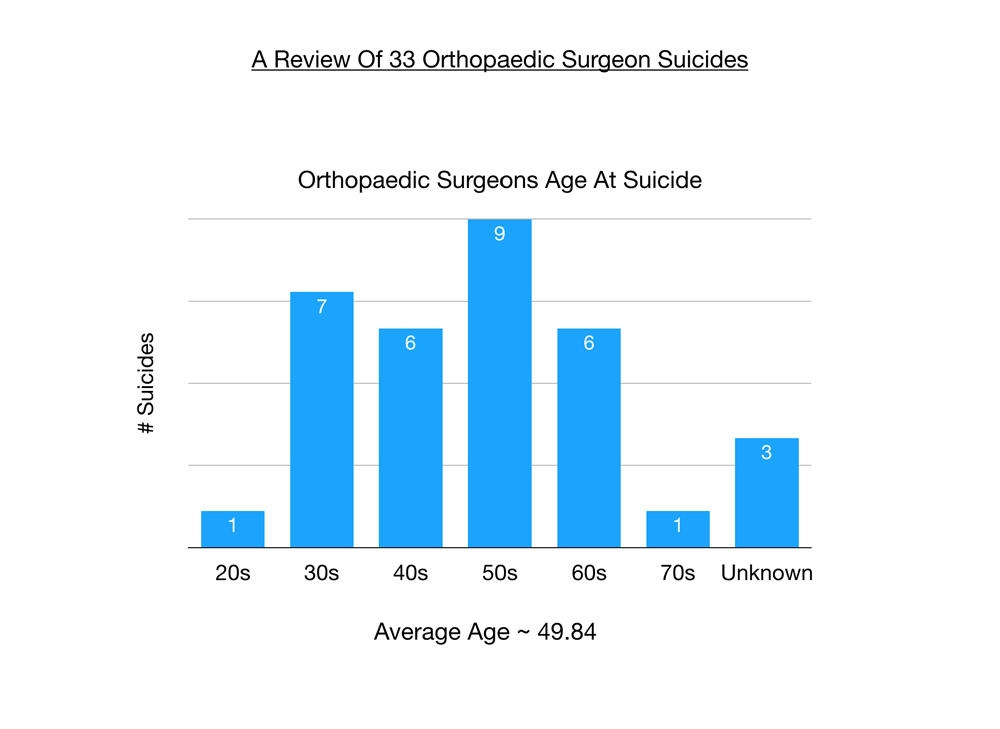 The majority of these suicides were in the last 10 years though I recently discovered one from the 1960s in my hometown.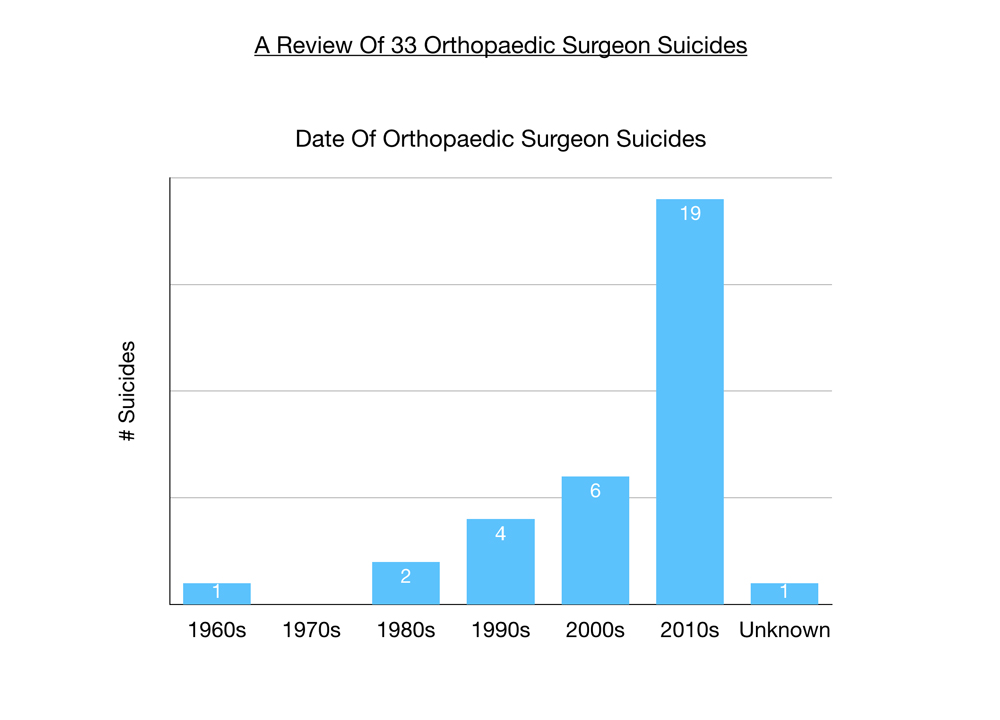 Most popular method of suicide among orthopaedic surgeons is gunshot wounds in the USA. Then hanging and overdose (these dominate overseas). Due to the taboo nature of suicide, eight of the cases reported to me by friends and colleagues have unknown method of suicide. A unique method for physicians (very uncommon in other populations) is stabbing oneself to death.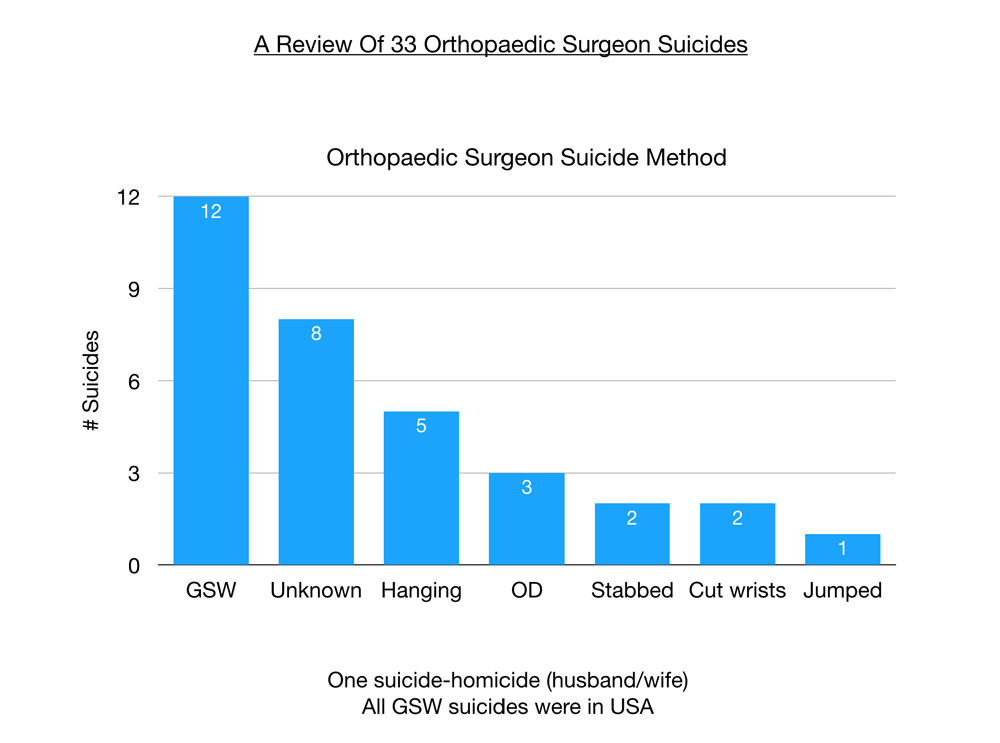 Of greatest interest to me are the reasons why doctors kill themselves. Most suicides are multifactorial, a series of events that unfold in the months leading up to the suicide. In categorizing these suicides, I was interested in the one factor at the end that made life so intolerable that these physicians saw no other way out. For orthopaedic surgeons, most are choosing suicide due to professional, not personal reasons.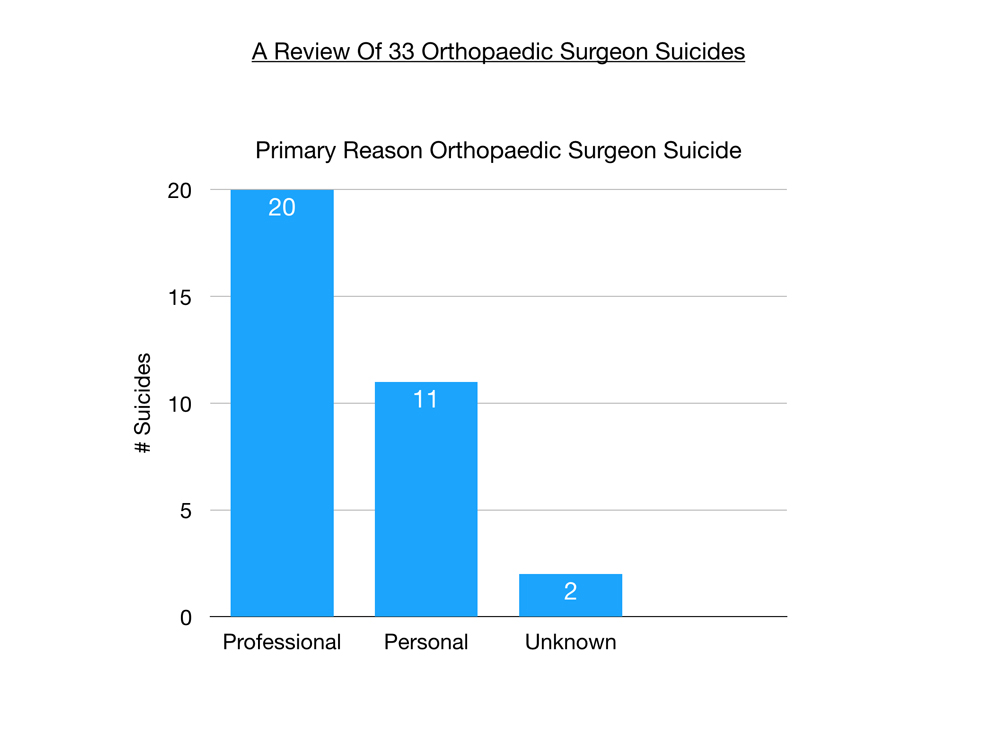 In order of significance, are medical errors, retirement, sexual harassment (and repercussions like loss of hospital privileges), fraud, the system, bullying, stress & isolation, wrong career, and grief after sudden death of orthopaedic partner.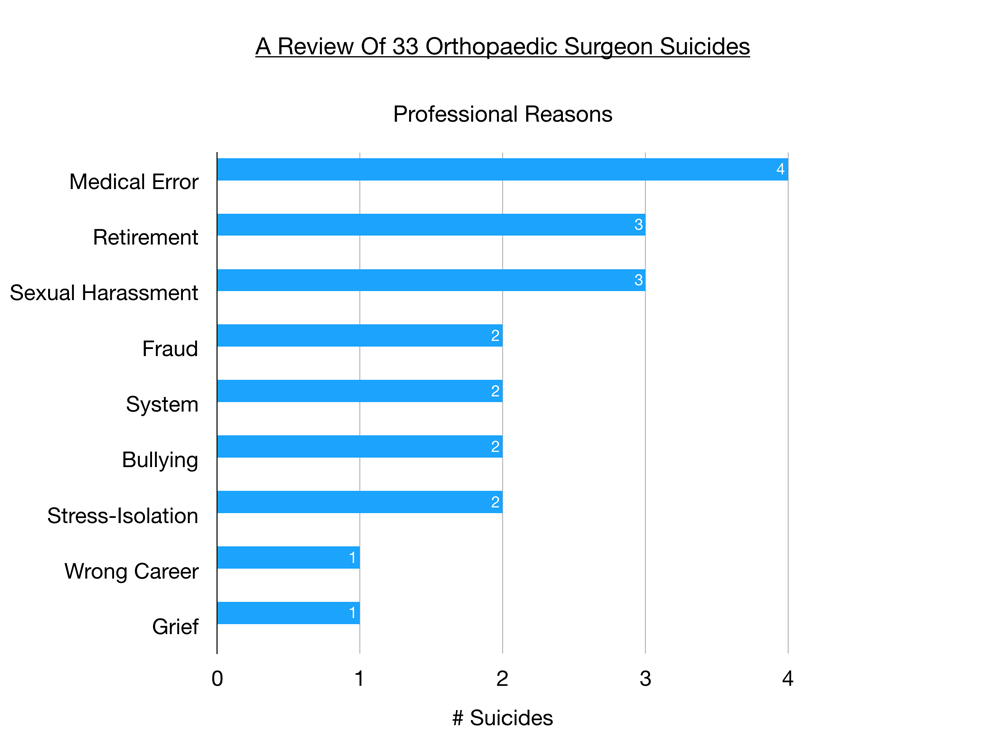 Personal reasons include mental illness, marital issues, physical illness, financial distress, and drugs.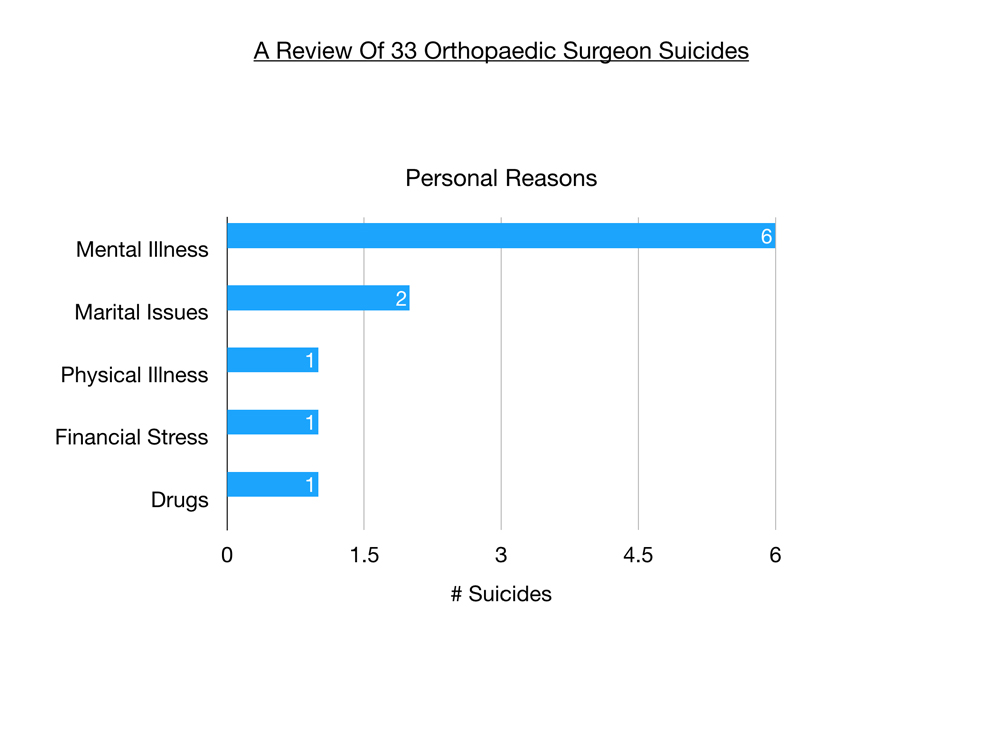 Top professional reason for orthopaedic surgeons choosing suicide is medical errors. Perfectionism leading to self-loathing for even minor surgical errors, self doubt after bad outcomes on knee replacements with pending hospital review, and one case involving an at-fault malpractice suit.
Next we have retirement and sexual harassment with three cases in each category. Forced retirement due to age, pressure from wife and partner to sell to hospital. When one's identity is so wrapped up in an all-consuming career like orthopaedic surgery, who are you when you retire? Many times we are alienated emotionally from our spouse after years of working excessively and there is a risk that retirement can unearth failing marital relationships. Retirement can lead to boredom and a feeling of uselessness.
Sexual harassment as a precipitant to suicide among orthopaedic surgeons came as a complete shock to me. Sexual harassment, of course, can span the gamut from comments objectifying or sexualizing staff and other physicians to unwanted physical contact to even molesting male high school students and interns over decades. Obviously in that last case (after the police raided his home) he was heading for prison time. In the other two cases I do not have the specific details but these appear to be accusations of verbal harassment of female staff. In one case a young new surgeon wanted to date an RN and was persistent about it. She reported him for sexual harassment. The hospital consulted with their legal team that recommended he be terminated and he went home and shot himself.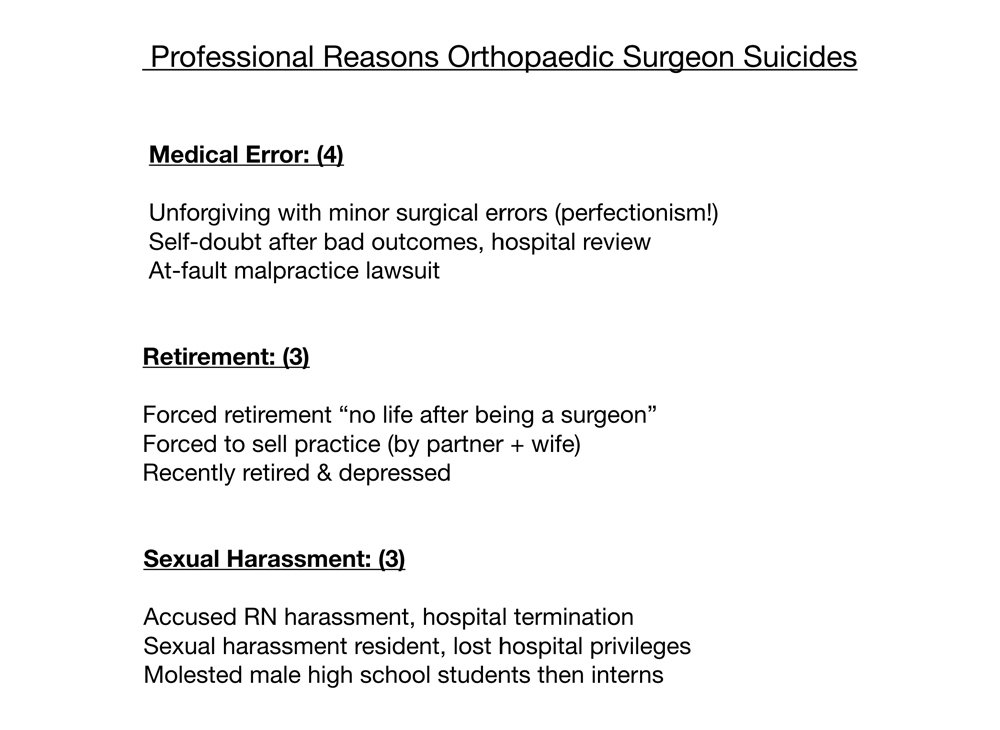 Next is fraud—witnessing hospital corruption, becoming involved in a toxic department in which there is criminal activity, and feeling pressured to participate in medical care that you deem unethical, unnecessary, or even criminal.
Bullying is known to lead to suicides in middle school and high school. Bullying also is more common that we'd like to acknowledge in our residency training. One female physician told me her boyfriend from medical school was accepted into a highly-coveted orthopaedic residency. He had type 1 diabetes. Just weeks into his intern year his attending told him: "You'll never make it with diabetes." He went home and shot himself in the head. Others report years of ongoing subtle bullying on top of all the other stressors of practice.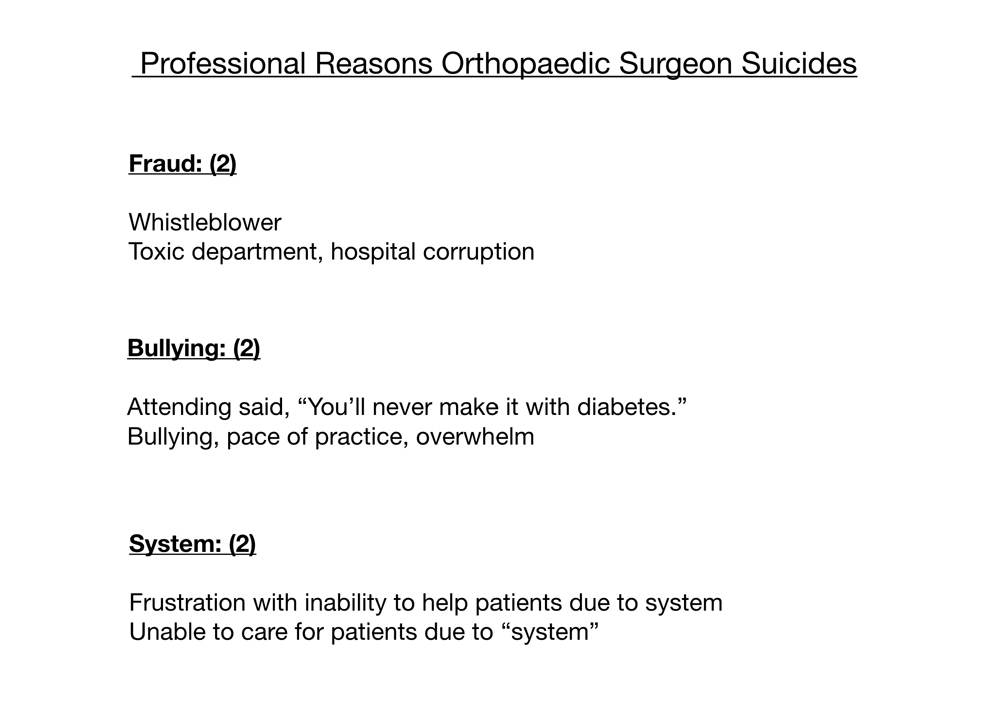 The "system" includes insurance hassles, hospital politics, and even the stresses of being a business owner or an employee (unique frustration with each). To elaborate, I'll share a conversation I had with Erin Gunckle regarding her father Dr. Wayne Gunckle, an orthopaedic surgeon who died in 2011.
As his daughter reports: "It's stressful getting the approval to do a damn surgery in the first place. If you don't get it the patient may die. If you save them you may get sued. And if everything goes well the implant may be recalled. That's what was going on when he died."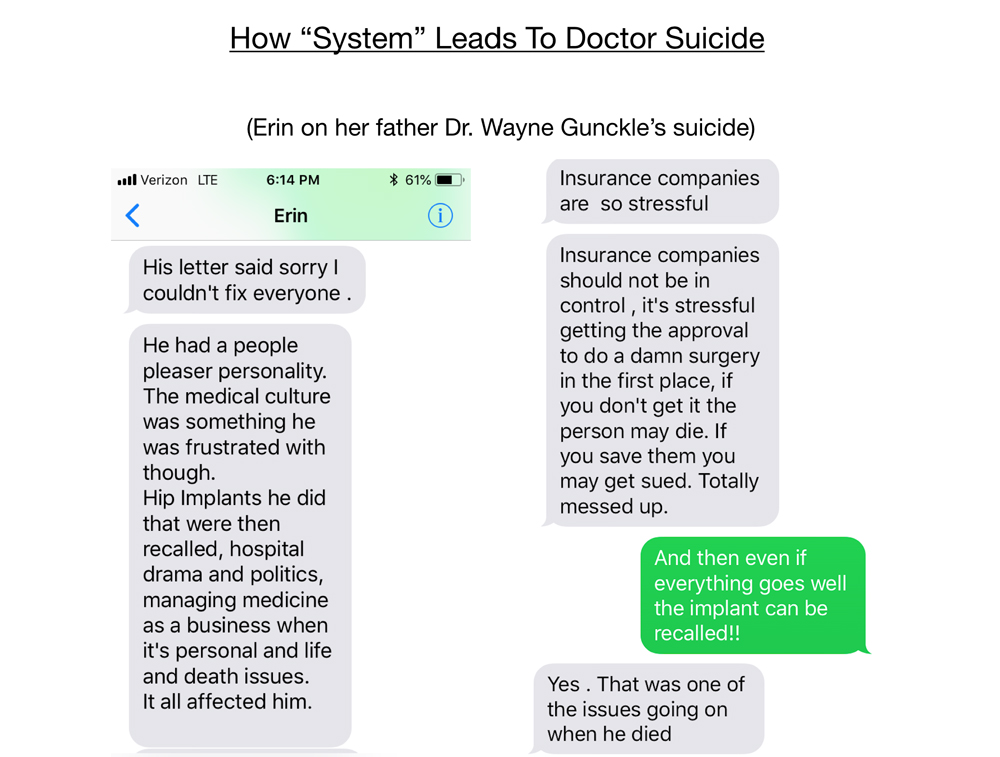 So on 3/27/2011,  Wayne bought a rope on his way into the office Sunday morning. He had planned to finish dictating his charts before his suicide, but stopped abruptly and hung himself.
He left a suicide note: "I'm sorry I couldn't fix everyone."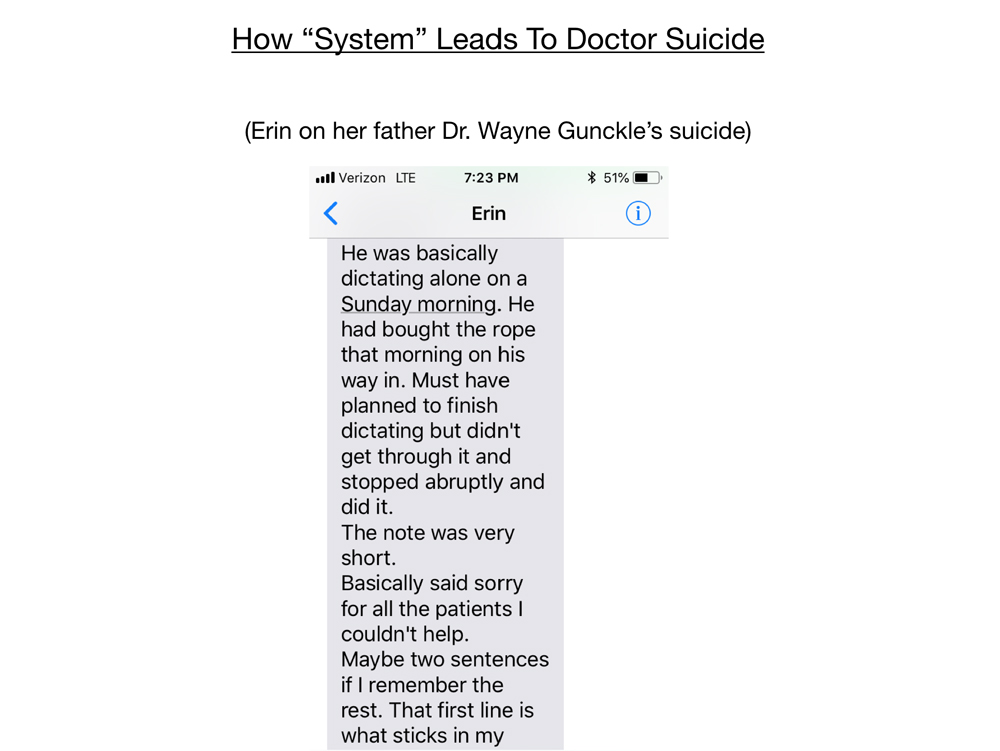 The lack of support and sheer overwhelm take an emotional toll on all of us over time. Erin writes: "There was a day when he stood alone in his closet and could not dress himself. My mom had to go in and dress him and snap him out of it. Being on alert at all times. Even sitting in church his beeper would go off. He got in a lot of car accidents rushing to the hospital. Ran out of gas many times because he was so fatigued. Almost lost his driver's license due to tickets. Lost a lady in the OR on Christmas eve. Had a mental breakdown on Christmas morning in front of four kids."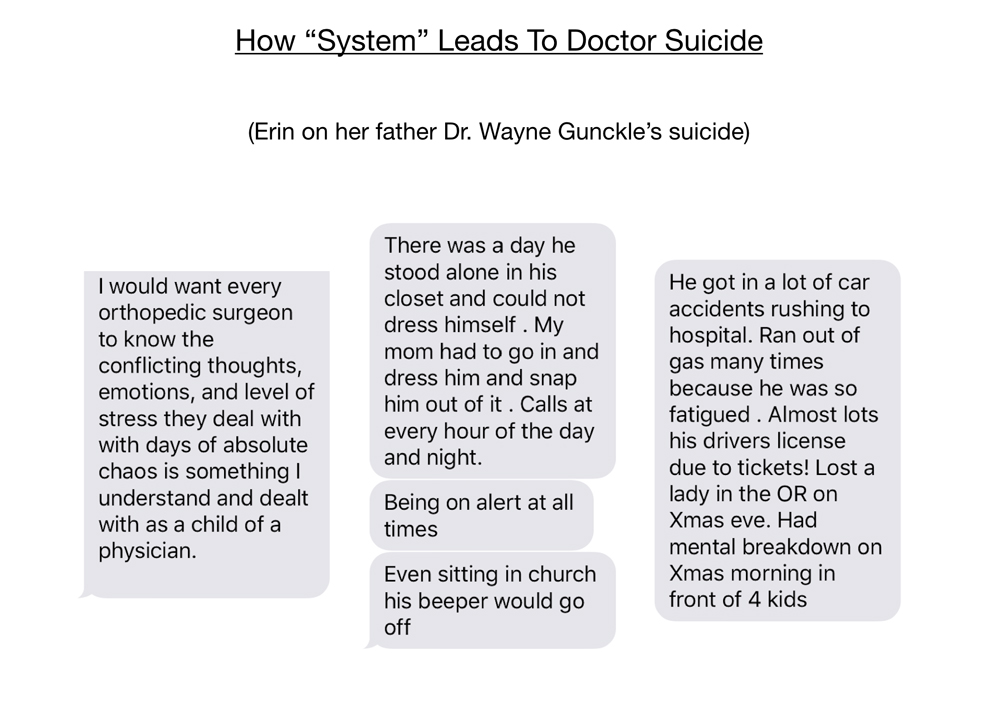 Continuing with the professional reasons for suicides: It's not a surprise that orthopaedic surgeons would suffer from stress and isolation leading to overwhelm. Some then suffer from depression and even hostility. One felt pressured by family to pursue medicine and was in the wrong career. And the one that I recently investigated in my town died in part due to a grief reaction. In 1996 an iconic orthopedic surgeon died suddenly by cerebral aneurysm, weeks later his only partner died by suicide.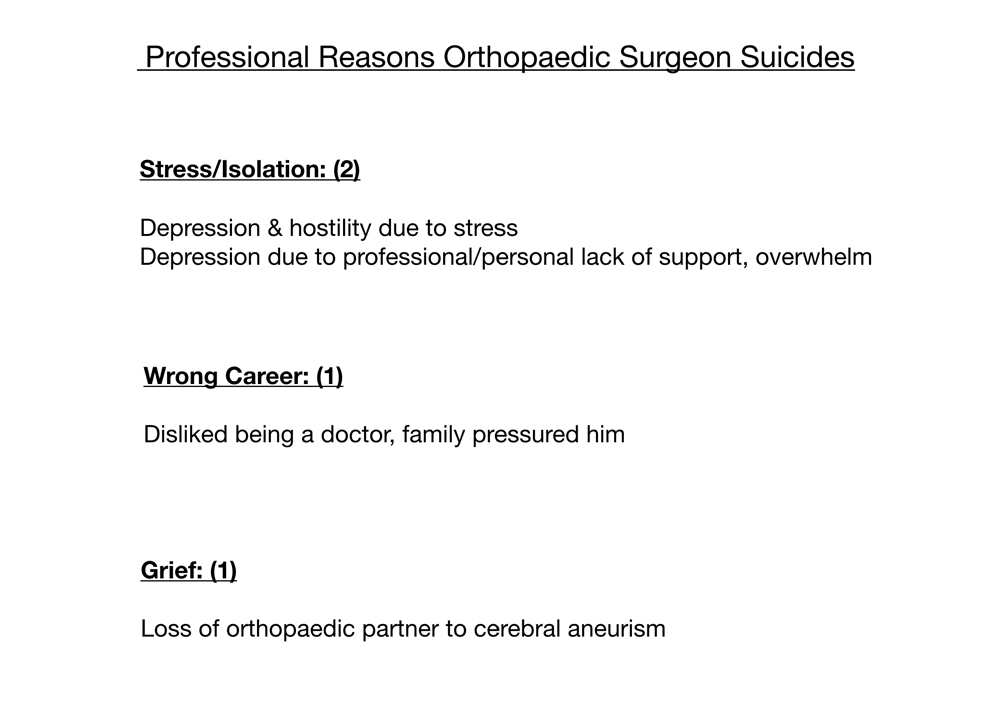 Mental illness tops the list of personal reasons. Six cases of either unrecognized (denial), untreated, poorly treated depression or bipolar.  Sometimes doctors self-treat with alcohol, stimulants, and other illicit drugs eventually leading to paranoia and psychosis. Stigma prevents doctors from seeking treatment.
Marital issues, pending divorce, including a case of husband-wife suicide-homicide. Do you realize there is a Facebook group for wives of doctors in domestic violence relationships? The predictable end result of not being proactive in caring for these highly stressed individuals who fear seeking mental health help.
One surgeon with traumatic brain injury killed himself in front of his family.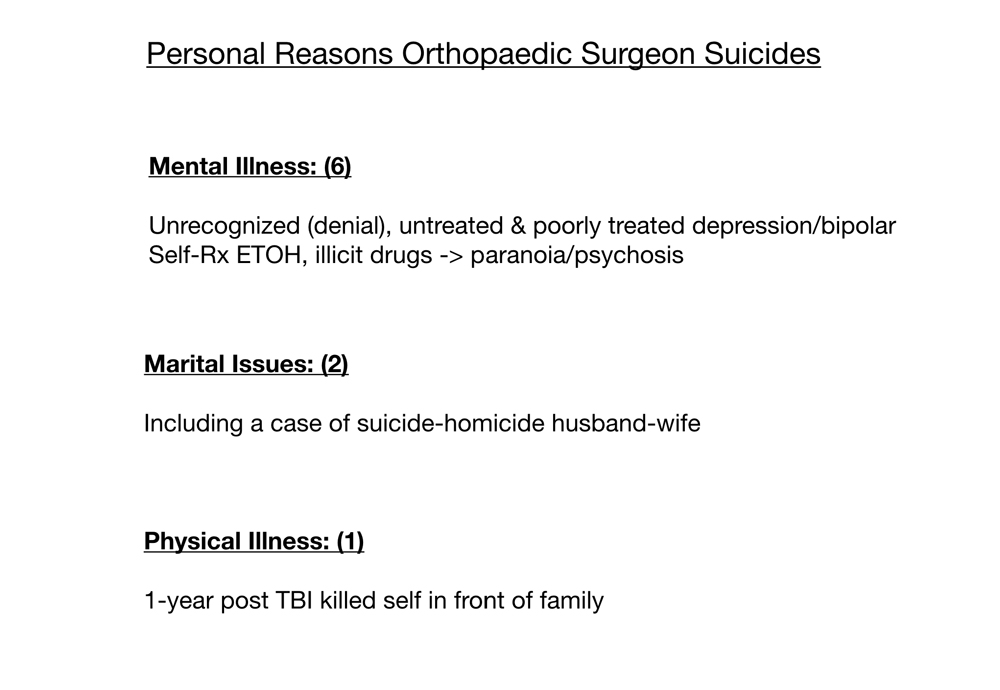 Additionally, one orthopaedic surgeon had financial issues, was unable to retire and felt trapped. Another had what appeared to be a drug problem.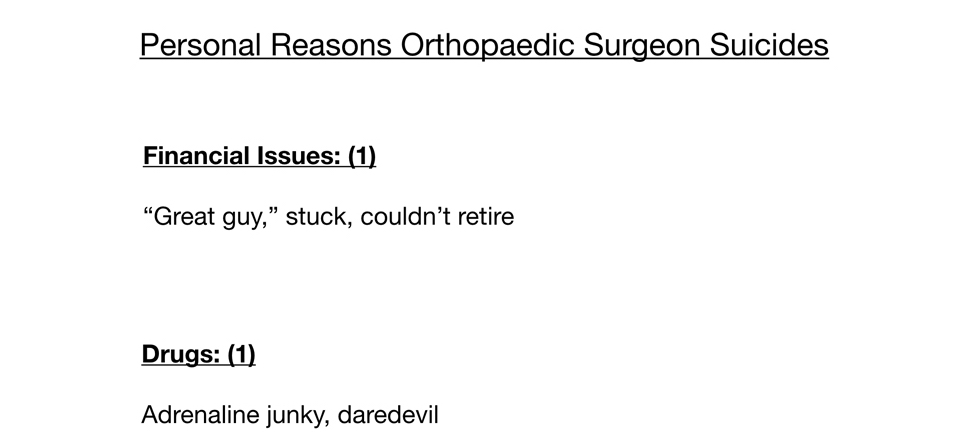 Most are multifactorial. Professional success often leads to personal life atrophy. So it is challenging to isolate just one component as the central cause as many of these victims had chronic issues that were brewing and neglected for years. The good news is that gives us a lot more time to intervene to help prevent future suicides.
Most suicides are impulsive. I interviewed several male physicians who (against all odds) survived their suicides. I asked, "How long after you decided to die by suicide did you take the pills or slice your artery?" Answer: three to five minutes. Again, though the final decision took less than five minutes to carry out, the underlying issues that led to that decision to die by suicide had been present for years to decades.
The reason why most die by suicide is for emotional pain relief. In absence of support the only way they know in the moment to get out of the pain is suicide.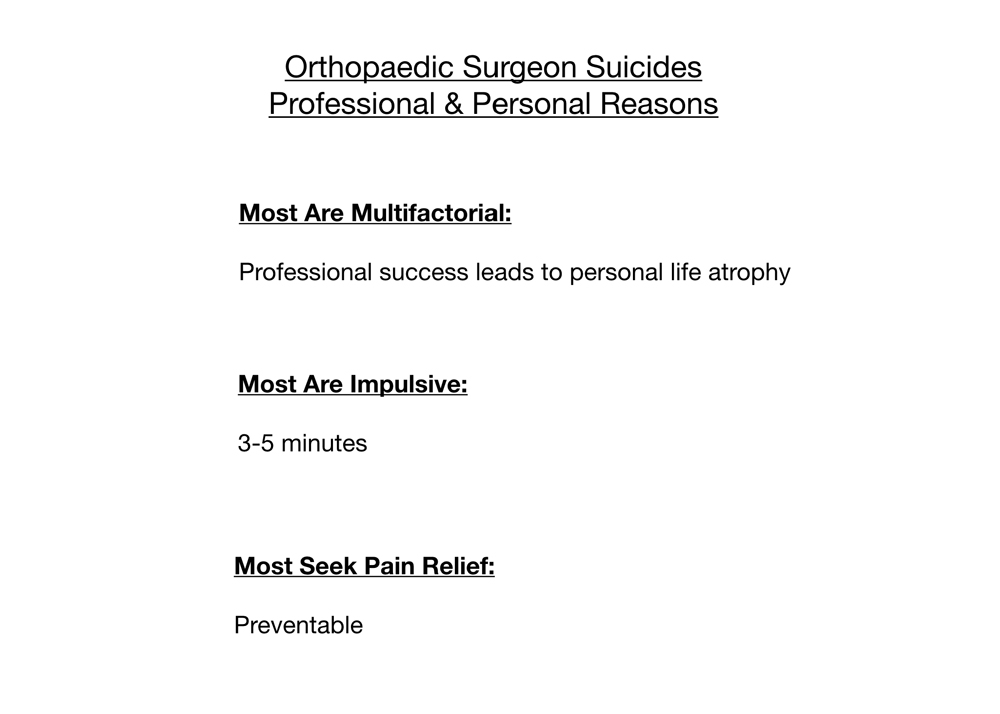 In conclusion, here are very simple no/low-cost solutions that can be adopted immediately to prevent suicides specifically among orthopaedic surgeons. You are more than your craft. Doctors are human. We require emotional support to thrive in medicine. The culture of medical education has too often pitted us against one another in an environment in which your success depends on crushing your competition. What if we interacted as human beings first? I invite you to embrace each other as brothers and sisters in medicine.
Even perfectionists make mistakes. The stakes are incredibly high and mistakes are inevitable when working on the mechanics of the human body.  Expect (and train for) medical errors. Orthopaedic surgeons are taught like mechanics. Your personal and mental health needs may be least attended to compared with other specialties like family medicine.
Offer non-punitive support for bad outcomes and bad behaviors. First do no harm to yourself and your colleagues. Doctor means teacher. Use words that heal and above all do not injure other people. Often those who are injuring others have been injured themselves in medical training. As they say, "Hurt people hurt people."Medical institutions should be safe spaces—free of bullying, sexual harassment, and public humiliation. A cycle of abuse involves perpetrators, victims, and witnesses. We can all actively stop this cycle in a way that helps everyone heal without losing any more lives.
Reach out. Take my challenge to get to know each other personally—not just professionally. Assume "happy" doctors are suffering silently. Create a buddy system—even informally. Pair up with a colleague and go to lunch once a week. Talk about more than sports, RVUs, and complex tibial plateau fractures (in less than 10 minutes!). Really talk (for maybe an hour) about how you are feeling—about your life. Know that there are counselors, therapists, psychiatrists who have practices dedicated to solely serving physicians and our special needs. (Yes, as a surgeon you are in a special needs group). Schedule regular sessions (even by Skype/phone, off-the-grid if necessary). You are not alone. You are welcome to contact me 24/7.
We need to talk about the tough things—fraud, corruption, and suicide. Support whistle blowers, depressed and suicidal physicians. Share your emotional struggles openly so that others feel safe to open up to you. Don't just "go with the flow" and pretend like everything is okay. It's not. We have the highest suicide rate of any profession. You can be a lifeline for those who are at the end of their rope.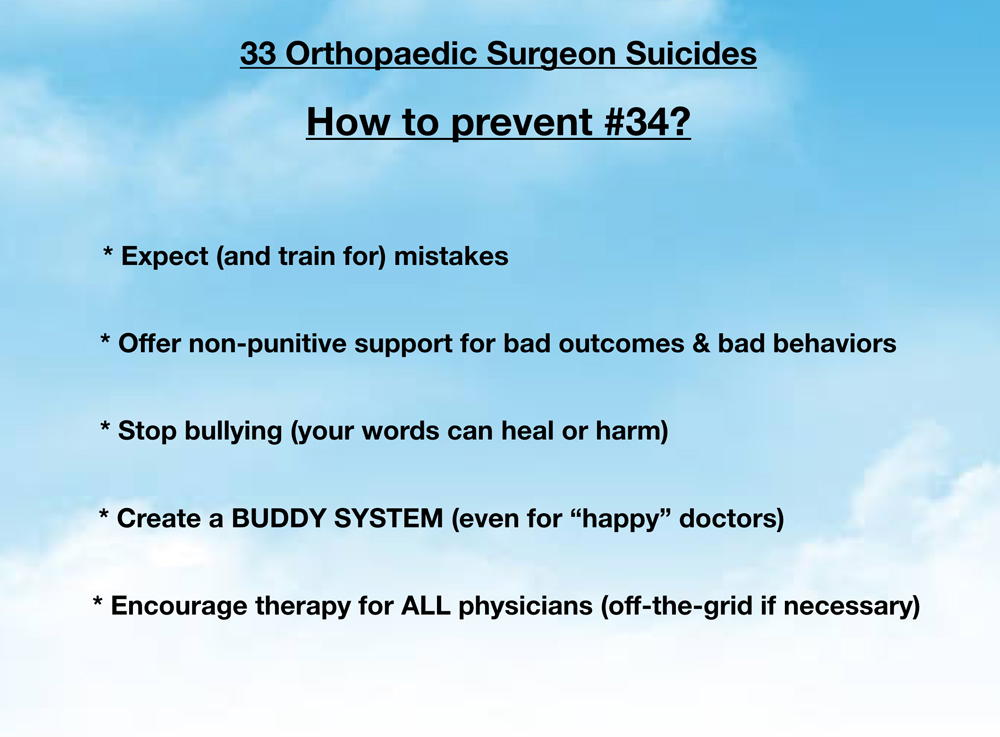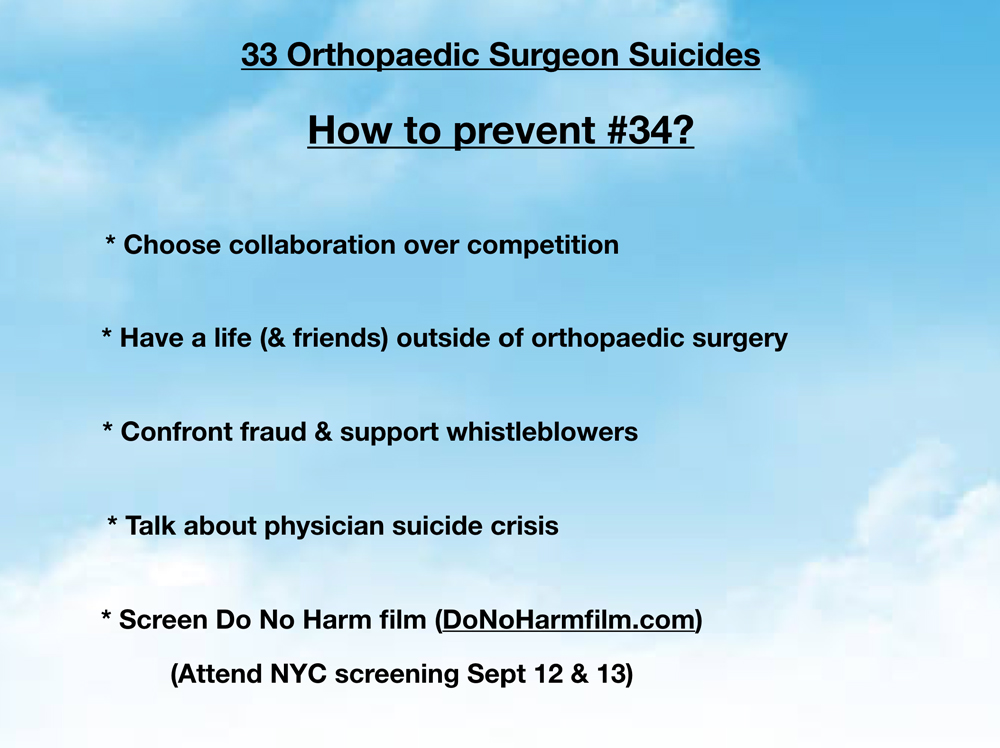 Do No Harm—is an award-winning documentary by Emmy-winning filmmaker, Robyn Symon. A four-year project just completed this summer that honors nearly 100 doctors who have died by suicide including Ben Shaffer, Steve Ortiz, and Wayne Gunckle. Now screening at hospitals, medical schools and conferences. Attend NYC screening on September 12 & 13. Panel discussion to follow. I'll be there and would love to see you. Grab your tickets here.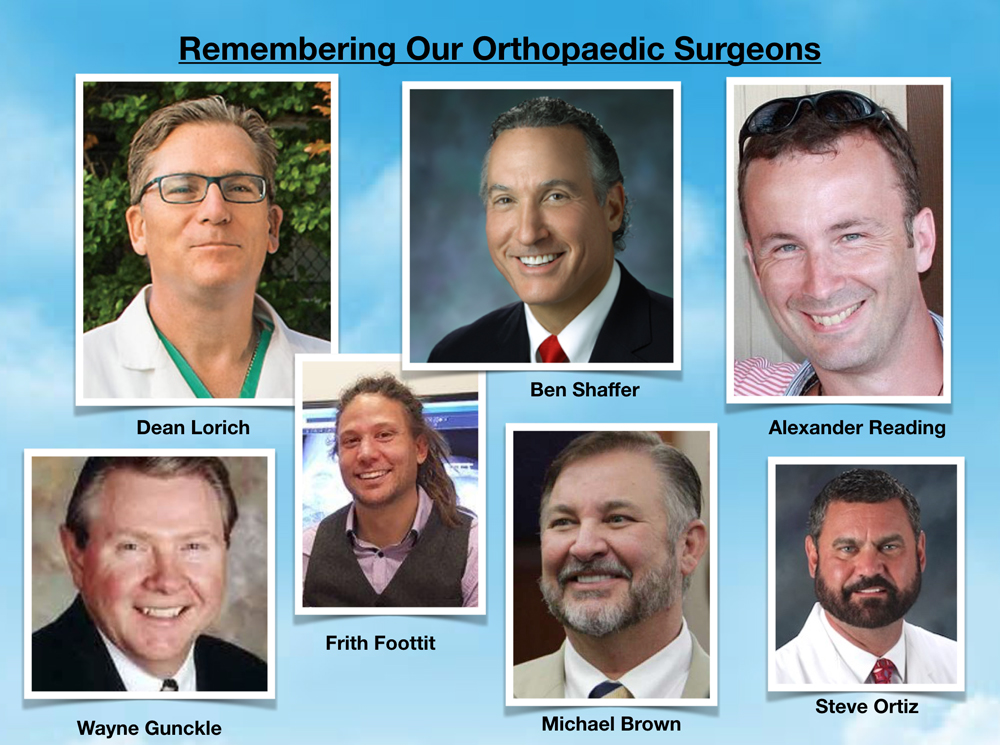 I'm open for questions. Download your free audiobook of Physician Suicide Letters—Answered. Most letters are from physicians on the edge debating whether to live or die. Most decided to stay on the planet with us. Most of these orthopaedic surgeons who died by suicide would have wanted to have a different ending. We have a lot to learn from them. Thank you.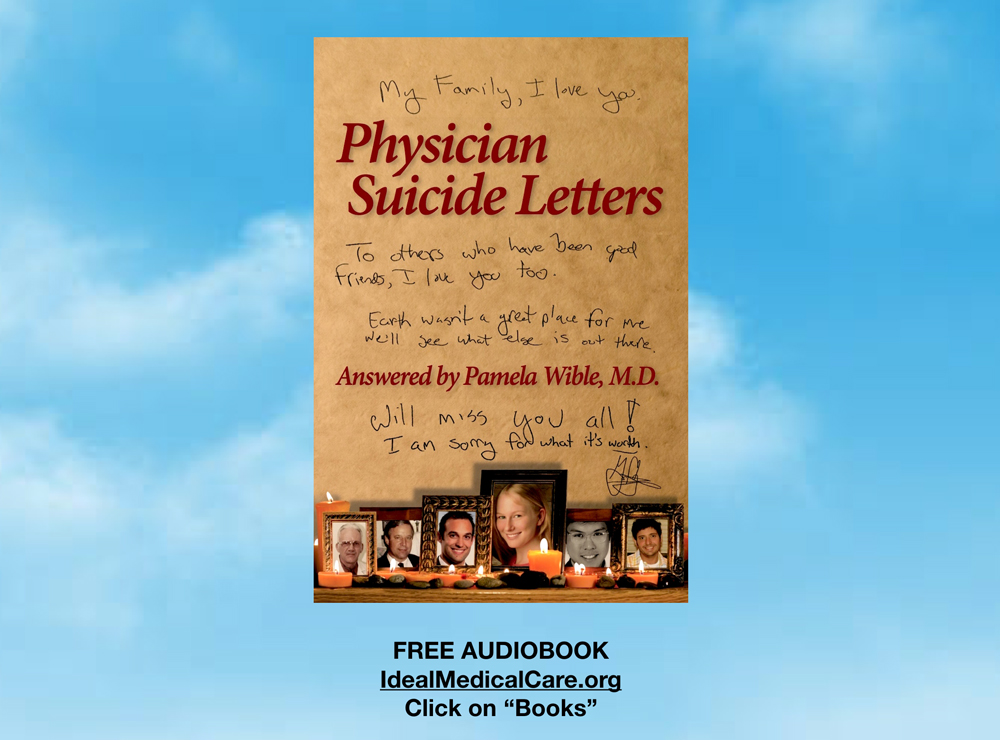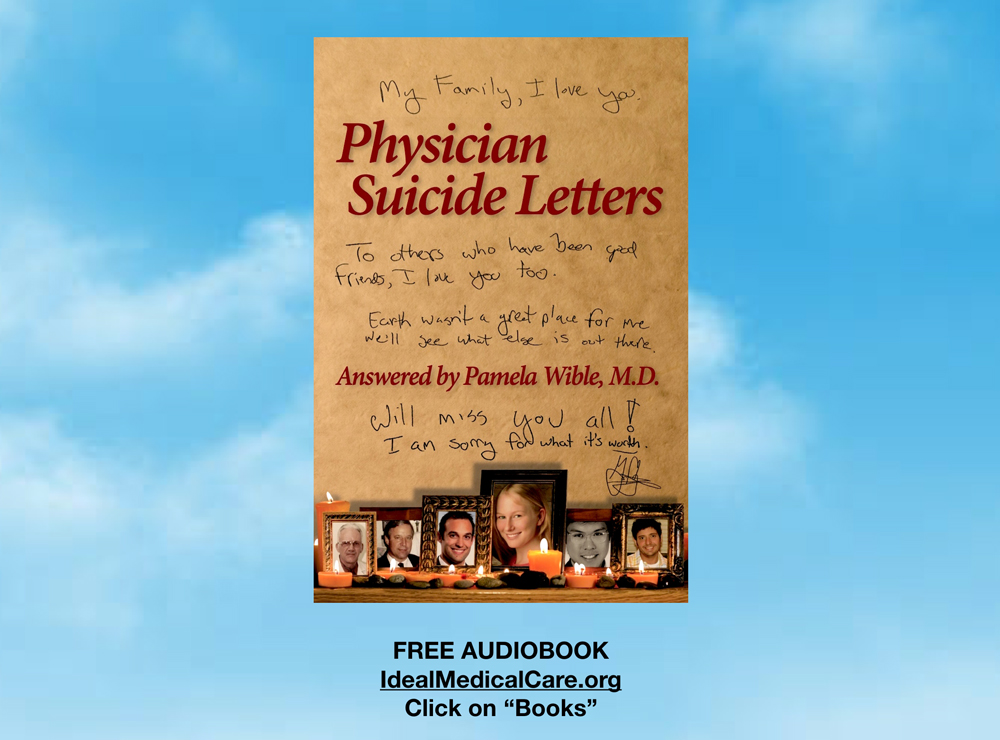 Have you lost a doctor or medical student in your life to suicide? Please add their name to registry here.