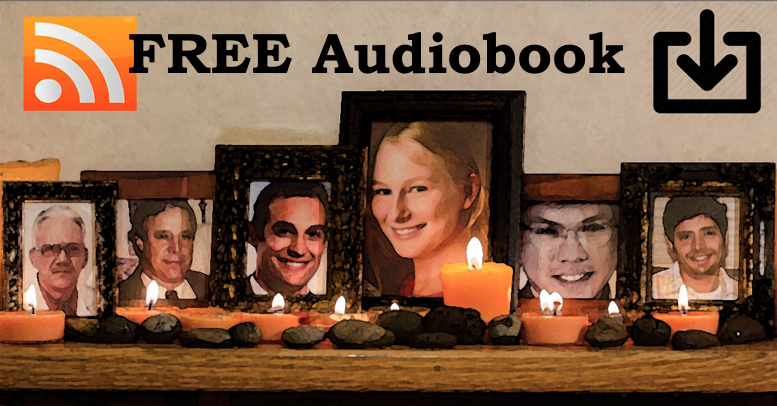 This FREE audiobook of Physician Suicide Letters—Answered, read by the author Dr. Pamela Wible, is dedicated to all medical students, to every child who has ever dreamed of being a doctor, and to all those who have lost their lives in pursuit of healing others. PLEASE SHARE WIDELY. You may save a life. (Press download arrow below playbar for your free copy).
I lost both men I dated in medical school to suicide. In just over a year we lost three physicians in my town to suicide. I was once a suicidal doctor myself. Thankfully, I survived to tell my story—and to share a secret that has been hidden from public view for more than a century.
Nobody likes to talks about how many of our doctors are jumping from hospital rooftops, overdosing in call rooms, hanging themselves in hospital chapels. It's medicine's dirty secret—and it's covered up by our hospitals, clinics, and medical schools.
The high rate of physician suicide—first reported in 1858—has been shrouded in secrecy. Tragically, my own medical profession has a track record of apathy and inaction. In fact, nobody has been tracking these suicides. So I started keeping a list of suspicious deaths among doctors in my diary. I've now compiled more than 400 confirmed cases of medical student and physician suicide.

I never went looking for suicides. These suicides found me (likely because I'm so outraged and obsessed that I can't stop writing and speaking about these deaths). Since 2012, I've been running a free physician suicide hotline from my home. Why? Because people keep calling me. Parents grieving the loss of their children to suicide in medical school. Residents struggling to make it through their shifts. And I keep getting letters from doctors all across the globe who are contemplating killing themselves.
You may be wondering why so many people who want to help people are killing themselves. That's why I wrote this book. Below, in their own words, a few excerpts: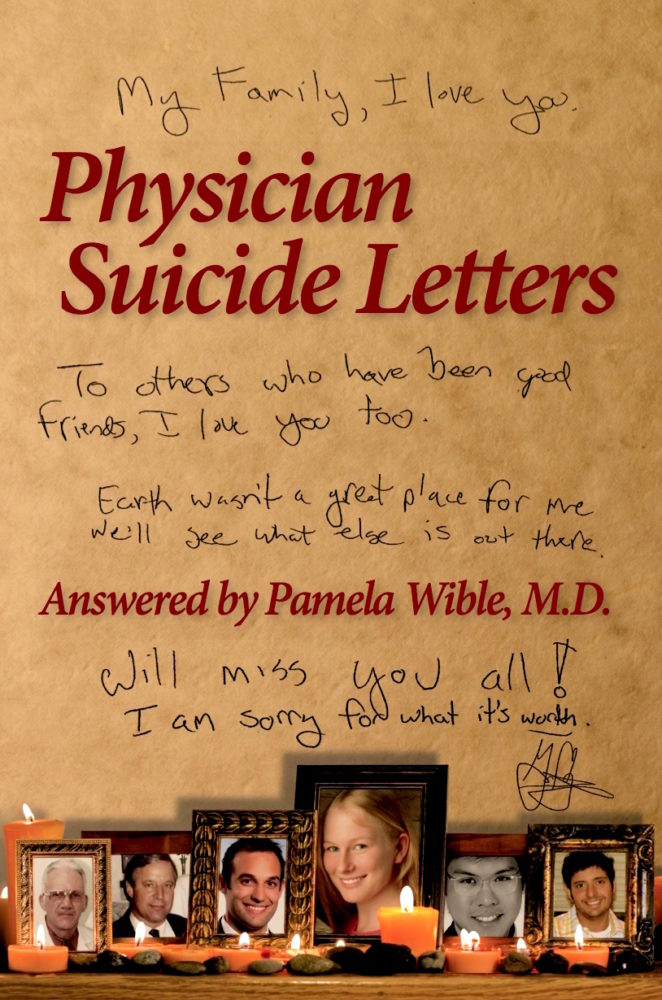 Pamela, As a physician who spent a year in residency avoiding walking next to busy streets, parking on the bottom of the garage, and refusing to have any medications in my house because I knew that I could, at any moment, use them as a means to escape, I thank you for your articles. I recognize that it's hard for many non-physicians to "feel bad" for doctors—we are seen as privileged. Many of us are egotistical. All of us are fallible. And, like everyone else, all of us are capable of plummeting to the depths of hell quickly and of feeling like there is no escape. ~ Maureen

Dear Pamela, I suspect that you would be hard-pressed to find one of us who isn't at least sometimes suicidal. We're just not allowed to admit it as it would end our careers. ~ James

Pamela, The decision to go to medical school was wrong. The idea that I could use the talents I have been blessed with to make a difference was a sham. I am called obscene names on satisfaction surveys by patients for not filling their prescriptions for narcotics/tranquilizers/amphetamines; called to task by supervisors for my arrogance at adhering to medical standards of care; and drowning in debt I can't escape by bankruptcy. I am in the process of stacking my life insurance to adequately care for my wife and children. I know how and where. Knowing I am not alone does not change things. ~ Dylan

Dear Pamela, I'm a physician in the UK and things here appear to be the same [as in the US]. I have several colleagues who have committed suicide over the years, and I feel lucky to have survived myself. I am particularly disturbed by the prevalence of PTSD among colleagues. Yes indeed I was traumatized in medical school and it continues to happen, but we get accustomed to it—to the point of becoming an abused class. ~ Christian

Dear Pamela, I was happy, secure, and mostly unafraid until med school. I recall in vivid detail the first orientation day. Our anatomy professor stood before an auditorium filled with 125 eager, nervous, idealistic would-be healers and said these words: "If you decide to commit suicide, do it right so you do not become a burden to society." He then described in anatomical detail how to commit suicide. I have often wondered how many auditoriums full of new students heard those words from him. I am sure someone stood in front of us and told us what a wonderful and rewarding profession we had chosen. I do not remember those words. But I do remember how to successfully commit suicide—with a gun. ~Anna
Wounds often begin in medical school when our gifted student doctors are placed in cut-throat competition, pitted against one another for survival, forced to submit to antiquated fear-driven teaching methods.
Dear Dr. Wible, I'm not sure you read your [Facebook] messages but feel compelled to thank you. I was finishing term two of med school and had a bottle of Xanax in my hand. I was ready, as so many of us are. I took three then three more and came across this link, "How to graduate medical school without killing yourself," which I believe may have saved my life and a couple of close friends who are also suffering. I'm near the top of my class and praying for death to escape the trap I'm locked into. I was in true delirium from lack of sleep and fear of failure. Studying in my sleep and waking up every hour in panic. Med school is doable but why must it be taught in this format? I read your stories and I'm just in shock how many others feel like I do or I feel like they do. Please keep sharing. You are saving lives, friend. ~ Chris
Not all have happy endings. I also receive letters from families who have lost their brilliant, compassionate children during medical school. And suicides are not isolated to student doctors.
Pamela, I am not surprised at the number of suicides among medical practitioners. I was a nurse for years and went back to school to be a physician assistant. There is so much abuse handed out in training. At the time I was in school, we still had some thirty-six hour shifts. It was difficult. At least at the university that I attended they had a buddy program. All of the first-year students were given a third-year student to help show us around and be a mentor. The problem was that before we even started our first classes, my mentor committed suicide. She was in her car on her way home still close to the hospital when she stopped at a red light then picked up a gun and shot herself in the head. The person behind her was a physician at the hospital. These things are not that unusual. It's a sad state of affairs. ~ Patricia
These deaths also impact patients. Each year more than one million Americans lose their doctors to suicide. Physician suicide is a public heath crisis. Yet patients rarely learn the truth—the real reason they can't see their doctors ever again.
Dear Pamela, I am still in a state of shock hearing that my brilliant, loving, compassionate, successful, well-respected, honest, hard-working physician committed suicide this past week. Pressure from the changing medical community and insurance [system] had forced him to close his thirty-year practice and he went home and shot himself in the head. The letters keep coming in of how many people loved him, were healed by him, and admired him. What a tragic end to a successful career. Everyone is asking why. He was the best of the best, surgeon and specialist, nice home, nice family and now he is gone. Totally tragic. ~ Diana


I've been told to stop talking about suicides. I've been told I'm sensationalizing these deaths, that my headlines are all wrong, that I'm not following media guidelines. I've been told that I don't have the proper credentials to run a suicide hotline and that I'm just doing this to make money. I've been shunned, ignored—even disinvited as the featured speaker by the largest medical association in America when they discovered that I would be talking about doctor suicides. Lots of people wish I would just go away. Or shut up. For the record, I have no intention of stopping.
Please join me in shining a light on the physician suicide epidemic.
View movie trailer and pledge your support to the forthcoming documentary Do No Harm.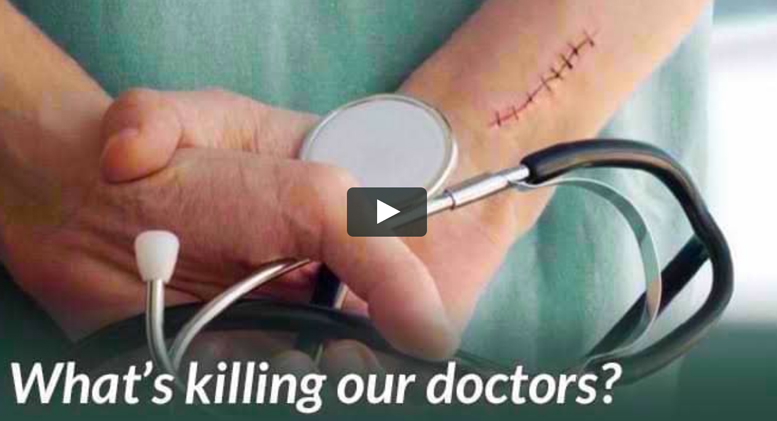 Pamela Wible, M.D., is the author of Physician Suicide Letters—Answered. View her TEDMED talk Why doctors kill themselves. Need to talk? Contact Dr. Wible.