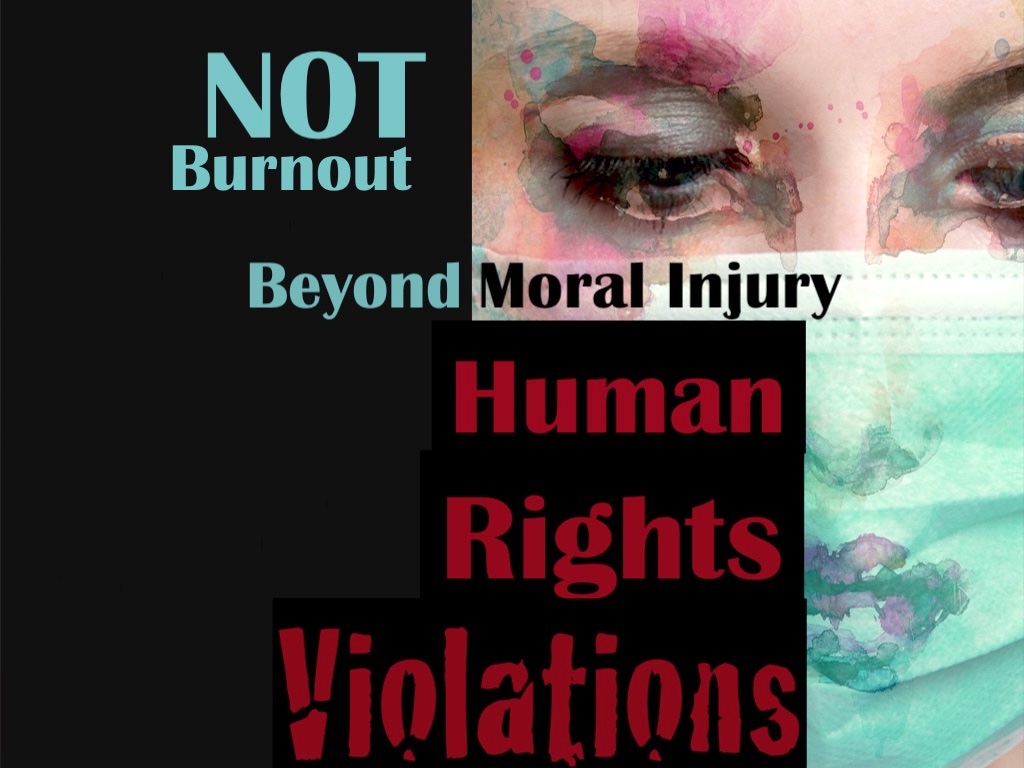 Burnout is a slang word for end-stage drug addiction first used on the streets of inner city America in the early 1970s. During that time, psychologist Herbert Freudenberger volunteered at a New York City free clinic treating addiction. He overheard the term and used it to describe himself and clinic staff in a 1974 article on staff burnout detailing long-term physical and psychological job stress.
He then authored a book on burnout in overachievers and another on burnout in women further popularizing the slang word which seeped into common lexicon. Burnout was no longer limited to Americans overdosing in back alleys. Now housewives and high achievers and anyone stressed at work suffered from burnout too.
"Physician burnout" first appears on my PubMed literature review in American Medical News in July, 1981. It is unclear to me who first applied the term to doctors. What is clear to me—is that despite medicine's obsession with burnout for nearly four decades—the epidemic of physician cynicism, exhaustion, and despair is worsening.
So why are physicians experiencing physical and mental collapse from overwork? Psychiatrists define burnout as a job-related dysphoria in an individual without major psychopathy—meaning you're normal; your job is killing you.
Meanwhile physician burnout books and breathing exercises are offered by burnout coaches on every corner. Curious why physician burnout is on the rise amid the plethora of burnout programs, I asked a physician burnout coach, "Don't you think all your 'burnout' breathing exercises and EMR workarounds just prolong the agony for physicians in toxic working conditions?"
He replied, "Yes."
Since that 2015 conversation, I've been debunking burnout as a victim-blaming buzzword that prolongs physician agony by avoiding the real issue leading to physician despair. So what's the real issue? Enter Drs. Wendy Dean and Simon Talbot with their landmark 2018 article, Physicians aren't 'burning out.' They're suffering from moral injury. In it they explain:
The concept of burnout resonates poorly with physicians: it suggests a failure of resourcefulness and resilience, traits that most physicians have finely honed during decades of intense training and demanding work. . . Physicians are the canaries in the health care coal mine, and they are killing themselves at alarming rates (twice that of active duty military members) signaling something is desperately wrong with the system. . .The simple solution of establishing physician wellness programs or hiring corporate wellness officers won't solve the problem. Nor will pushing the solution onto [physicians] by switching them to team-based care; creating flexible schedules and float pools for [physician] emergencies; getting physicians to practice mindfulness, meditation, and relaxation techniques or participate in cognitive-behavior therapy and resilience training.
Yes. Thank you. Exactly.
Last week the anti-burnout buzz accelerated when ZDogg quoted my 2015 blog—Burnout is BS—in his viral video "It's not burnout, it's moral injury" echoing my advice that we stop saying the victim-blaming term.
Now we're getting somewhere. But is it really moral injury?
Moral Injury is a term applied to combat veterans in 1998 by psychiatrist Dr. Jonathan Shay. Moral injury is damage to one's conscience when perpetuating, witnessing, or failing to prevent acts that transgress one's own moral beliefs, values, or ethical codes of conduct (often resulting in profound shame). Moral injury is a normal human response to an abnormal traumatic event—a deep soul wound shattering one's identity and morality. Dr. Shay's original definition was based upon his patients' war narratives and Homer's Iliad (762 B.C.) and required three components: (i) betrayal of what's right by (ii) someone who holds legitimate authority in a (iii) high-stakes situation. Individuals with moral injury may see themselves and the world as immoral and irreparable.
Moral injury now extends beyond combat veterans to include physicians in 2018 when Dean and Talbot announced their opposition and alternative to the label physician "burnout." They believe (as I do) that physician cynicism, exhaustion, and decreased productivity are symptoms of a broken system. Economic forces, technological demands, and widespread intergenerational physician mental health wounds have culminated in a highly dysfunctional and toxic health care system in which we find ourselves in daily forced betrayal of our deepest values.
Manifestations of moral injury in victims include self-harm, poor self-care, substance abuse, recklessness, self-defeating behaviors, hopelessness, self-loathing, and decreased empathy. I've witnessed all far too frequently among physicians.
Yet moral injury is not an official diagnosis. No specific solutions are offered at medical institutions to combat physician moral injury though moral injury treatment among military may include listening circles (where veterans share battlefield stories), forgiveness rituals, and individual therapy. The fact is most victims of moral injury struggle on their own.
With no evidence-based treatments for physician moral injury and zero progress after forty years of burnout prevention, what next? Enter the real diagnosis—human rights violations—with clear evidence-based solutions.
Human rights is a term coined by Eleanor Roosevelt in 1947 when she suggested 'rights of man' be changed to 'human rights' leading up to the 1948 Universal Declaration of Human Rights adopted by the UN General Assembly as a standard for all people in the world. Physicians are strong human rights advocates—even activists in disaster zones, yet we have failed to protect the human rights of our own trainees and doctors. In 2014, I began reporting human rights violations in medicine after uncovering widespread abuse in medical training and practice via my physician suicide helpline. Since 2012, I've spoken to thousands of suicidal doctors—even published a book of physician suicide letters. Doctors have the highest suicide rate of any profession. Why?
Not burnout. Not moral injury—human rights violations—and those who survive the abuse often suffer lifelong sequelae from the trauma.
Physician work hours are far out of compliance with labor laws deemed safe in other industries. Companies in Japan face criminal sanctions for suicides (and non-suicide deaths) if employees work more than 60 hours/week, yet our doctors work 80, 100, even 120-hour weeks (trainees are forced to lie on work logs to comply with the "80-hour cap"). Extreme sleep deprivation leads to hallucinations, life-threatening seizures, and post-shift fatal car accidents (plus medical errors). Human rights abuse includes sexual harassment, racism, food/water deprivation, hazing, bullying, pimping, even physical assault—trainees have been hit with knives, punched, and left crying in operating rooms and hospital hallways.
The solution for labor law violations is compliance, for sleep deprivation is a bed and pillow, for food/water deprivation is regular meals, and I'm sure we all agree there's no place for discrimination and violence inside our hospitals. Understaffing cannot be solved by continuing to force new residents to work beyond their physiologic capacity for minimum wage.
Naturally medical institutions would rather celebrate their new chief wellness officer and meditation garden than take responsibility for these human rights violations against their own physicians and trainees. Denial and avoidance only perpetuate abuse leading to more suicides.
I'm a systems thinker, a scientist, a doctor. My job is to prevent human suffering and death—even when inflicted by institutional violence against physicians inside our own hospitals.
In medicine, combating illness requires primary, secondary, and tertiary prevention. Primary prevention intervenes before injury (seatbelts). Secondary prevention reduces impact of established illness (antidepressants). Tertiary prevention improves quality of life in those with chronic illness (PTSD support groups).
Primary prevention to prevent human rights violations against physicians includes unionizing, class action lawsuits, wrongful death litigation, strikes, walkouts, boycotts, peer leader negotiation with administrations, hospital fines, and loss of accreditation. Secondary prevention includes psychiatric care, counseling, modified/part-time work schedules, leaving toxic employers, and launching your own practice. Tertiary strategies are whistleblowing by speaking up and writing articles detailing abuse, support groups, retreats, and self-care.
Solving our crisis requires a definitive diagnosis and treatment plan. Now is the time for brutal truth—and action.
Moral injury may be less abrasive and more academically and politically acceptable than human rights violations. Should we choose a diagnosis based on what's socially acceptable?
Imagine if we say "heart injury" rather than myocardial infarction or ruptured aorta. If we don't name the definitive diagnosis, how do we progress to appropriate labs, tests, and interventions? If we fear the truth and waver on the assessment, patients will die from our indecisiveness.
Let's not waver on the truth.
We're in the midst of a medical system emergency that can't be solved on an individual level with tertiary prevention strategies. Emergencies require immediate action—airway, breathing, and circulation, not yoga and Zen meditation.
Here's a quick 2-minute cartoon recap with transcript.
Human Rights Violations in Medicine—Your Survival Guide