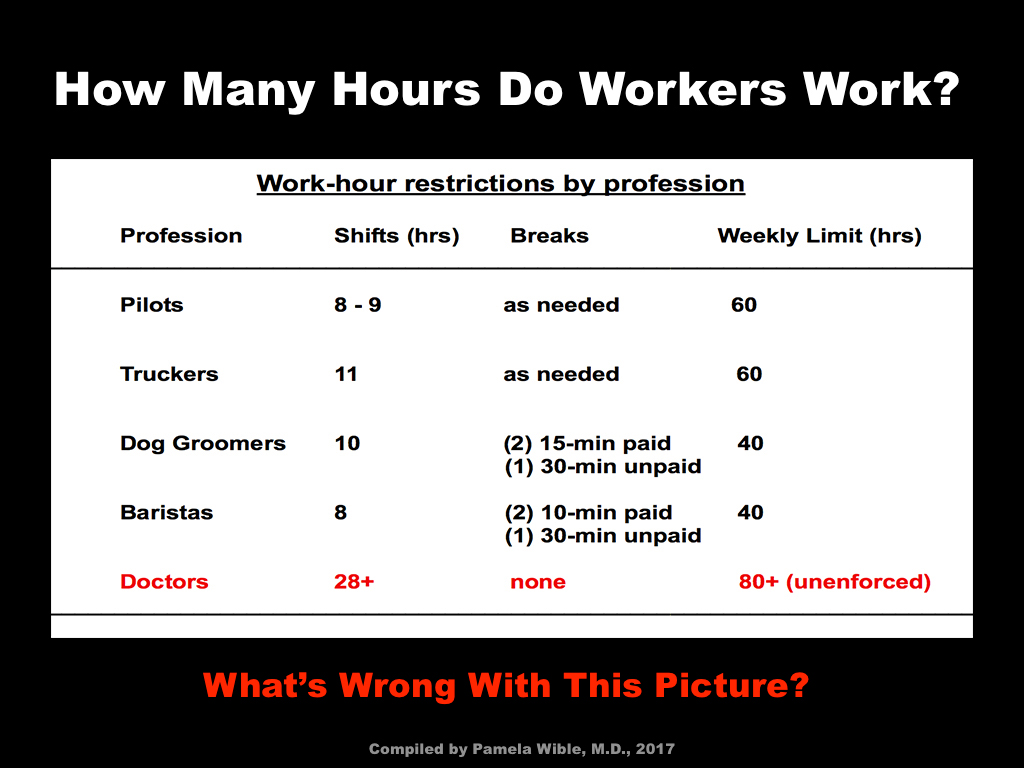 How long could you drive without dozing off? Maybe 8 hours? Possibly 10? How many hours do you think a long-haul trucker could drive without swerving into your lane? Would you ever want an 80,0000 pound rig coming at you with a guy behind the wheel who hadn't slept in a day? Want to buckle yourself into your seat on a plane with a pilot cat napping on the control panel? How about a sleepy surgeon coming toward you with a scalpel? Does that seem like a good idea?
Sleep deprivation is more dangerous than working under the influence of alcohol. In fact, being awake for at least 24 hours is like having a blood alcohol content of 0.10% (higher than the legal limit in all states). Fatigue leads to car wrecks, plane crashes, and fatal medical mistakes. Thankfully, most employers have excellent safeguards so workers are well rested to prevent these catastrophes. Except for hospitals.
Today a reporter from Medical Economics interviewed me about the new debate over loosening the current work-hour restrictions for physicians-in-training. A proposal set to be finalized in the next few weeks would allow first-year residents to work shifts of up to 28 hours without sleep (as all other residents are already allowed to do) and would even allow any resident to work an unlimited number of hours without sleep without having to justify or document why they did so. I got pretty revved up so here's a quick recap to get you up to speed.
Doctors-in-training (fresh med school grads) are called residents because they basically reside in the hospital and function as cheap labor (divide salary by hours worked and they earn less than minimum wage). Residents have traditionally worked grueling schedules with up to 72-hour shifts—or more. Though sleep deprivation is recognized as a torture technique and a violation of human rights, in medicine it's a lifestyle, a rite of passage—even a badge of honor.
The truth is sleep-deprived residents have been running US hospitals for decades.
Until all hell broke loose in 1984 when Libby Zion (an 18-year-old college student) died in a New York hospital. Her father (a lawyer and well-connected journalist) stated, "I left her there with an earache and a fever" and "they sent her home in a box." He soon discovered that her care was left to sleep-deprived residents without supervision. Legal battles ended with a 1989 New York Health Department requirement that doctors-in-training have adequate supervision and work no more than 24 consecutive hours with an average work week of 80 hours (rather than 100+). In 2003 the ACGME (Accreditation Council for Graduate Medical Education) applied these work-hour limits to all US residents. In 2011 ACGME capped first-year residents' shifts at 16 hours. Note: work-hour restrictions remain unenforced in many programs (I still hear from residents who work more than 120 hours per week).
Sleep deprivation doesn't stop after residency. One newly graduated resident was so exhausted that he developed seizures right in front of hospital administrators. Their response? Send him right back into the ICU to care for the sickest patients. Some docs are even forced to work 168-hour shifts like this physician whistleblower:
You may be wondering why residents don't complain when their programs fail to uphold work-hour restrictions. Simple. Those who speak out face retaliation from program directors that may destroy their careers. Even worse, an investigation could result in lost accreditation for the entire residency (adversely impacting the future of all physicians in the program). So nobody says anything. Violations continue. Patients die. Physicians suffer. Some are so fatigued they die in post-call car accidents because they're unsafe to drive home after work.
So what's being done to improve working conditions?
Disgruntled doctors who are not "team players" are mandated to resilience training courses where they're taught "work-life balance." Physician "wellness" conferences and programs are popping up in every hospital where doctors are encouraged to relax and take deep breaths. Problem is meditation is not the treatment for human rights violations.
Rather than strengthen protection and enforce current work-hour caps, ACGME is discussing a return to the pre-Libby-Zion days by placing interns back on 28-hour shifts because they now believe longer hours could make patient care safer due to improved continuity with the same doctor. Yet a public opinion poll reveals 86% of Americans oppose lifting the 16-hour cap on first-year doctors.
Filmmaker Robyn Symon, producer of the forthcoming physician suicide documentary Do No Harm, personally handed a petition with more than 75,000 signatures to Thomas Nasca, M.D., the CEO of ACGME, demanding the agency take action to address the rampant human rights violations in medical training that lead to high suicide among medical students and doctors.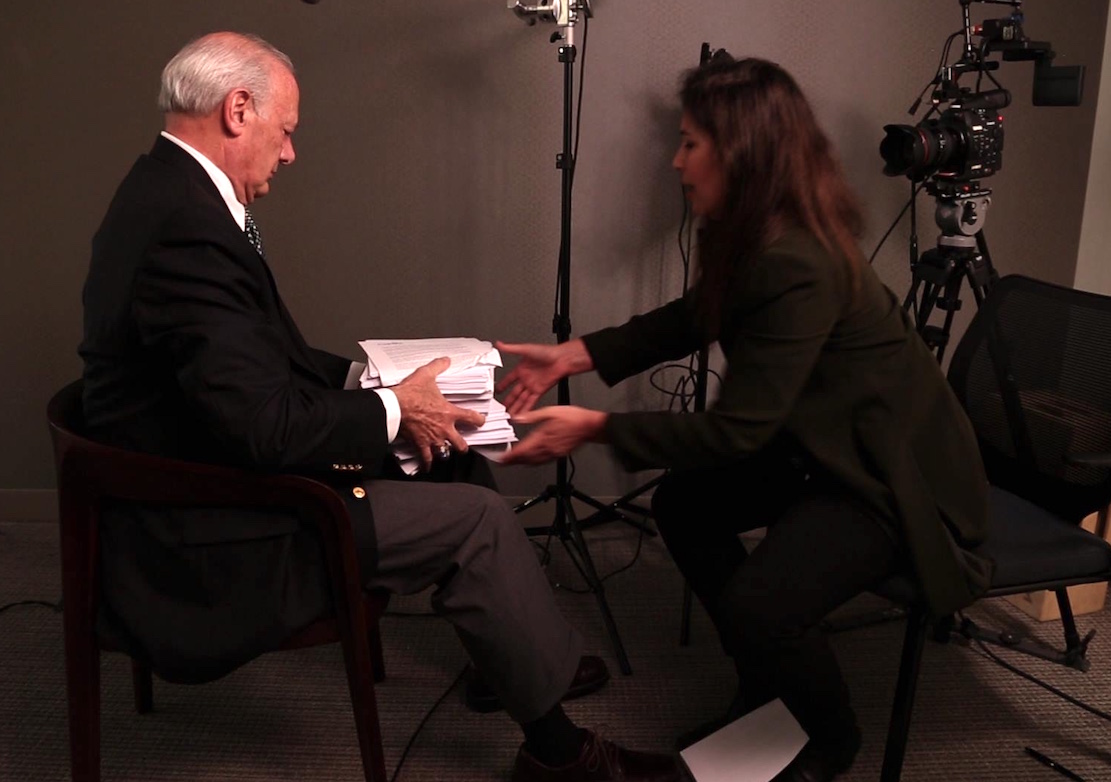 What other industry in the modern world requires employees to work 28-hour shifts? None that I've discovered. I wandered around town searching for anyone who works more than a day without sleep. I even interviewed PetSmart dog groomers to Starbucks baristas and spoke with pilots, truck drivers, and more. Here's what I discovered.
Pilots fly a maximum of 9 hours during the day and 8 hours at night according to FAA regulations. Work week is 60 hours. They get bathroom breaks and can eat at their discretion and always have a co-pilot as backup. Truck drivers have strict hours-of-service limits as dictated by the Federal Motor Safety Administration. They can work 14 consecutive hours in which they can drive up to 11 hours. Maximum 60 hours work weeks. Bathroom breaks and meals are taken as needed.
My local PetSmart groomer works 8-hour shifts. During the holidays, she has witnessed a rare 10-hour shift. PetSmart groomers in Oregon must receive breaks per state labor laws and in my neighborhood they get two 15-min paid breaks and one 30-min unpaid break and generally work 40-hour work weeks which is considered full time. Similar story at my local Starbucks where baristas get two 10-min paid breaks and one 30-min unpaid break in an 8-hour shift during their 40-hour work weeks. Compare this with resident physicians who may work 28 (or more) hours per shift without breaks, meals, or sleep (with an 80-hour work week upheld by the honor system).
So what's the worst case scenario if we don't follow basic labor laws. At Starbucks maybe you'd get a bad cup of coffee. At PetSmart, Fluffy may be sent home with a bad haircut. No big deal. Right? Not exactly. My groomer explained that workers on long shifts are less likely to recognize animal distress resulting in dog and cat deaths during grooming.
If fatigued pilots have killed hundreds of passengers just by dozing off, if tired truckers have knocked out entire families on summer vacation, if overworked groomers could kill your dog, why are you placing your medical care in the hands of sleep-deprived doctors?
If you're outraged, do something. Your apathy nearly guarantees that one day you and your loved ones will receive care from impaired doctors. Transform your rage into action. Libby Zion's dad turned his fury over his daughter's death into a teaching moment for the entire American medical education system. He's dead now so he can't protect us anymore. We have to save ourselves.
Please sign this petition to stop 28-hour shifts for our new doctors.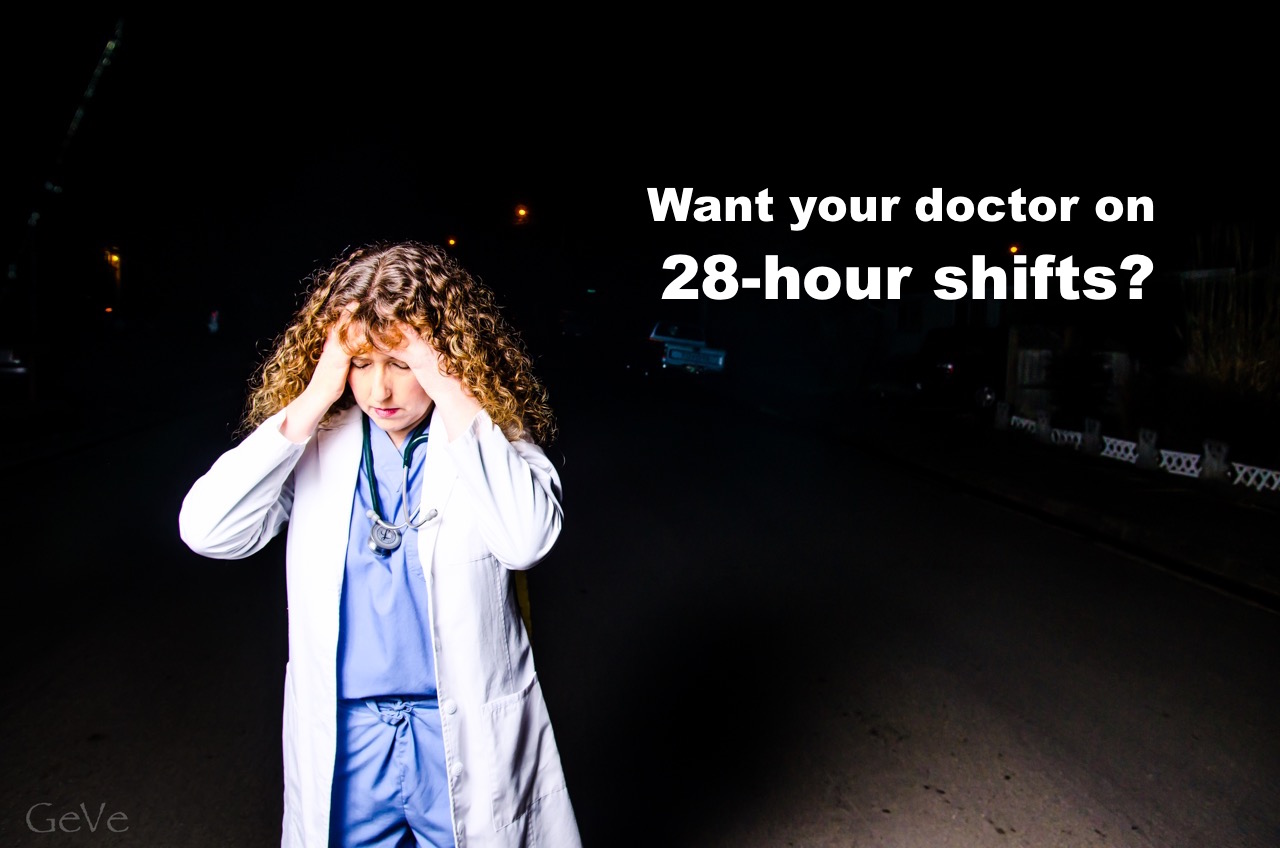 Pamela Wible, M.D., is a physician who reports on human rights violations in medicine. She is author of Physician Suicide Letters—Answered. View her TEDMED talk Why doctors kill themselves. Image credit Robyn Symon.