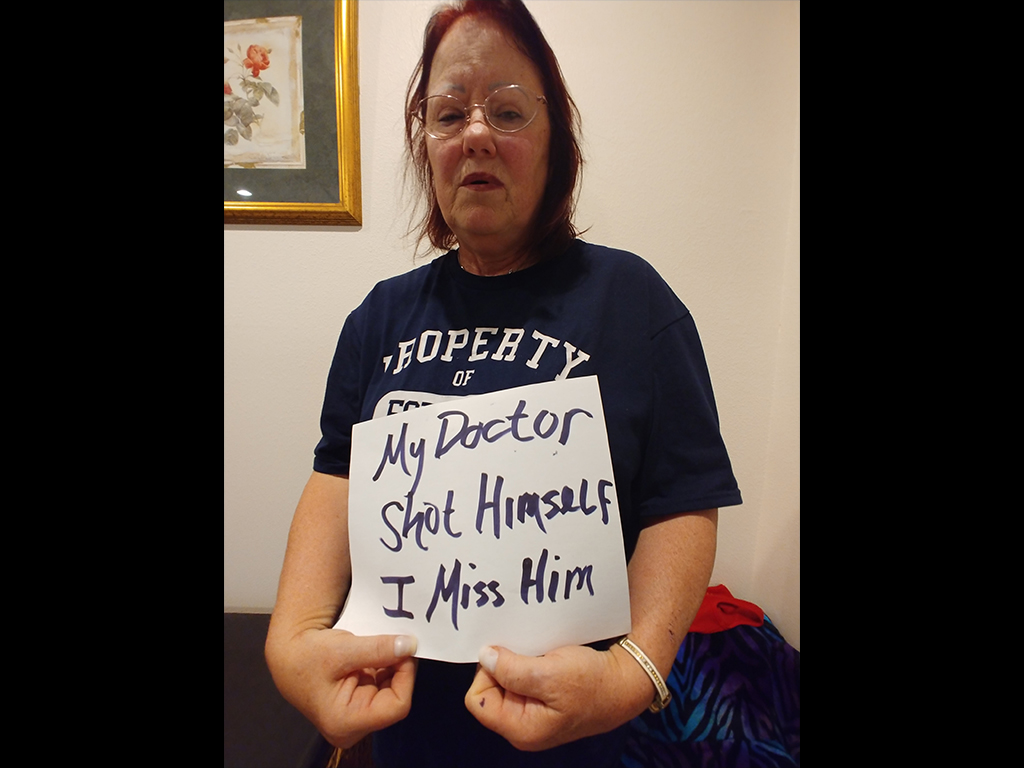 Susan Kreischer is one in a million.
One of a million Americans to lose their doctor to suicide—each year.
She is still devastated years later.
"I had awful back pain—was barely walking when I met Dr. Ortiz and right away we bonded. Every time I went in, he'd give me a huge bear hug, lifting me off the floor (and I'm a heavy woman). He always had a big smile on his face. He was it. He was the man. He didn't just hand me another pill. He actually got in there and solved my problems."
Dr. Ortiz was a man who never gave up on his patients.
"Later when I had more back problems, he said I'd need my hip fused and he'd look for another surgeon since that wasn't a procedure he was familiar with. Next time I saw him he told me that he didn't find anyone he could trust so he was going to do it himself—and that's exactly what he did. He learned that procedure for me! I was in awe that he did that for me."
Staff in the operating room were in awe as well. Nobody could believe how perfectly Dr. Ortiz performed her fusion.
"I saw that man five times in a day and a half in the hospital, plus he went to see me another four or five times when I was in recovery. He called me every night at home to make sure I was okay—and I was."
Susan wonders how she'll ever replace him.
"I don't trust other orthopedic doctors around here. I had some very bad experiences. I had so much faith in Dr. Ortiz because I knew he was being truthful—giving me his honest opinion. I adored him. He was a saint to me. He took so much of my pain away. He changed my life."
Now all Susan has left of her doctor is this picture she snapped of a framed photo that hangs in the hallway of the hospital where he once worked.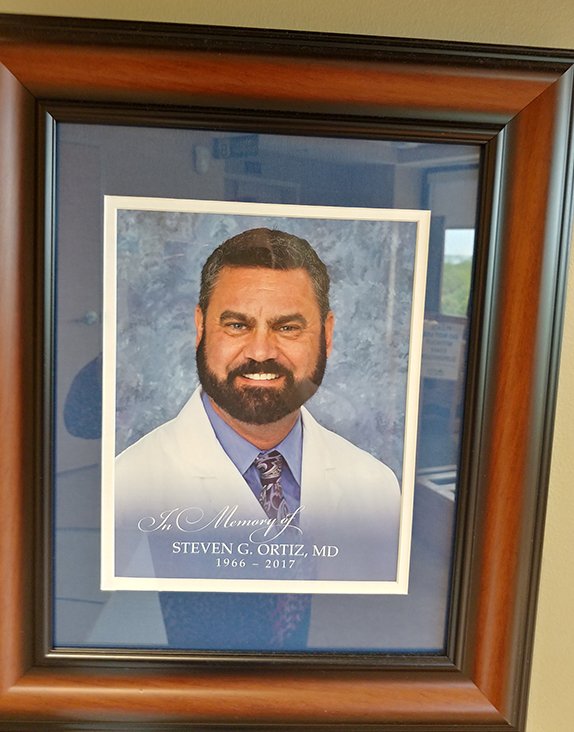 Dr. Ortiz was clearly one of the most thoughtful, compassionate, and ethical men one could ever hope to meet—especially when needing back surgery.
Once when Ortiz was on a vacation, his patient became sick and Ortiz flew home early to take care of her. What kind of surgeon does that?
A patient case was cancelled one day because the hospital did not secure an assistant for the surgery. However the patient had already been sedated with Versed to calm her anxiety so she couldn't drive home. Ortiz held her hand and explained the situation to her. He then decided to drive her home in her car more than an hour away. He took a cab all the way back to the hospital.
Who was Steven Ortiz?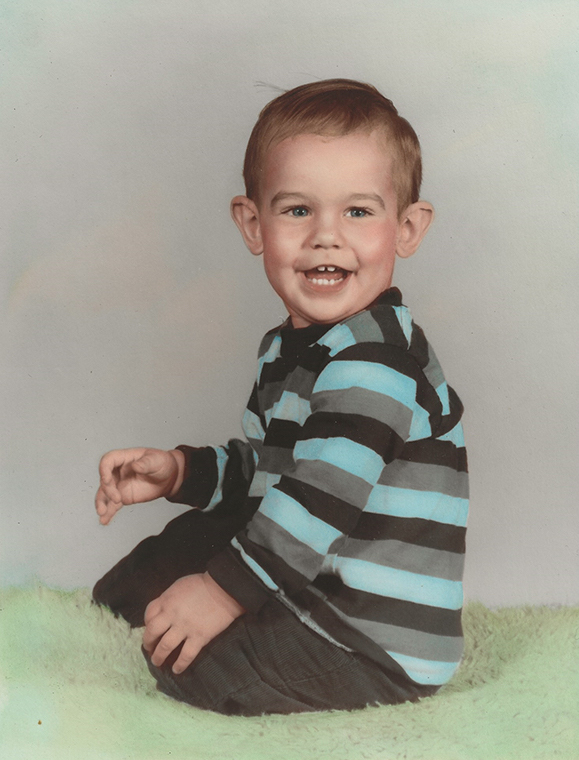 As a child, Steve was a hard worker who put all his efforts into school. His teachers were impressed by his intelligence. He never got into trouble, always did his homework and turned in all his assignments without prodding from his parents.
Steve had beautiful blue eyes and at a very young age he starting receiving unsolicited attention from older women. One day, after a doctor's appointment, he was thirsty so he asked his mom to buy a drink. She parked in front of a store and gave him a dollar. He came back out with his drink and handed his mom the dollar. Steve told her that the lady in the store said, "I have beautiful blue eyes and I don't need to pay."
"We marched back into that store and told the woman he had to pay for his drink and he did," says his mom. "Oh the trouble he could have gotten into with those eyes."
Though we never met, I feel I know Steve Ortiz. Maybe it's because he grew up down the street from me in Eugene, Oregon. He attended Sheldon High School where he played on the football team and never lost a game. He kept up his grades and was an all-around good kid.
After high school, Steve was a sprinkler fitter for 10 years, then became a fire sprinkler engineer for his father's company. He also worked in construction. One day at work he stepped off a curb and tore his meniscus. He had surgery immediately and on follow-up when the doctor showed him his x-ray he almost passed out and had to be helped to sit down by the nurse. He literally couldn't stand looking at his own x-ray.
He returned to school at 28 earning a chemistry degree from Fullerton Community College then a full scholarship to UC Irvine and Stanford Medical School before completing orthopedic residency in New York and spine surgery fellowship in Minneapolis—19 years of medical education!
Despite the demands of nearly two decades of medical training, Steve never forgot birthdays, holidays, or special occasions. He moved his family to Stanford for medical school just before his daughter turned 13. She hadn't made many friends so she didn't know how to celebrate her birthday. On her birthday her dad came home and told her he rented the entire medical school auditorium for the afternoon and he invited her whole soccer team to watch a movie and help her celebrate. He even rented a popcorn machine and bought everyone candy.
"He was very observant, always watching, always listening, and always learning," says his daughter Alyssa. "Once I saw a string of pearls in a picture and I commented that they were very beautiful. I never said I wanted them. A few months later a package came in the mail with the same type of pearls. These surprises happened many times in my life. He was a wonderful man."
Yet Steve—such a devoted family man—had to sacrifice relationships with the very people he loved the most so he could help heal others. With his kids and wife finally settled in California, he was distraught having matched in New York for orthopedics. During his five years of residency he only got to see his kids once per year. That marriage eventually failed and he remarried a woman who wanted to be near her family in Florida. So, of course, Steve agreed. (With loved ones he had trouble saying no!) So after fellowship, he set up his practice in a Florida hospital where he was adored by patients and staff.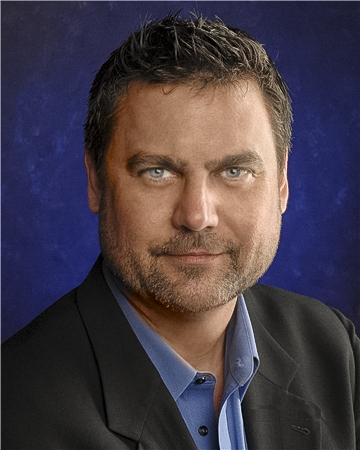 "I want you to know the nurses were drooling over this man. The nurses always said, 'He is so hot!' and once I even tried to hook him up with my daughter," claims Susan Kreischer. "I told Dr. Ortiz, 'If you ever need any jewelry for someone special, let me know. I make jewelry.'" For Susan, he was more than a doctor; he was her friend.
In the aftermath of his suicide, I've received a constant stream of emails from his patients, colleagues, even his college girlfriend. They all want me to know what a truly special man he was.
Kind and generous, Steve helped anyone who needed it. He showed up at a colleague's house unannounced when she was moving. He brought boxes, tape, wrapping paper, and marking pens and spent his weekend helping her move.
When not attending to patients, Steve adventured in the outdoors. He was a certified scuba diver, a hunter, a motorcycle enthusiast, a fisherman, he even hurt his knee again skateboarding around Florida. Yet his top priority was always caring for his patients.
Typical of doctors, Steve spent his time helping others and rarely asked for help.
Working 80-100 hours each week, surgeons often experience marital distress, and divorce is not uncommon. Back when I was in medical school, surgical residency programs bragged about having 100% divorce rates—as if total devotion to the surgical profession and absence of any personal life would make the best doctor.
Steve did confide in Sherry Cleveland, his surgical nurse. "He called me the annoying little sister he never had because we would goof off and pick on each other during OR days," says Sherry. "He was in the midst of his second divorce and the Friday before his death he came out with a bunch of us and stayed longer than usual. We were talking about doing the VIP area at the brewery. He was very popular with the ladies and we joked about hosting a 'Date Dr. Ortiz' event there. He laughed. When he left he hugged tighter and longer than he ever had before."
The most unforgettable story about Steve—the ultimate fix-it-guy—is the way he dealt with the giant pothole in the hospital parking lot. No spine surgeon wants patients bouncing up and down in potholes. Since the hospital didn't have a plan to repair it, Dr. Ortiz went to the hardware store, bought several bags of cement and gravel and he fixed it himself early one morning—before a full day of surgery.
Imagine a sweaty spine surgeon repairing potholes on the hot Florida asphalt before scrubbing in for his next case.
Yet Steve's problems with the hospital were deeper than parking lot potholes. Due to irreconcilable differences with hospital leadership, Dr. Ortiz was considering moving on to another practice.
Everything changed on Tuesday morning, February 7, 2017, when Steve got a phone call in the doctors' lounge. Staff said he was white as a ghost and he must have been threatened or something. Nobody knows what happened on that phone call.
He then texted Sherry Cleveland asking for her personal email address. She thought that was strange.
That evening at 5:00 pm, he called his mother for the last time. He told her, "They are greedy; that's all they care about." His mom said he was very upset.
During that 30-minute call, he shared the challenges he faced every day. His mom knew none of his struggles prior to that conversation.
He had already planned it.
On Wednesday, February 8, Sherry Cleveland got up for work shortly after 4:00 am. Though she doesn't usually check her email, she thought Steve might have sent her something. His goodbye letter arrived at 12:09 am. She was in her bathroom getting ready for work when she read it: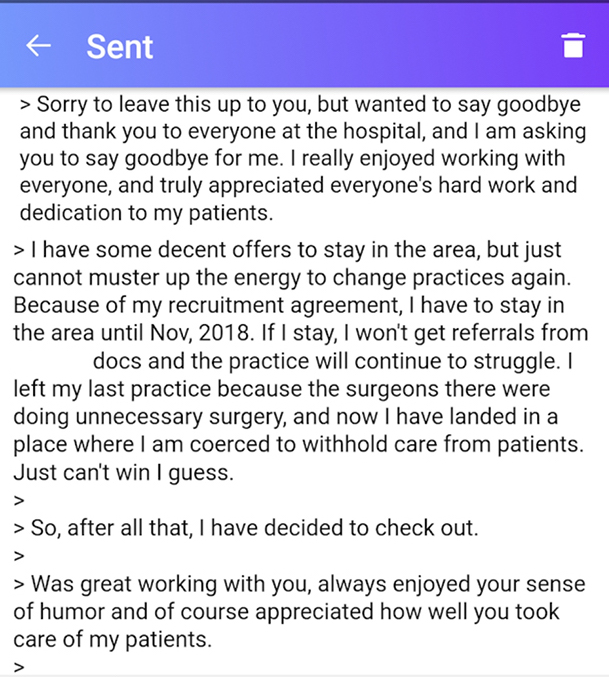 Sherry was numb. In her heart she knew what it meant. But she was hoping it wasn't true. She emailed Dr. Ortiz and asked if he was moving back to California. "Please tell me you're okay. Please respond to me," she wrote. Sherry wanted to call him, but was afraid she was going to wake him up. She didn't want to wake her husband up, so she finished getting ready for work.
Sherry rushed to the hospital and pulled into the parking lot just after 5:00 am when she saw the police cars.
"I was on the phone with one of my really good friends, because I just needed to talk to someone. When I saw the lights, I was numb. I didn't know what to think. I didn't know what to do. I went to work that day, because I didn't want to be alone. I didn't want to go home and be by myself, but I really just didn't know what to do. I was shocked because out of everyone that he worked with, everyone that he knew, I was that person that he felt comfortable enough with to share that information, and to tell me, and have me be his messenger to let everyone know that he appreciated us, and goodbye."
Dr. Ortiz was found dead in his truck.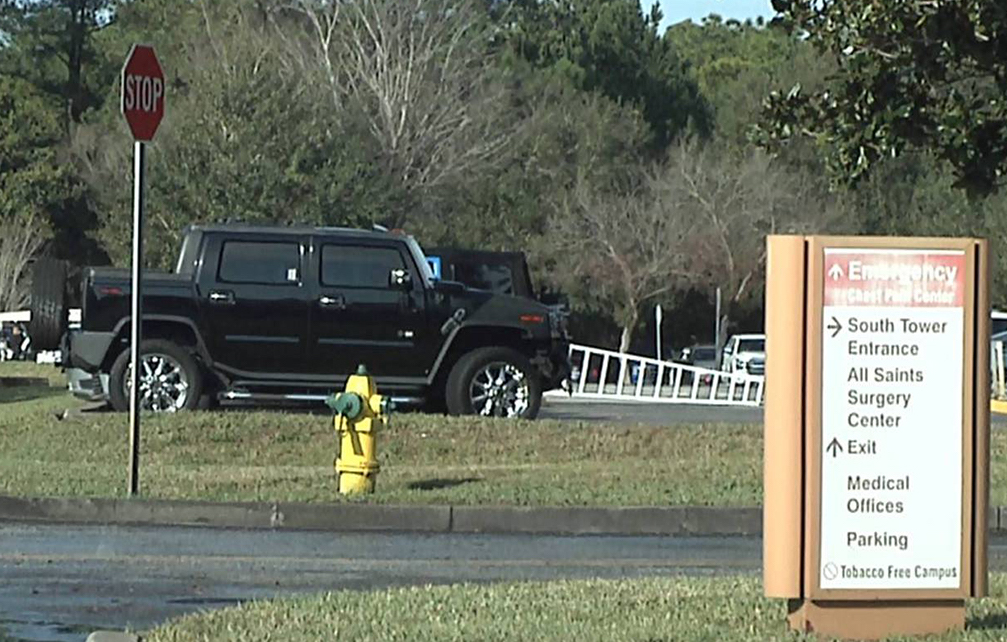 Wednesday morning at 2:00 am, Steve Ortiz checked in on all his patients and wrote orders to make sure they were okay. At approximately 3:00 am, he went out to the hospital parking lot where he repaired the pothole, sat down in his truck, and shot himself in the heart.
Steve's dad and brother flew to Florida. His dad met with another doctor who said he was struggling with the same issues as his son. That doctor, like Steve, felt bullied—pulled into all sorts of illegal shenanigans that undermined the care of his patients.
In the aftermath of Steve's suicide, flyers were taped on hospital walls naming three doctors responsible for his death and demanding justice for Dr. Ortiz. When removed, new flyers were taped back up. This continued for a month until a doctor was caught affixing them to the walls.
"He was 47 when he finished his fellowship and was very naïve having spent most of his life in school," says his mom Gloria. "Steve was glad his training was over so he could be a real doctor. He felt alone in Florida. He had only been out of training for three years and was very disillusioned. He was not a quitter. He just could not deal with the corruption at his age."
I first learned of Dr. Ortiz when an online Florida news headline reported a possible suicide of a local surgeon found deceased at a hospital. The article became an online tribute to Steve's life and death with more than 155 comments from adoring patients (and curious citizens) wanting to know why a successful orthopedic surgeon would be found dead in a hospital parking lot. One woman commented:
"I called his office this morning to schedule an appointment with Dr. O. for my husband when I was told he was no longer with the practice. They would not give me any information. I found [this article] on Google just few minutes ago. If it were not for your report I would not have known. I am so saddened with this news of his loss. He was such a wonderful caring doctor."
Others were furious with the journalist for reporting on the suicide of Dr. Ortiz: "I think it is disgraceful and disrespectful that this is blasted all over the web. This is not responsible news reporting or journalism; it is potentially hurtful gossip that has not been confirmed by any agency."
Some argue that it is nobody's business why Dr. Ortiz died. Others are still searching for answers years later.
The fact is without a proper investigation of his suicide, people will remain confused—many like Susan grieving in isolation.
Yet Dr. Ortiz is one of tens of thousands of doctors trapped in corrupt US health systems, caught between for-profit insurers, unethical administrators, and shareholders demanding maximum profit extraction from the sickest, most vulnerable patients. Physicians are the extraction device.
Without a proper investigation of the corruption leading to this surgeon's suicide, there is no way to protect patients or prevent the next doctor suicide.
After posting a comment on the article, I got a call from Steve's mom. We spoke for hours. I asked if she wanted to connect with an Emmy-winning filmmaker so her son could be honored in the forthcoming film, Do No Harm—a documentary exposing the doctor suicide crisis that ends with a scrolling list of nearly 100 names and photos of doctors we've lost to suicide. Dr. Steven Ortiz is now one of them.
News reports are an anomaly in the aftermath of a doctor suicide in the United States. Most are just a paragraph or two. The "article" on Dr. Ortiz was just 133 words. Reporters (as in Dr. Ortiz's case) promise to "bring more on this story as it develops." They never do. I have never seen a follow-up story or a detailed investigation into any of these physician suicides since I began tracking them in 2012. I now have 1,243 doctor suicides on a confidential registry—all cases that I've personally investigated since nobody in the media or medicine seems willing to launch an honest investigation into why so many of our doctors are dying by suicide.
High doctor suicide rates have been reported since 1858—and seem to be accelerating. Yet more than 160 years later the root causes of these suicides remain uninvestigated and unaddressed.
Of my 1,243 cases, I've learned that for every woman who dies by suicide in medicine, we lose four men.
Male surgeons are the second highest risk group after male anesthesiologists. Many are found dead at hospitals. Doctors jump from hospital windows or rooftops. They shoot or stab themselves in hospital parking lots. They're found hanging in hospital chapels. Physicians often choose to die where they've been wounded.
Doctors choose suicide to end their pain (not because they want to die). Suicide is preventable. We can help doctors who are suffering if we stop suicide secrecy and censorship.
Medical institutions lie (or omit the truth) to cover up suicides—even when media and family report the cause of death. Instead we hear euphemisms such as "passed away unexpectedly."
Ignoring doctor suicides leads to more doctor suicides.
Steve is just one of the 1,243 doctors I know who have died by suicide.
Sadly, the original article about his death is no longer live on the Internet.
I'm beyond appalled at the lack of investigation of these suicides.
One month after his death, Susan called the office for an appointment. "I was told that would not be possible. Then the person on the phone said, 'He passed.'"
"Excuse me. What did you say?" asked Susan.
"Dr. Ortiz has passed away."
"I started crying hysterically," Susan explains. "I kept asking, 'What happened to him?'"
"We don't know. We think it was an accident," the receptionist said.
Susan kept crying.
The receptionist kept saying how sorry she was.
"I found out later they lied to me. They knew what happened to my doctor. I was completely devastated that nobody called me before to let me know. I need to know what would make such a wonderful and successful doctor feel that suicide was his only way out. I don't understand why he was put in such an awful position. People should be held responsible for what they've done to him. I hope they will be. I just wish that you had been around before my doctor died. I really think you could've helped him."
Susan's sentiment is shared by Steve's mom. "Since his death I have thought several times that had he been able to go to an advocates group for help or talk to someone like you that he may have lived, but apparently there wasn't any help available to him."
Since 2012, I've offered a free physician suicide helpline. Click here for help.
Susan still remembers his final words.
During my last appointment I begged, "Please don't ever give up on me." He looked at me and smiled. "I won't give up on you. I'll be here for you."
"When I found out about you, Dr. Wible, I was in heaven. I thought maybe I can find out what really happened to my doctor," Susan said.
Why would such a beloved orthopedic surgeon die by suicide?
Dr. Ortiz couldn't play the game of corruption—harming patients for profit. He asked other physicians for help—even met with the Hospital Board of Directors—and he was told he should just "go with the flow." He sought out government officials and the FBI. He never heard back from them. He explored in his own head all the options (and documented it all). He was at a dead end. Exhausted, he saw no solution. He would rather "tap out" than play the game by someone else's rules. He was not depressed. He was frustrated, pissed, and stuck. His suicide was well-planned. He was a truth teller and was biting his tongue just to survive. Dr. Ortiz died as a whistleblower. He gave it his best shot. He truly felt that his suicide was the only way to draw attention to—and end —the corruption.
Justice for Dr. Ortiz?
Absent an investigation by authorities, with legal repercussions and penalties, the status quo continues.
"I used to like to drive by and see Dr. Ortiz's car in the parking lot," says Susan. "After he died, they left his truck there for three months. People would leave flowers. Now when I drive by I can't look at the place. I went to get my wrist looked at and It was hard being there. We would wave to each other through the glass door. I sat there and I didn't see his smiling face. I kept looking expecting to see him. He did not deserve what he got. I am disgusted with the way this absolutely gifted surgeon was treated."
Steve's first wife, a fundraiser at Stanford, is trying to start a program about doctors like Steve. Medical institutions are starting to finally grasp the severity of our doctor suicide crisis.
"I don't even do spine cases anymore, because I just can't," says Sherry Cleveland. "I can't be in the room. I can't. It hurts too bad. I see certain things or think certain things and I have to walk away, because it's painful."
The Do No Harm documentary honoring Dr. Steve Ortiz is now on an international film tour screening at health systems and film festivals.
I continue to investigate doctor suicides in between attending to my own patients.
As for Susan, it's been more than two years and she still has no doctor.
In 2019, one million more Americans like Susan will wonder why they can't see their doctor.

* * *
More investigative journalism on our physician suicide crisis by Dr. Wible:
What I've learned from 1,243 doctor suicides
33 orthopaedic surgeon suicides. How to prevent #34.
Award-winning NPR interview on doctor suicide
Physician Suicide Letters—Answered