If you're a doctor, I bet you speak doctorly. You act doctorly. And dress doctorly. And spend your days in clinic with other doctorly doctors.
But life is what happens while you're busy staring at computerized flow sheets, algorithms, and billing codes.
Real life happens outside of man-made medical institutions. Patients live in the real world. And I always wanted be a real doctor—a doctor who specializes in being real with real people meeting them where they really live and work and play.
So last week, I left my office to treat people on the streets. Over 6000 patients. For free.
Beside a row of port-o-potties, I volunteered my services to those in need. Some required medical care. Others just psychological support. All received a smile. Many left laughing.
I live in Eugene, Oregon—The birthplace of running. TrackTown USA. America's premier summer marathon runs right in front of my house.
Unfortunately being too healthy can be hazardous to your health. There are medical ailments unique to long-distance runners. Chiefly: chafing. Thighs, armpits, and yes, nipples. After miles of shirt friction, even the toughest nipples get torn up. Bras protect women. But look at these bloody nipples on men.
The proper medical term: marathoners thelorrhagia. But medical jargon often creates fear and confusion, so I use normal words anyone can understand. Plus I made a sign:
How should guys protect their nips?  Some use duct tape or bandaids. Others go topless. A few wear sports bras. Here's another solution: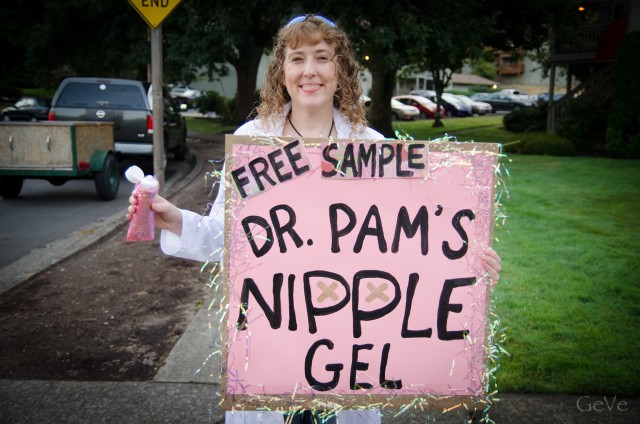 I got out on the streets at 5:00 am.  Even brought my boyfriend's daughter—an avid athletic supporter: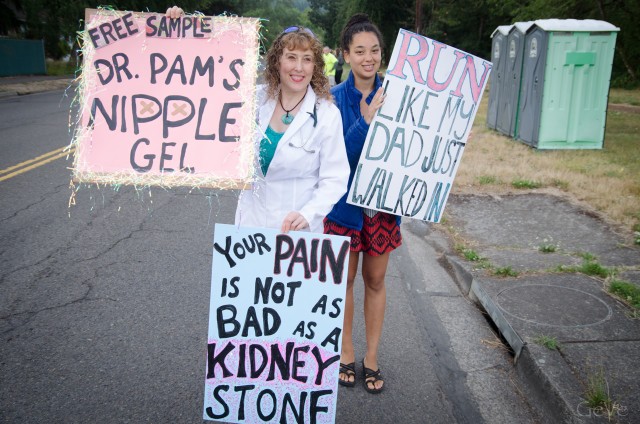 And recruited a man on the sidelines to cheer with me: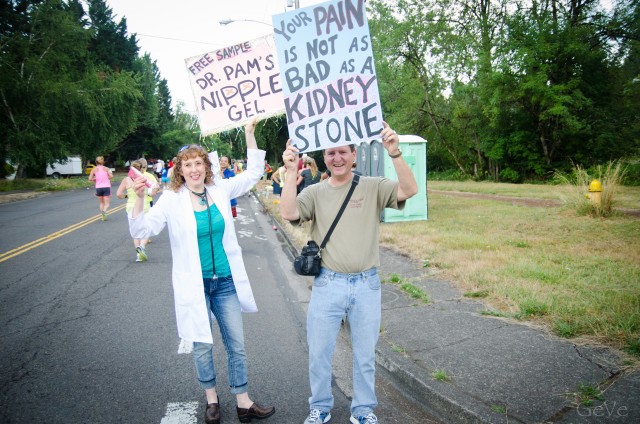 I know what you're thinking: "Did anyone really take her up on this?"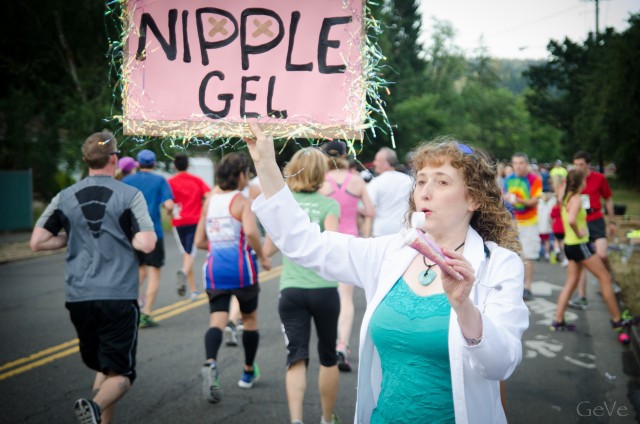 Well, one guy yelled, "Too early. It's only mile 3."
"I got bandaids," another dude announced as he pounded his chest.
A husband said, "No thanks," until his wife interjected, "Yes, we'll take some!" I squirted a glop on her palm; she applied the goo to his nips as he ran away from me.
When I posted these pics on Facebook, a friend replied, "You've out-weirded me, Pamela."
"Hey, I didn't make this nipple thing up just to be rubbing runners' nipples."
Doctor means teacher. The best teachers make learning fun. Mission accomplished.
Watch how one doctor can prevent 12,000 bloody nipples from 17 countries in one hour:
Pamela Wible, M.D., is a family physician in Oregon. She pioneered the first medical clinic designed by patients. Watch her TEDx talk "How to get naked with your doctor." Photos and video by GeVe.