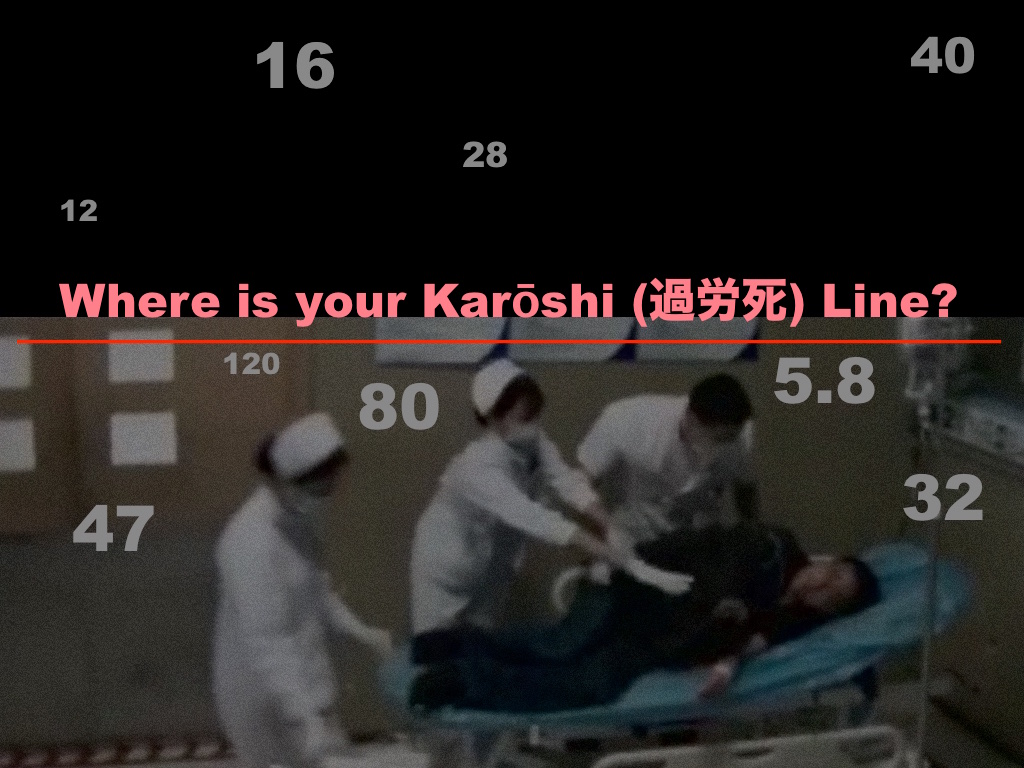 Are you at risk of dying at work? Know your Karōshi Line. Learn how to protect yourself from an early death in this podcast. Listen in . . .
"One of my best friends form medical school died a few years ago, 55 years old, excellent health, swam every day. Genius—musician, internist, bicycle designer. His name was Patrick Tekeli. His death affected me deeply. Mother found him dead. Suicide? Who knows; I call it Karōshi (過労死)—I'm sure you're familiar with that, 'excessive work death.' But he made a great impression on me. I've already submitted my letter of resignation. In a few months I'll be off the RVU treadmill. I may still work a few months a year, but I won't be a slave anymore. Cheers, ~ Jack Foust MD" 
In Japan working yourself to death is actually in the dictionary. Karōshi is a word that literally means overwork death. I've known many people who have died from overwork though I never knew there was a word for it. I'd further subdivide Karōshi into the acute and chronic varieties. After non-stop consecutive 32-hour shifts, this 30-year-old cardiologist Dr. Zhang nearly died from acute Karōshi. In this video he is seen coughing up more than 4 pints of blood.
Chronic overwork may be even more dangerous than acute Karōshi. Like a slow suicide, workers literally work themselves to their own graves. Most Karōshi deaths are due to strokes, heart attacks, or suicides. Karojishi is a suicide by depression or mental illness due to overwork.
In Japan, the "Karōshi line" is defined as a 60-hour work week (80 hours overtime per month based on the 40-hour work week). This line dictates the threshold over which a wrongful death lawsuit may be filed for government compensation.
As a reference resident physicians in US work 80+ hour work weeks (and some do 100 or more since the 80-hour work week cap remains unenforced by anything more than the honor system). In fact, the ACGME (accreditation body that oversees medical education in the US) is on the verge of lengthening shifts on new first year doctors to 28+ hours.
So I wonder how many hours a healthy human should actually work. What's the optimal amount of time one can work and actually enjoy a normal lifespan with good health? I interviewed a random sampling of 14 people in the Pacific Northwest and the average response for a healthy workday: 5.8 hours.
Most folks felt 4-6 hours would give people enough time to exercise, eat well, care for their kids and enjoy their lives. On the high end, one guy said 10 hours if you're job is great and 3 if your job sucks.
So what do you think? How many hours could you work each day without undermining your health or reducing your lifespan? Where's your Karōshi line? Leave your response below.
Ready to jump of the medical assembly line? Download a free guide.
Join our physician teleseminar this week!
___
Pamela Wible, M.D., is a family physician who reports on human rights violations in medicine. Most resident physicians work 28+ hour shifts. Many doctors die by Karojishi as discussed in this TEDMED talk Why doctors kill themselves. Dr. Wible is author of Physician Suicide Letters—Answered.