Today I was honored to be a participant in a stellar physician panel of international leaders in the field of trauma with Gabor Maté, M.D., Rupa Marya, M.D., Will Van Derveer, M.D., and Jeffrey Rediger, M.D., M.Div.
View 5-minute clip above on healing physician trauma then view entire talk here.
We explore how traumatized medical students become traumatized doctors emotionally ill-equipped to succeed as healers

—and how trauma literacy can transform medicine. We also discuss how social conditions built along lines of inequality and power traumatize people and lead to illness

 and how we can heal from "incurable" illnesses by connecting with the authentic self.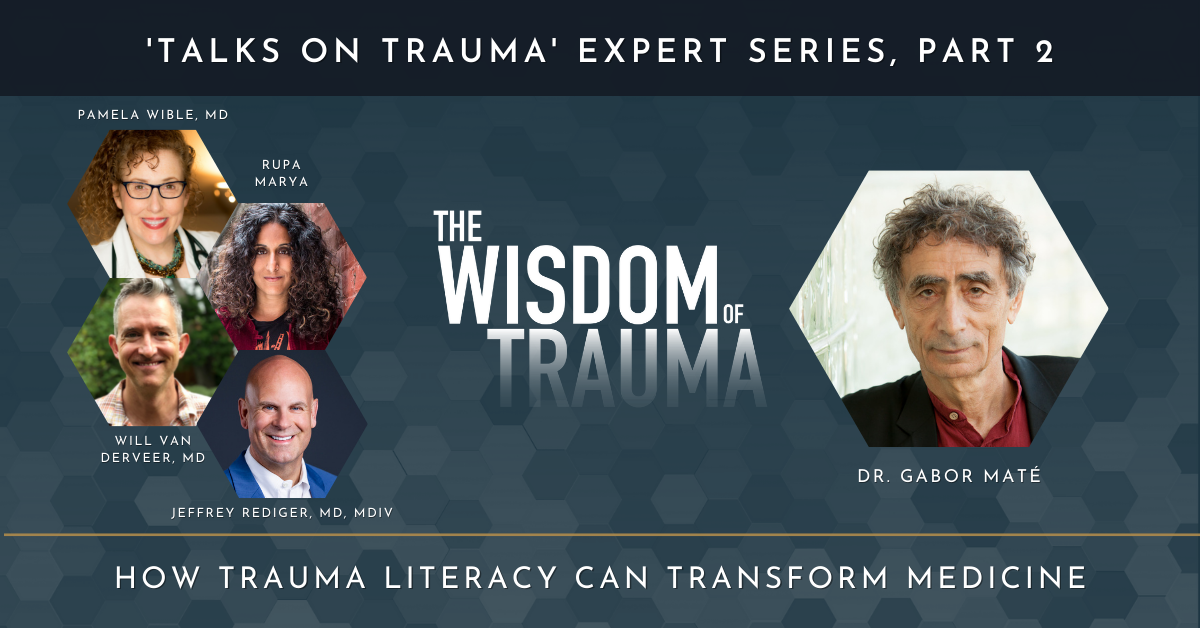 Register here to view the trauma talks and The Wisdom of Trauma film—now viewed over 4,000,000 times worldwide.
Trauma is the invisible force that shapes the way we live, the way we love and the way we make sense of the world. It is the root of our deepest wounds. Dr. Maté gives us a new vision: a trauma-informed society in which parents, teachers, physicians, policy-makers and legal personnel are not concerned with fixing behaviors, making diagnoses, suppressing symptoms and judging, but seeking instead to understand the sources from which troubling behaviors and diseases spring in the wounded human soul.
View The Wisdom of Trauma film trailer
This is an important film that brings greater awareness to the effects of trauma in our world and to the need for a trauma-informed society. In the film, you will see how different people access the wisdom of their trauma so that it becomes a teacher. Trauma can help us learn more about ourselves, our relationships, and the world that we live in.