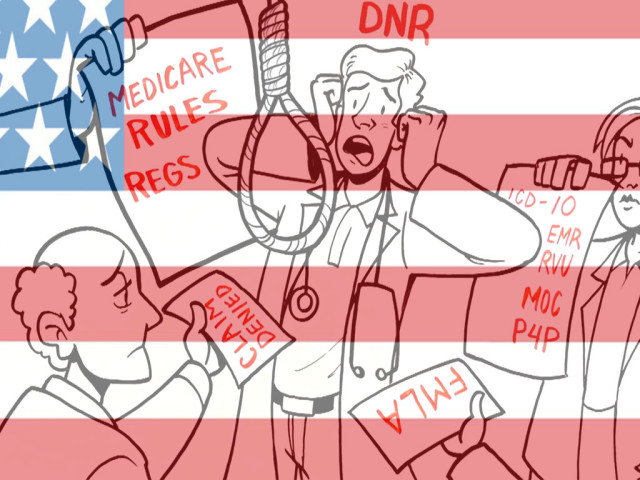 It's July 4th! All across the country, Americans are celebrating freedom, liberty, and the pursuit of happiness. Families and friends are relishing potato salad, apple pie, barbecues and parades. 
Is your doctor decked out in red, white, and blue enjoying fireworks from his yacht? Probably not. 
Have you seen any medical students waving little flags? Unlikely. 
The truth is American medicine has little to do with liberation or independence. July 4th is just another day of captivity and confinement for most American doctors—and nearly all medical students.
Once upon a time all doctors were independent—until recently. My parents were both solo docs. Now most physicians are salaried factory workers practicing assembly-line medicine.
In fact, 9 out of 10 doctors wouldn't recommend medicine as a profession.
Why? Here are a few factoids.
Pages in US tax code: 74,608
Pages of Medicare regulations by which physicians must abide: > 132,000 
Current number of diagnostic and procedure codes doctors must know: 17,000
Number of ICD-10 codes docs are responsible: >140,000.
Percent of working hours doctors spend on non-patient-related paperwork: 22 %
Percent of working hours doctors spend on patient-related paperwork: > 60% 
Percent of time doctors spend looking at computers instead of patients: 40%
Percent of working hours new doctors spend face-to-face with patents: 12% 
Which is how many minutes per patient: 8 
Hourly income for solo psychiatrist (my mom) in 1970s: $120
Hourly income for employed family doc today: < $65
Current student loan debt load for many med students: > 300K
Number of Americans who will lose their doctors to suicide in 2015: > 1,000,000
In the land of live free or die, some chose death. 
I considered it.
Until I decided to live free as a solo doc.
Join me this July 4th to declare your independence.
Want to open an ideal clinic for your community?
Join our Fast Track Course and launch your clinic within 30 days!
Pamela Wible, M.D., is a family physician and pioneer in the ideal medical care movement. She hosts physician retreats to help her colleagues reclaim their lives and careers. Dr Wible has been named 2015 Women Leader in Medicine.