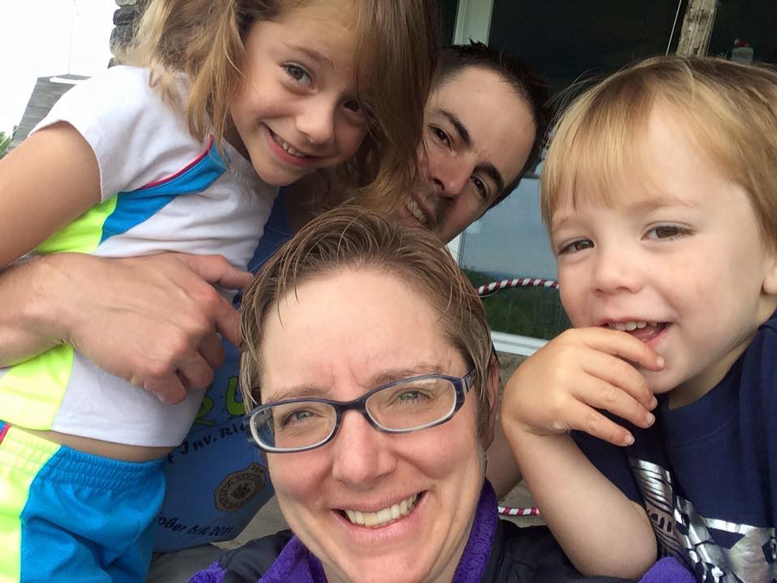 Listen to the above interview extracted from our physician teleseminar and discover how this small-town doctor got free rent, a plate of chocolate-chip cookies, and a $100,000 check!
Meet Dr. Mary Ellen Hoffman—the happiest doctor in New York! She's an awesome family doc in the small town of Oneonta. She used to be in a clinic where she was always running late, doing tons of paperwork, and charting after hours. She was so exhausted trying to care for others she started daydreaming of getting into an accident so she could rest. Does that sound familiar? I've spoken to a ton of depressed and suicidal docs who have said the same things over the years. Sleep deprivation and chronic exhaustion actually lead to suicidal thoughts in doctors.
Around that time she came upon my first TEDx talk How to get naked with your doctor and started reading this blog. Her breaking point came when she was at a hospital meeting and they were discussing the popular "patient satisfaction surveys," yet she says, "we never ask patients what their expectations are!" Then doctors are labeled as being "unsatisfactory" based on these surveys. She got angry and wrote an essay about her frustration. She didn't know what to do with this essay so she decided to send it to all of her favorite authors. Apparently I was on this list and I wrote her back 🙂  Wait, I love the way Mary Ellen describes this in her own words . . .
"I was getting all hot and frustrated and I decided to write an essay just to kind of get my words on paper. What do I do with this essay? And I decided for whatever reason to send it to all my favorite authors. So I sent it to Pamela. And Pamela wrote back that night: 'Hey I have a lot to say about this. When can I call you?' And we talked the next day probably for an hour on the phone, me mostly crying because I didn't see any way out of and I couldn't imagine how I was going to be able to practice medicine still seeing the way things were going and I had zero belief that I could open my own practice and I was truly sitting and thinking about what else I could do. Could I be a farmer? Could I be a waitress?" ~ Mary Ellen Hoffman, M.D.
May Ellen did the physician teleseminar and she spent most of the teleconference with the phone on mute while she was crying. She had no confidence in her ability to do anything—especially launch her own clinic. Then at the end of the 10-week teleconference she decided to attend the retreat! Yay! Here's what she says about the retreat:
"I really had no idea why I was going because I apologize but at the time I really didn't like doctors. I never really felt like I fit in [with doctors]. I had a ton of fear and on the plane out there I realized exactly why I was going. I realized there was so many things in my life specifically related to medicine that made me so scared and so fearful and I've also learned that I'm old enough to know that every time I look in the face of something that makes me so scared, I learn and grow and it's amazing. So that's why I went—because I was scared. I showed up and obviously it was a bunch of very, very awesome amazing people. And it was really during the fire ceremony where we had a big piece of paper and everybody wrote down on it things that frustrate us and make us mad—all our feelings regarding life in general but specific to medicine—and by the end (I was one of the last people to go) it was amazing to me how I didn't have a story to tell anymore because everybody had already told my story. So much fear, so much loneliness, isolation, lack of confidence. All these people kept getting up in front of me and just looking at them they were so articulate and so clearly intelligent and powerful beyond imagine and I just wanted to say that to them and then, oh wow, if I want to say that to them I have to say that for myself. And really literally in that moment in time everything changed for me." ~ Mary Ellen Hoffman, M.D. 
Mary Ellen in that moment knew she would be successful. She says, "It's not a question of IF I can do this. It's how I'm going to do this."
Check out Dr. Hoffman's timeline. May 2015: attends retreat. Dec 31, 2015: last day at old job. January 18, 2016: sees her first patient in new dream clinic. June 2016: her practice is full with 400 patients and now has 100 people on a waiting list. She says, "It's going absolutely awesome!"
Keys to her success are that she shared her dream clinic with her community and they rallied around to support her. She even got out of her non-compete clause when she shared her dream with the hospital president. She also was able to get a non-recruitment-of-staff clause waived in her contract so she could bring her nurse with her. Then a neighbor came over to offer her any amount of money she needed so she ends up with a $100,000 check and a plate of homemade chocolate-chip cookies! She calls this lady her "Fairy Godmother #1" (who is now her patient too). Fairy Godmother #1 led her to Fairy Godmother #2 who had a building in town. She said, "Hey you need space? I have space. If you can't pay me rent for a year I don't care." So now she has free rent for a year too. 
Could you use free rent, a plate of chocolate-chip cookies, and a $100,000 check? Share your dream with your community! If you don't share your dream, how can anyone ever write you a big check and give you free rent? 
So here's what to do: 1) Listen to the podcast above to hear an abbreviated 23-minute portion of Dr. Hoffman's interview. 2) Then share your dream with the world. Okay?
Are you ready to live your dream in medicine? Join the retreat! Can't come to the retreat? Join the teleseminar! Can't wait for the next teleseminar? Join the fast-track course (for full interview & all 10 teleclasses downloadable now).
Are you afraid? Depressed? Suicidal? Contact Dr. Wible confidentially here. 
Inspired by Dr. Mary Ellen Hoffman? Share your public comment and celebrate this courageous woman below.