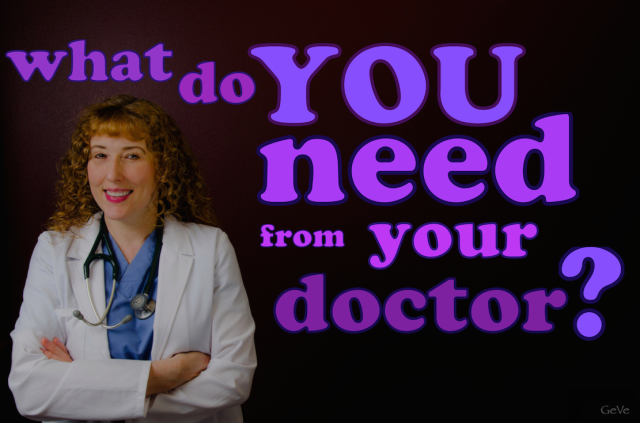 Sick of phone trees, endless refill requests, packed waiting rooms, out-of-control bills, and other medical misadventures?  Follow these 7 simple steps to get your doctor to do what you want.
1. Get Organized. Be clear about what you need from your appointment. Make a comprehensive list of all the issues you want to discuss—and your ideal outcomes for each. Patients who are proactive and organized can cover twice as much in an appointment compared with patients who are passive and unprepared.
2. Prioritize. Organize your list. Assign numbers to each problem in order of significance to you. Now scrutinize your list for conditions that may be life threatening. Move those to the top. This is the order of significance for your doctor. Highlight the top 3 and handle remaining items as time permits.
3. Start early. The best time to see a doctor is early in the day. Twenty percent more polyps are found on colonoscopies before 11:00 am. Why? Physician fatigue. Need your physician's full attention?  Mondays and Fridays are the busiest days so schedule your appointments on midweek mornings before 11:00 am.
4. Be human. You need a physician, not an automaton. But many docs feel more like factory workers practicing assembly-line medicine. Jolt your doctor out of the robotic technician role by making a human connection in the first 30-60 seconds of your visit. Start with a joke, a poem. Bring a smiley-face balloon or homemade chocolate chip cookies. Humans bond over food and fun. Try it.
5. Be direct. Now that you've got rapport, share the top 3 items on your list—and your desired outcomes—in as few words as possible. If you prefer not to take drugs, state that immediately so your doctor doesn't go on a detour discussing medications. If you want a referral to a physical therapist, say so upfront. Just want reassurance, ask for it. You're more likely to get your needs met quickly by stating your intentions directly.
6. Plan ahead. To avoid multiple visits, consider your medical needs over the next 6 – 12 months. Ask for refills at your visit rather than calling later. Are you likely to have a flare-up of a chronic condition in the next year? A bad back? A panic attack? Prevent midnight trips to the ER by getting emergency medications now.
7. Say thank you. End appointments with this sentence: "Thank you. I really appreciate ____________."  (Fill in the blank). If you can't say anything nice, find another doctor.
And if your doctor looks terribly distressed, hand your doc my phone number: 541.345.2437. I help physicians off the assembly line so they can enjoy seeing patients again. You just might save your doctor's life!
Pamela Wible, M.D., is a family physician and pioneer of the ideal medical care movement. Join the movement to deliver ideal care to all Americans!