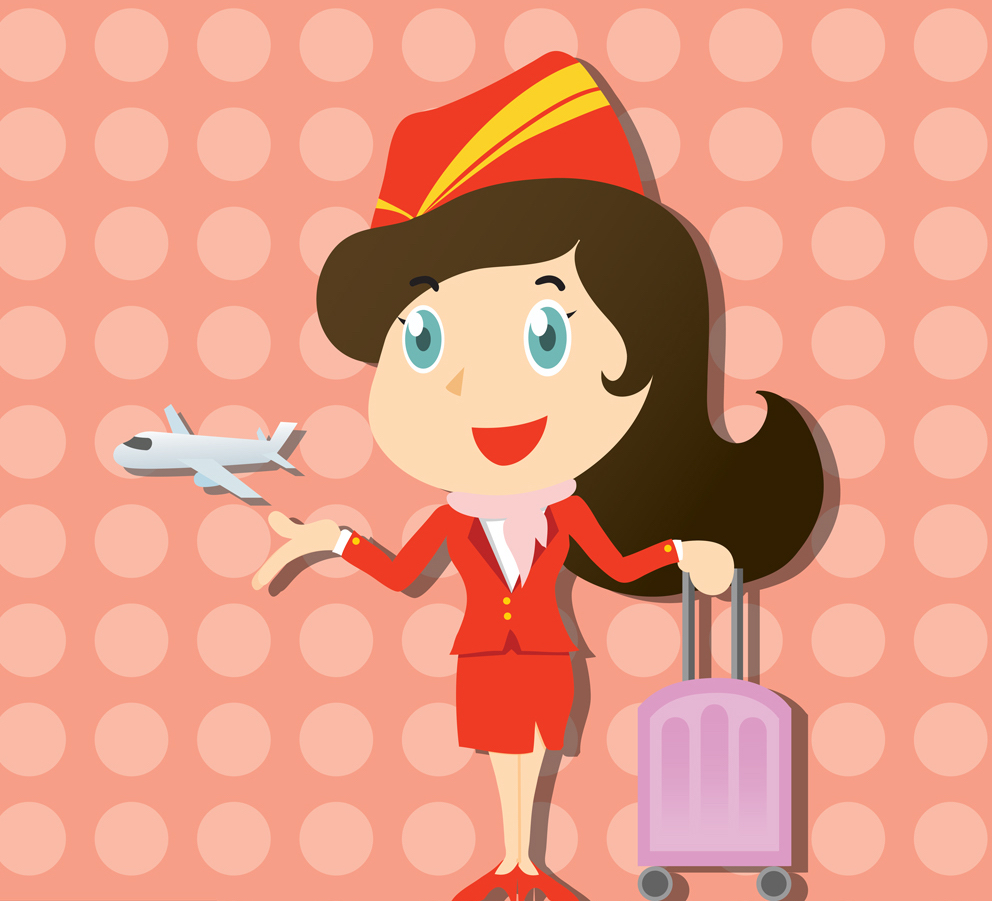 Man collapses at 30,000 feet. Quick, who's in charge? Hint: it's not the doctor. Last month, Dr. Tamika Cross was told to sit down when she tried to help an unresponsive man. Why? Apparently the flight attendant was looking for an "actual" medical doctor, not a black woman. Turns out she's not the only doc making headlines for being turned down in a medical crisis. What in the world is going on up there? I interviewed pilots, flight attendants, and physicians to find out. Here's what I discovered:
1) A sick passenger can cost an airline $100,000—or more. Think transoceanic diversion to nearest city. Hundreds of grumpy people. All need hotels, meals, new flights. Plus there may be a dead guy on board, a legal investigation, and relatives to notify.
2) Medical kits may be unstocked. Should all FAA-approved flights have oxygen, epinephrine, a functioning defibrillator? Yes. Do they? Not always.
3) Flight attendants are underpaid. Guess how much these smiley greeters are paid to get you blankets, pillows, and help you to your seat. Nothing. They only get paid when the plane is moving. Average starting salary: $18 per flight hour. Yep, they eat airline food, get jet-lagged, and deal with rowdy passengers, terrorists, and medical emergencies—all for $18 per hour. Shocking fact #2: a couple of young pilots told me they also started at $18 per hour. Hauling hundreds of humans at 500 mph. For big bucks pilots fly FedEx cargo. Hauling envelopes.
4) There's no place to put your body. No gurney. No exam room. No convenient spot to lie down. So you'll be on the galley floor (like both people I treated on planes).
5) You will disrupt drink service. Not only will your medical crisis be viewed by a bunch of gawkers with cell phones, you may piss off the crew who can't wheel the snack cart over your body. Trust me. You will be in the way.
6) Flight attendants have limited medical skills. With just a GED or high school diploma, 3-8 weeks of flight training, and some CPR, these folks are handling medical catastrophes in the air. So, yes, the gal who poured your Pepsi may be treating your heart attack.
7) The flight attendant picks your doctor. If three docs respond to the call for help, how do they choose? Pilots, physicians, and passengers agree—pick the most qualified. Can a flight attendant actually judge the skills of an ob/gyn chief resident, an infectious disease fellow, and a retired rheumatologist? Maybe that's why 70% of flight attendants told me they take the first person who shows up. Unless implicit bias selects the white guy over the black woman who arrives first.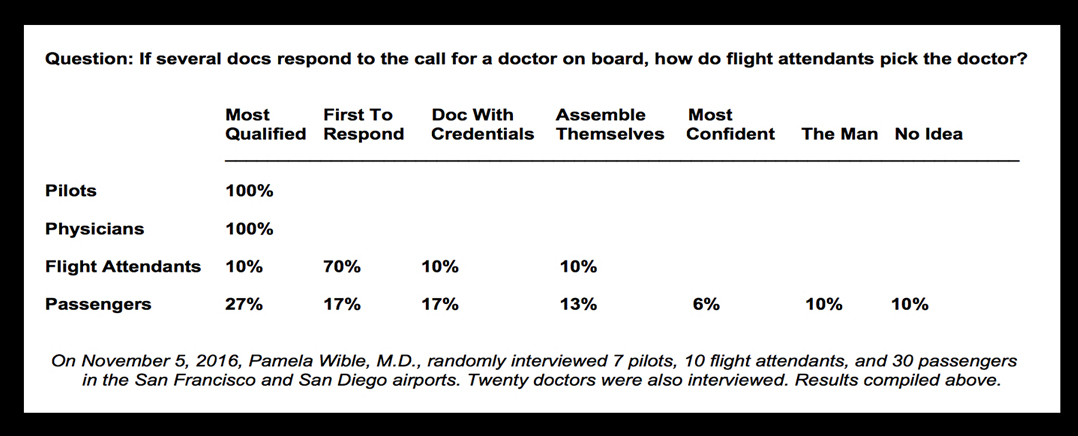 8) The best doctor may be buzzed. Do we go with the sober rheumatologist or the chief resident post-Kahlua? Maybe the best doctor is a Muslim ICU nurse (they don't drink).
9) Crew may obstruct care until doctor shows "credentials." Docs don't carry pocket-sized diplomas, yet crew must see credentials before accessing medical kits. Do you really want a doctor ruffling through her carry on for a hospital badge while you're on the floor?
10) The doctor may still get sued. Liability varies by country. While the Good Samaritan law "should" protect you in the USA, nothing prevents a passenger (or next of kin) from calling an attorney. Some airlines offer indemnity but only if the crew initiates the call for help (not if doctor proactively offers). Given poor medical outcomes in the friendly skies, do you think the average doc wants to absorb all that liability? 
Frankly, I'm amazed anyone volunteers at all—and actually makes it to the passenger in time. How can two highly regulated industries intersect in such chaos? And what's the fix?
Besides the obvious (stock medical kits), here's my advice: 1) Mandate diversity training for crew—led by black female physicians. Contact Artemis Medical Society to schedule. 2) Prescreen for medical credentials. Lufthansa does this. Model what works. 3) Allow medical professionals to assemble themselves. Health care is a team sport.
One final request: please thank any doc who willingly stands up to implicit bias, grabs a half-empty medical kit, and risks personal liability (while on vacation) to save your butt—for no pay!
Now who thinks our medical professionals should board first along with active duty military?
Addendum: Thrilled to announce that as a result of these courageous docs stepping forward, Delta airlines has changed their policies.
Pamela Wible, M.D., is a physician who reports on human rights violations in medicine. Have a story? Contact Dr. Wible.