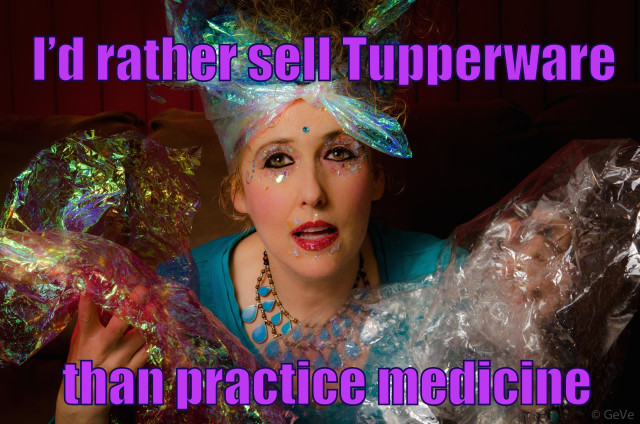 Dear Pamela:
I can't tell if I'm burned out or just don't like being a doctor. My own medical school experience was so abusive. I wonder how other students like me fare when they enter abusive residency programs. I supposedly work at a place that values patients above all else, but it feels like everyone is exhausted and miserable and that the needs of our administration come first. And anyone who tries to say anything about it gets called lazy.
I hope the new generation of physicians will demand better treatment, but even this week I could sense how much young doctors just crave compassionate mentorship. They're so grateful to be told simple things like: "It's okay. I've been there too. I've stumbled in my career path ten thousand times. I know what it's like to be lonely here, to feel like an imposter who can't do things right. You don't have to make up answers to insolvable problems. Patients just want you to be a human being, living and breathing with them, and respecting their voices."
Medicine attracts perfectionists, and our training sharpens that quality into a dagger. The worst part—we become so diminished in our own self-worth that we no longer appreciate or even offer the healing that is the true legacy of doctoring.
I'm finishing my final year of psychiatry residency (thank god) and I'm just so tired. I used to think that things would improve after residency, but now I realize there's no guarantee.
In my profession there's an immense pressure to maintain "boundaries," and they scoff at anything which is close to poorly defined. Many psychiatrists seem obsessed with proving that our field is "real" medicine, so they break patients into algorithms and charts, refer them to highly structured, easily quantifiable courses of psychotherapy that don't allow deviation from "the treatment plan." They measure illnesses with checkboxes and screeners rather than actually listening to any individual's story.
But I doubt any medical specialty can actually heal patients this way, even for the most easily definable problems! How does a fool-proof algorithm for blood pressure control help if patients cannot get their prescriptions, or hate taking medicine, or can't remember to take it, or quit due to side effects that they're afraid to disclose, or any of the other millions of reasons that get in the way of good patient outcomes?! And those are things that you can never discuss in a ten-minute appointment.
Anyway, I'm glad that there are so many physicians who feel this same way, and even some who are brave enough to talk about it openly!!! How did we get so brainwashed that we actually believed that advocating for ourselves and for our patients meant we were lazy or inadequate? It's so crazy. Nobody needed to oppress me by the time I graduated med school: I was the taskmaster and the criticizer.
When I talk about changing things, people says it's not possible and we're all doomed to misery and blah blah . . . Sometimes I say, "Well if that's the case then I just won't do it. I'll pay off my loans and then go find something else." My colleagues always look so shocked—as if they don't have the same secret thoughts!!!
I'm about to have my last "performance review" with my abusive boss. My friends outside of medicine don't believe me when I share the abuse I've experienced during my training. Lots of doctors try to pretend it's normal, but it's not. I go back and forth between trying to stand up for myself and thinking I should just put my head down and not cause myself any more problems. Most of the time I spend fantasizing about doing any other job—selling Tupperware, painting, working at a library—something normal, where nobody swears at me or treats me like I'm lazy after a 16-hour day. But really what I'd like to do is treat people with respect and provide therapy and run groups and teach mindfulness meditation. I just don't know how to get from here to there.
I would write more but I have to fill out about 600 pointless electronic evaluations of my colleagues, in order for us to better wound each other anonymously. Yay!
Xoxoxo
Janelle
This letter was received and edited for clarity by Pamela Wible, M.D., a family physician and pioneer in the ideal medical care movement. Dr. Wible helps medical students and physicians recover from abuse and trains doctors to open ideal medical clinics at her biannual physician retreats. Photo by GeVe.