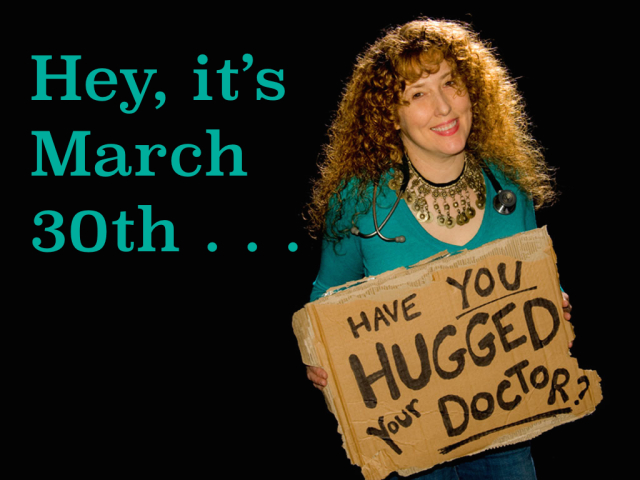 I'm in a room full of doctors at a my mom's 50th medical school reunion when I announce, "It's almost March 30th!" I Pause. "Doesn't anyone know what March 30th is?" Nobody has a clue.
March 30th is National Doctors' Day! Who knew? I never heard of it—until a friend told me last week.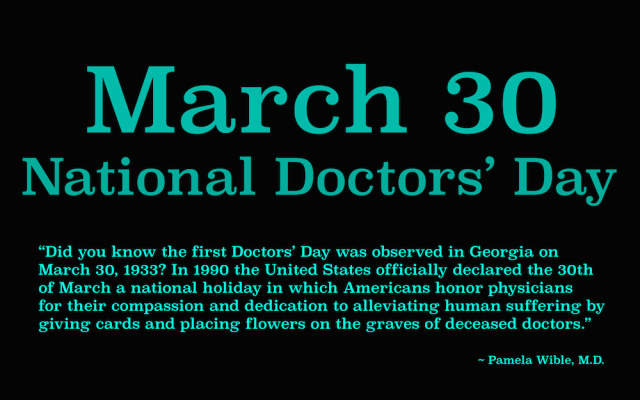 Veterans know about Veterans Day. Mothers know about Mother's Day. Lovers know about Valentine's Day. Why don't doctors know about Doctors' Day? Maybe because nobody celebrates it.
But a quick search leads me to a site that proclaims "National Doctors' Day Gift Ideas for 2015 Are Here!" According to this official gift-giving site of The National Doctors' Day Organization:
National Doctors' Day is held every year on March 30th in the United States. It is a day to celebrate the contribution of physicians who serve our country by caring for its citizens. The first Doctors' Day observance was March 30, 1933 in Winder, Georgia. Eudora Brown Almond, wife of Dr. Charles B. Almond, decided to set aside a day to honor physicians. This first observance included mailing of greeting cards and placing of flowers on graves of deceased doctors. On March 30, 1958, a resolution commemorating Doctors' Day was adopted by the United States House of Representatives. In 1990, legislation was introduced in the House and Senate to establish a National Doctors' Day. Following overwhelming approval by the United States Senate and the House of Representatives, on October 30, 1990, President George Bush signed S.J. RES. #366 (which became Public Law 101-473) designating March 30th as National Doctors' Day.
Each year we lose over 400 doctors to suicide—the equivalent of an entire medical school. Doctors struggle. Doctors suffer. Doctors grieve. But doctors usually keep their feelings inside.
My recent essay on the viral photo of the ER doctor grieving the loss of his patient opened a physician floodgate of feelings. Many physicians came forward to share their stories of grief. Diane Lyn writes:
The truth is—You don't have TIME to grieve. Because there are people inside waiting to be seen. I clearly remember in residency having to sit with my attending and tell 3 adult children that both of their healthy parents were dead. Car accident. Fifteen minutes later I was making faces at a 2-year-old so I could look in his infected ears [and I was] thinking these parents have NO idea what I've just been through.
Patients have no idea what doctors have been through because doctors don't usually tell anyone what they've been through. When we tell our stories, we allow others to empathize with us. Amy, a psychiatrist, shares her sorrow—and a solution:
I am a physician and my husband is an ER doctor. He rarely talks about work. It is too hard for him emotionally, particularly when children die as we have two young sons of our own. The last time I went to visit him at the ER, a young child had passed away from drowning. I can't imagine how the doctor working with that family was able to move on with her day and see other patients after such a tragedy. She was crying in the hallway when I walked into the emergency department. All I knew to do was give her a big hug. I am a psychiatrist and it is not rare for me to be brought to tears by stories I hear from my patients. It is an emotionally taxing job, one that does not allow for having a bad day of my own. I take my phone with me everywhere, answering calls, text messages, and emails on vacations and weekends. It eats away at the time I have with my own children but I do it because I care and because of the pure joy that I feel when someone returns with a good report or does something positive they never imagined that they would accomplish. I have an envelope in my office that contains thank-you notes and letters from previous clients. I encourage anyone who has had a good experience with their doctor to be proactive in sharing their gratitude. I can't even begin to express how meaningful those moments of joy and positivity are in a career that can be so intensely heartbreaking.
How do patients react when physicians reveal their feelings? The oupouring of public support for the ER doctor crying in the viral photo speaks volumes. On my Facebook page, Carla Sallee responds, "This really touched me. I want to hug every healthcare worker I know right now. I don't know that I ever, ever empathized with my healthcare professionals as much as I now feel I should."
On March 30—our national day of thanksgiving for doctors—you can officially celebrate your doctor. But how? Drop off a box of chocolates? Bring a bouquet of flowers? It's really the simple things that matter most. Here's what my friend Butch does for his docs:
I have sent quite a few thank-you cards to doctors over the years. I quit because I thought they may be taken wrong or just too much and adding to their junk mail. Thank you for letting me know it is OK to do, Will be sending more now that I know they do help. Helping them to feel appreciated was the whole purpose anyway. Thank you for everything you do.
A few words of appreciation can help your doctor survive amid sometimes unbearable suffering. More than once, my colleagues have shared that a kind gesture by a patient made life worth living again. So give your doctor a card, a flower, a hug. The life you save may save you.
Thank you!
~ Pamela
P. S. While you're at it, thank your nurse, dentist, and veterinarian too! Looks like they have national holidays that nobody seems to celebrate either.
Pamela Wible, M.D., is a family physician and pioneer in the ideal medical care movement. She is active in medical student and physician suicide prevention and leads biannual retreats to help her colleagues heal from grief and trauma.