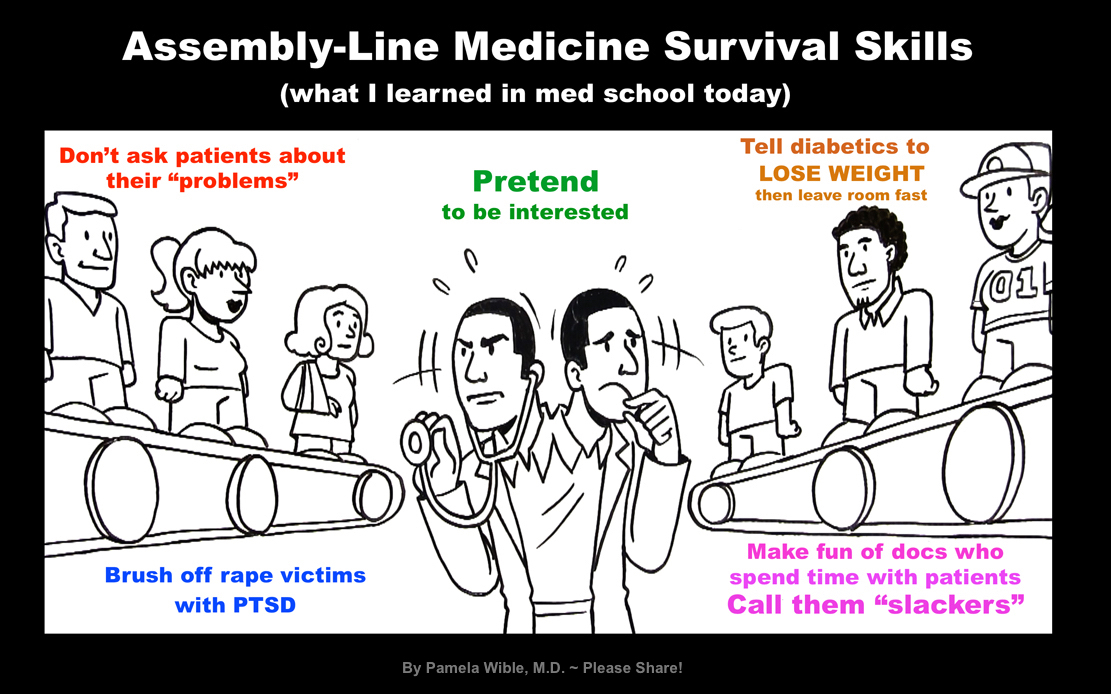 Dear Dr. Wible, 
So I just walked out of clinic today and I have to tell you I feel awful. Just awful. I was so excited to work at this particular clinic and now having seen how we went through patients like they were scraps to be tossed out, it is so disheartening. 
The doc I was working with was lovely. She was very nice. But she kept telling me that I was making the "classic mistake of trying to ask patients about their problems" (!!!) apparently we don't have time for that.
Another doctor told me, "you only get sued if you are an asshole, so always pretend to be interested." My mentors are kind, but they're also so disconnected. They were clicking through visit logs to point out the "slacker" docs with 25 patients in an afternoon because we saw 30. 
I just can't. Holy crap.
I can't imagine practicing like that, celebrating the fact that we went in told someone they had diabetes to go "lose weight" and walk out 5 minutes later and we're supposed to be proud of ourselves for efficiency?Completely brush off the trauma a patient is telling us about her rape and PTSD because whatever we don't have time. 
It just kept going and going.
I felt like breaking down and crying every time I walked out of a room. How could I possibly be okay with turning my back on these people so grateful to see us?? But  honestly now I'm just terrified. Of residency. I always knew it would be like that, and I do want to do it and get board certified, but holy crap. How could I ever survive that?  
Eventually I'll open my own clinic, you've inspired me too, but I always felt like I want to "work" for a bit, get comfortable with being a full-fledged doctor, and have a steady salary and savings before plunging into opening my own clinic. That I could just "survive" residency the way I've been surviving med school, but now it sounds awful. Is there really a residency that won't crush my soul??
Sorry for ranting. I just needed to vent, but I'm alone in California on this internal medicine rotation and I know you will understand. They're just training us to abuse patients in assembly-line clinics.
Thank you for being a shining light, and a great example. Without the hope of my own ideal clinic someday, there's no way I could do this.
~ Jonathan
* * *
Hey Jonathan,
My best advice is to open your ideal clinic as soon as possible. Do not delay. Every day you wait, you continue to support this sick system that abuses you—and your patients. If you are a true healer, you can no longer be a victim. You must stand up for human rights. Yours. And your patients. 
I'm here if you need help. . . .
~ Pamela
P.S.  These videos with totally inspire you! Don't let your job suck the life out of you and How 4 doctors found their dream clinics (and you can too!)