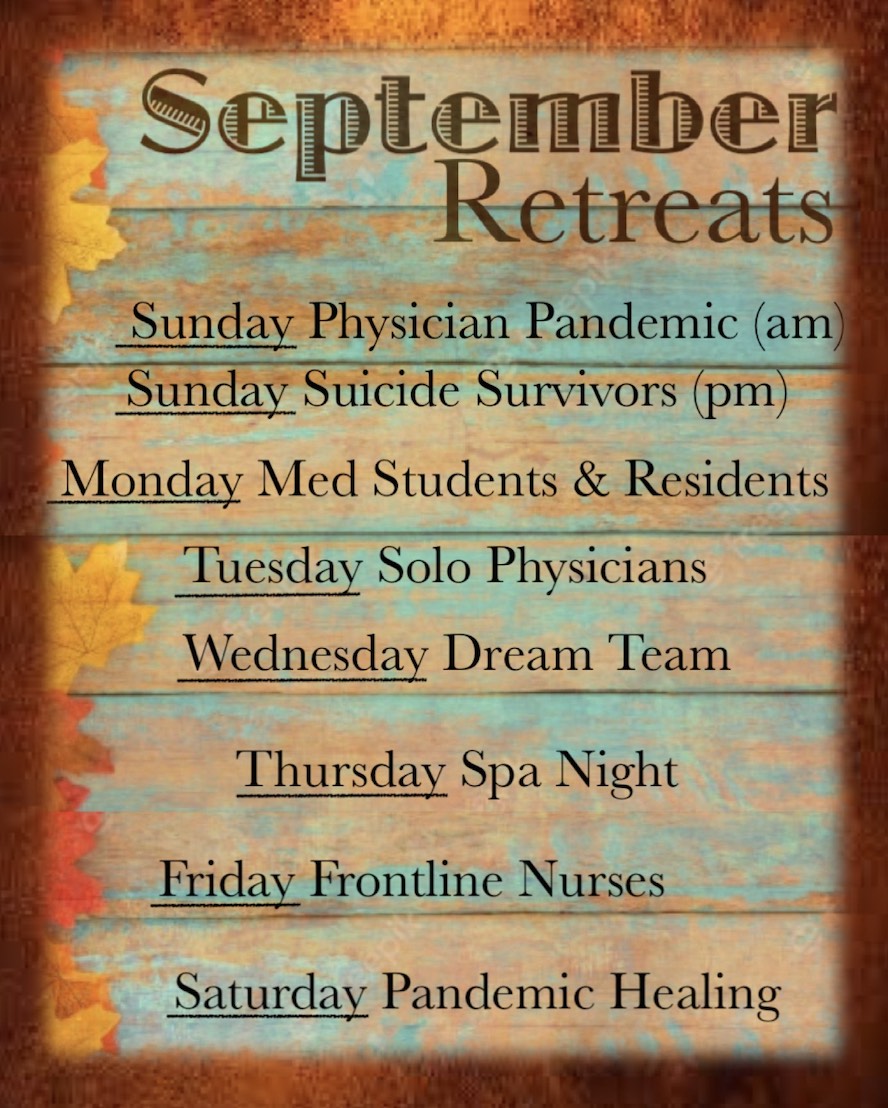 September is National Suicide Prevention Month. Join us for daily retreats—intimate curated groups of 8 people—who will support you in this time of unprecedented fear and divisiveness. Retreats are 100% confidential, safe & always nonjudgmental. All are welcome. Most retreats are 2-3 hours via Zoom or LIVE in Oregon (in beautiful outdoor setting). All local events free or by donation. Zoom retreats $50 drop in. Limited spots.
Retreat Descriptions:
Physician Pandemic Support ~ Sundays for physicians via Zoom @ 11 am PDT. Note: FULL for September. Inquire here for waitlist opening for October.
Suicide Survivors' Retreat ~ Sundays for med student/physician survivors of suicide/suicidal thoughts (& family/friend loss survivors) via Zoom @ 2 pm PDT
Med Student/Resident Retreat – Mondays peer-to-peer facilitated support for medical trainees via Zoom @ 6 pm PDT.
Private Physician Retreat ~ Tuesdays one-on-one full-day physician retreat via Zoom or LIVE. Details here. To reserve date, inquire here. Up to 5-day private physician retreats available.
Dream Team Retreats ~ Wednesdays Live Your Dream advanced business strategy calls/retreats for medical professionals now every week. September theme: "How to launch your educational institute." Join all five events (3 calls/2 retreats)—FREE for Dream Team. 
Spa Night Retreat ~ Thursdays for local healers who are hurting. Includes 3 meals plus massage by a 30-foot waterfall in your own private cabin. Turn off your cell phone & be inspired. LIVE event by donation. Begins with Thursday dinner & ends Friday noon. 
Frontline Nurses' Retreat ~ Fridays for Oregon nurses (RNs, LPNs, CNAs, NPs) with pandemic anxiety/job loss. Mental health & business strategy via Zoom @ 2 pm PDT
Community Pandemic Healing Circle ~ Saturdays for Oregon healers LIVE @ 10 am PDT.
ALL RETREATS require preregistration. Inquire here.