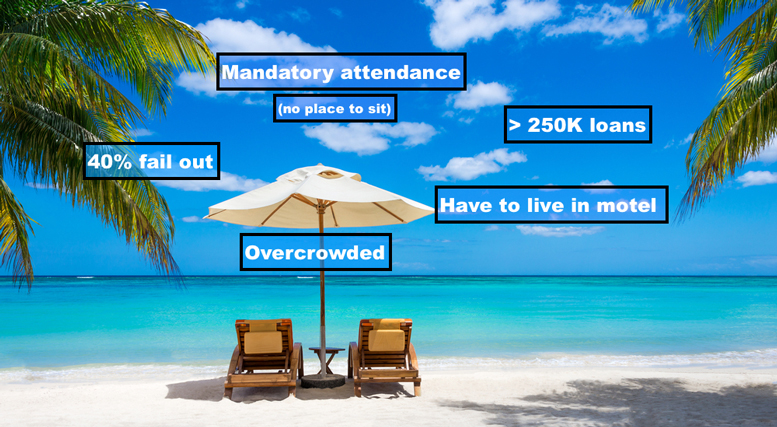 Dear Dr. Wible,
I want to fill you in on what really goes on behind the scenes at my medical school and maybe you can help inform other students about what happens here before they make a huge mistake. If students slip between the cracks of a US med school, then international med schools in the Caribbean may be the next choice. Some have better residency match rates than others so beware. Mind you, your choice of residency is skewed a bit coming down here, but again there are ways to work your way through internal medicine and find a fellowship of your choice, it is just a tougher and longer road. 
My school allows 1000 students a year in on average at the start of each August class. They let in about 700 for the January starting class which are on different schedules and have a smaller lecture hall to accommodate a smaller class. My starting class began with 1100 students, we are down to 650, meaning 59 percent of my class that I started the first day here with are still here to finish off our second year. The class of 700, starting in January, finished with around 450, meaning about 64 percent of their class made it from day 1 to the last day of year 2. US med schools have about a 1-2% attrition rate, we have on average a 40% attrition rate. The problem I have with this is that our school allows students to take on 40K per semester of debt just to dismiss them after 4 or 5 semesters if they fall below an overall GPA below a 75% or having a final grade of below 70% in any one class. If a student does fall below either mark students may or may not be allowed to decel, which means repeating the failed class; however, this looks bad on a residency app and if one fails again they are almost certainly dismissed (rare exceptions). 
So, why are so many students failing or dropping out? 
1) Students are literally mashed into a lecture hall which seats 900 and there are over 1000 students that must click in for mandatory lecture which is 80% of all lectures. If one falls below 80% attendance they are automatically failed in the course. The stress of clicking in, finding a seat, and waiting in lines on a campus that can't accommodate this many people is a reason for the students who drop out in the first few weeks, which my school has statistics on and they know this will happen after years of practicing the purposeful overcrowding. This is a business for profit medical school and profit definitely comes before the well being of any student.
2) The mandatory lectures are nearly pathetic. There are usually so many mistakes made by the inexperienced professors, the lecture becomes confusing and muddled. Students are used to having brilliant or at least decent professors. When they see the quality of tutelage and mix that with the stress and workload, the second round of students drop out by midterms.
3) There are not enough dorms on campus to house this many students. Our school placed a random selection of students in a motel 5 miles from campus. There were no laundry services, no ovens, and a shared floor bathroom. Some were disappointed about only having a hotplate and microwave to cook with. This added with the intense work load and adaptation into the pace of medical school is the third round of students to drop out.
After about a month the class will be down to 900 or so. These are the students who started something and are going to finish, even if it means living in a box.
With 900 students how did we get down to 650? They turn the heat up in term 2/3/4 and have a system of questions and statistics for each question they put on their tests so that they fall within the number of students they need to remain to hit their margins. If they need to cut down class size numbers, the heads of the departments are told to use a more difficult test bank by the Dean. Mind you, I'm very close with the head of several departments and we have discussed this for hours, and our disapproval of the methods they use to keep within their budget. We only have 600 positions open for clinical rotations so 50 more students will have to go this term in order to make the numbers right. The school has to have this 40 percent attrition rate to fund the paid positions for our clinical rotations in the US. 
4) IMG's [International Medical Graduates] have to score an avg. of 10 points higher on the step than a US med grad for an equal position in the US residency match. The avg. US step score is 224. We have to get a 230 usually just to get looked at. Another fact they purposely kept from us until our term 4. Why can't anybody find the true numbers of this school online? They do not post them. If they did they wouldn't have the demand they do now because if we were given all of the facts, some us would have chosen a field within health care that doesn't require this amount of chance, debt, stress, and moral compromise. 
5) Students who can not self study and teach themselves the material fail. Students at my school must teach themselves what they need to know. We are given a vague outline and need to get through the tests and STEP with high scores. We actively search for resources to help fill in the gaps our school leaves. About 30% of the class has headphones on during lecture listening to an outside source and just click in for the attendance question. 
6) Emotional distress/burnout/sickness… This is the area that caught me off guard. I had a medical condition that required hospitalization. The staff is disconnected and said either repeat the term after you seek medical attention or just quit. My advisor told me to "just quit, it isn't for everybody and it only gets harder." (thank gawd I didn't listen to her.) I was in shock and started crying like I never had before. All of that work for someone to tell you to "just quit." I then went into a depression and felt numb. I luckily met you, Dr. Wible, and found out there were options for these feelings and that I was not alone in this process, med school can be hard…. The others that leave really do just get sick of the abuse and the stress and just zone out. The toughest part about them leaving after a few terms is that the debt has mounted and they have to start repaying their loans 6 months after they quit. It is kind of a vicious circle.
In my opinion I wouldn't "recommend" my school to any of my friends or family. Im against what they stand for and do not believe in my school. They throw us all against the wall and whoever sticks gets to stay, whoever falls they leave behind. This is for money and I don't believe it is good for humans to go through this type of abuse while in training to help others. The negative attitude predominates on campus, so I chose to live off campus with success driven students to escape it.  
So why come here? TO BECOME A FREAKIN' DOCTOR, THAT IS WHY!!!!!!!!! I remember studying homeless in the park for the MCAT with a head flashlight on. Now that Im in my last semester it seems all worth it. Every bit of it. There are waterfalls, beaches all over, fruit stands, rum shops, paddle boarding, night clubs, beautiful views at the campus, good people, and lots of fun to keep you sane while you're putting in what is most likely the toughest two years of life. It is stressful but it is ALL ABOUT WHAT YOU PUT INTO IT!!!! If you want a 250 STEP 1 score you work for it. If you want to be a surgeon you work for it, if you want to serve the underserved, you guessed it, YOU WORK FOR IT!! I worked my tail off to get to this point and I feel accomplished now. 
I feel like I can do the most good from this position. I could be a nurse, PA, NP, EMT, or any other health care provider but I want to make some changes in this world and this puts you in the driver seat to do so. My school is now helping out this term and they want to see the students who made it though their process succeed. They are smiling now and so are most students. It is sad to see friends that didn't make it, but most of the ones that I know failed because they held onto a negative attitude, expected others to do the work for them, got into substance abuse and night life, or simply just didn't want it bad enough to sacrifice everything for this dream.
The reason I don't "recommend" it is because I believe students, friends, family should explore and exhaust every option before coming here. I rushed into it and wanted to get started ASAP and paid the price. But if this were my last option to becoming a physician I would still probably do it out of determination. So it can be done, there WILL be hardships, difficulties, confusion, fear, and stress. But if you work as hard as you can and make it through the process. If students do choose this route, they must prepare an emotional support team, an exercise plan for keeping body and mind healthy, and perhaps a mentor to help get adapted to the school.
Please publish my letter if you feel it will help others. And keep doing everything you do for medical students. Please. We need you.
Sincerely
~ David
Pamela Wible, M.D., reports on human rights violations in medicine and what really goes on behind the scenes in medical training and culture. View her TEDMED talk Why doctors kill themselves. Need help? Contact Dr. Wible.