Hi, my name is Dr. Kat Lopez and I unfortunately know what you are going through if you are suffering in conventional medical training or a conventional treadmill medicine job. I was really afraid of going to residency because I had heard of the abuse that I would undergo. And even though my residency program in family medicine was overall a great and supportive program,
I came to feel during my first year of training that the medicine that I was practicing was simply a training to become a robot doctor. It was to be able to see patients as fast as possible as we were given shorter and shorter time slots in clinic. And it was to learn how to both prescribe and manage a polypharmacy of drugs as efficiently as possible and with the least amount of litigious risk.
And this was never the type of healing that I signed up to learn. And I was deeply hungering to learn about nutritional healing of disease, nutritional prevention of disease, alternative approaches including mind-body-medicine, Chinese medicine. What about these things people have been using for centuries?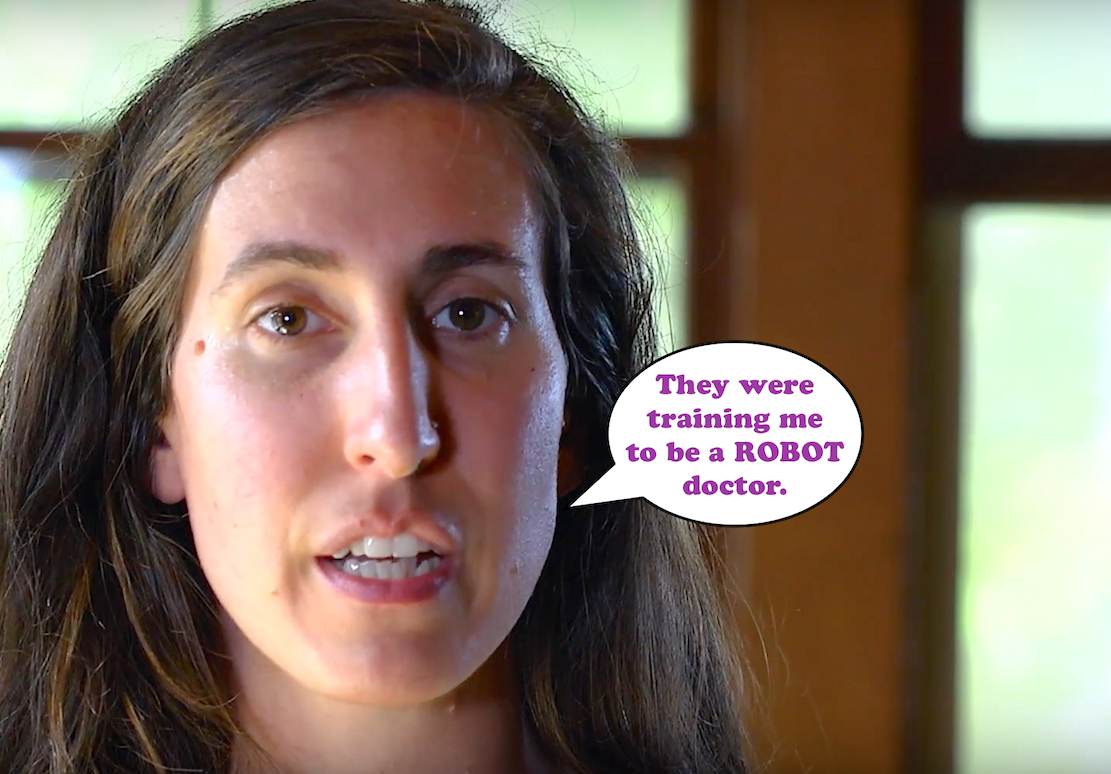 I grew more and more bored and more and more desperate to start to live my passion and my dream of becoming the doctor that I knew could do great things in the world and my residency program was not able to educate me in that way. So I actually resigned from my residency program after the first year. I announced about halfway through and completed my intern year in my family medicine program. I did this with the support of several mentors in my life and I also learned that in a number of states in our fine union physicians can obtain their general medical license with only one year of post-graduate training. I had never been told that. Nobody ever talked about that. There are even D.O. [Doctor of Osteopathy] PGY-1 spots all over the country that are intended to be complete for one year if that D.O. will be going into primary care. 
So I spent about all told from the beginning of residency until I found my dream (where I live now) just in absolute emotional turmoil from feeling like a total failure, a total screw up, feeling like my genius was absolutely unappreciated and unimportant. That all these passions I had for real health and real healing were useless at best and dangerous at worst, that were causing me to become a problem to my residency program and a problem to the conventional medical system in general. I was in absolute grief and despair over thinking that I could never be the healer I was meant to be. I started looking at other educational programs and thought what I can do other than work under my medical license if I can't get my medical license. I considered things like selling my soul to the pharmaceutical rep industry and taking a job there so I could be paid to drive around and sell devices or pharmaceutical medications. 
And then through meeting Dr. Pamela Wible—who is a liberator of physicians from treadmill medicine—I started to realize that I have all of the emotional intelligence, the educational prowess, the passion and the drive to truly live my personal dream even though I did not have a mentor outside of myself to show me "Hey I want to practice like you. I want to do what you do. I want to work like you work." I did not have that exactly presented to me and I was empowered by Dr. Wible to define that for myself. Ultimately her support of patting me on the back and saying, "You can do it! You're going to be great! Your patients will love you!" gave me this fuel through a lot of other healing processes to define what I wanted to be really in my life. And how I wanted to live each day both impassioned by the subject matter in front of me, both in service to the people who can benefit from my personal form of healing and genius and to make a lot of money while doing it. 
So what I ended up creating in my life was a beautiful collaborative practice where I met an experienced mentor in naturopathic and Chinese medicine, Dr. Satya Ambrose. She had just opened a new wellness center in Happy Valley, Oregon, which is about half an hour outside of Portland (where I lived at the time) and she became a close mentor and teacher of mine and over the past two years I've essentially developed my personal private practice as an independent contractor in a group of really forward-thinking, loving, relaxed, interesting people with diverse capabilities of healing from acupuncture to body work to naturopathy and as an independent practitioner work on a percent-split basis to enjoy the benefits of the wellness center staff. I have my own staff. I have assistants. I have front office scheduling and website maintenance and these kind of things. In addition, I've gotten to essentially grow into a functional medicine approach to diagnosing and treating both complex chronic disease and simply prevention medicine for the people who are feeling kind of crappy in their fifties and maybe 30 pounds overweight and need a little bit of guidance to kind of guidance to get healthy in this second phase of their life.
I not only as my own boss have all of the ability to dictate my schedule, how much money I really want to make, how to go into my community as a grassroots marketer of myself whereby interacting as a teacher, a lecturer, a demonstrator, a colleague, I am basically marketing my group and myself as the community-based wellness-type of physician that I truly am. So marketing feels effortless, attracting patients has felt completely effortless and over the course of two years my practice is filling beautifully with basically no effort on my own other than personally following my passion to learn the functional and natural medicine approach to complex chronic disease. So I am happier amd more fulfilled than I could have possibly imagined. 
This type of practice which is both financially sustainable and extremely fun and basically a deep and intensive learning process as I expand my toolbox from sort of from the pharmaceutical-based medicine that I was taught and trained in. This process has been so easeful and harmonious as soon as I got in touch with what I really cared about, the vision I really held for my life, and got empowered to learn what I needed to learn to make that happened as well as connected with people who were right there helping me from the business sense to how do you write office policies. Well, I guess I can make them up myself. What do I want my office policies to be? So currently I work as an out-of-network doctor. I'm not contracted with any insurance companies and I have a scale for my cash-pay patients, many of whom are uninsured. I give discounts for various things such as for people who have Medicare. I also have a biller in my office who will bill people's insurance if they have out-of-network benefits for our office visits.
The care that I am able to provide absolutely fills me and my patients with joy. And learning along this process has been so empowering and liberating from the do medical school, do a residency, and get a job—one of these jobs that you're offered on a piece of paper sent to you in the mail at a big-box clinic. I knew that that job wasn't for me. It wasn't harnessing my genius. And I could not express my personal passion for health and wellness through that model. Guess what? I'm not a quick doctor. I would have never succeeded in anyone's model that requires me to see people in 10-20 minutes. Just never. So fortunately I get to succeed as my own boss in my own practice with a beautiful group of collaborative naturopaths who are helping each other and see our patients together to do an awesome, awesome brand of really true healing. 
So if you're an exhausted, overworked medical student, intern, resident, or physician in treadmill medicine, I want to summarize for you that I was hopeless, totally discouraged, very, very bored by the type of treadmill medicine I was being trained in and exhausted physically from lack of sleep. I was undernourished and filling up on more junky sort-of calorie-dense stuff so I could make it through the day while shoving as little volume down my mouth and in the bathroom stall as I could so I could not pass out on rounds, really, really suffering in the system that is designed to disempower very intelligent people and wring every bit of productivity out of you as deeply as possible no matter the personal price. And now as my own boss having been supported by other doctors to realized that I can figure all this out on my own just like the dry cleaner business down the street can take money from satisfied clients to do their business. Gosh darn it I can learn how to do the same thing in medicine.
I roll into work at nine or ten or eleven or twelve, depending on the day. I set my own schedule. I can block off days for any of the things I would like or need to do—educational purposes, recreational purposes. And in my clinic itself, the staff juices for us green juices everyday. I can wander around between patients with a quick acupuncture treatment. If I drop something on the floor, I don't feel like I have drug resistant bacteria everywhere, but can like wash it off and put it back on the table where I was eating. It's a clean, wholesome environment that I just never thought would be possible. Medical students come through from the naturopathic school and practice their massage and craniosacral work on me so I truly am living in a wellness center where we practice what we preach and I had no clue it could be this good. Just two years after quitting my residency, I'm truly living my dream. I have enough and the horizon is only growing brighter. So thanks for listening! Contact me to find out more!
Pamela Wible, M.D. is a family physician and "liberator of physicians from treadmill medicine." This video was filmed by GeVe at our biannual physician retreat. Come join us! Questions? Contact Dr. Wible.