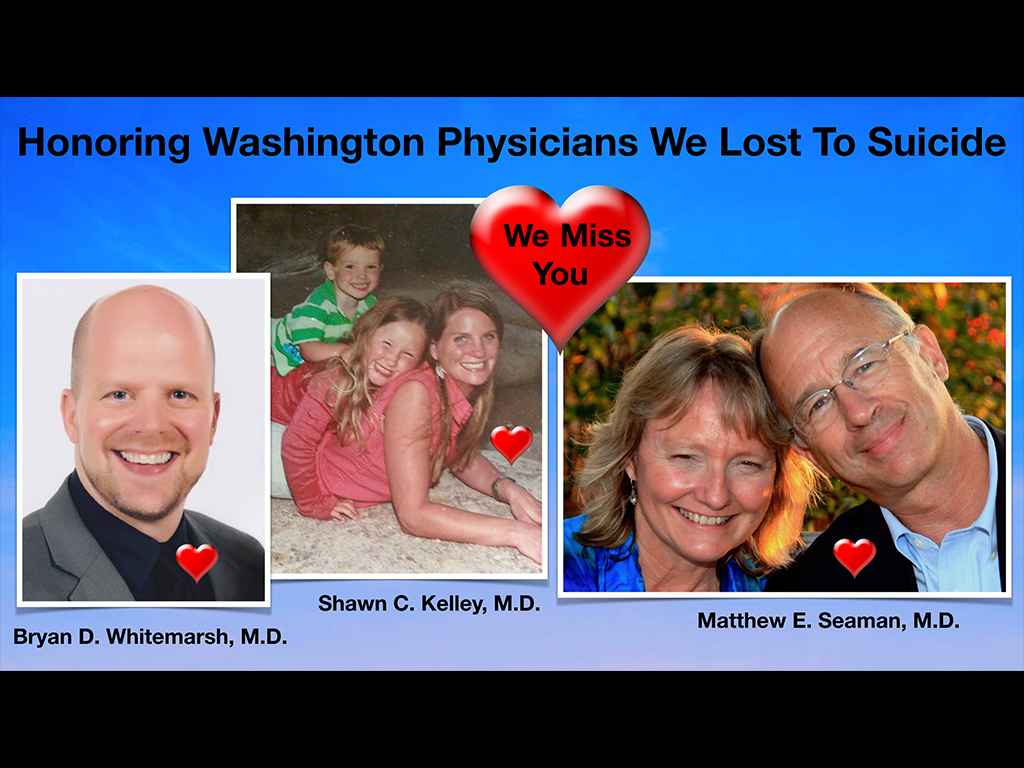 Just posted on Facebook & encouraging others to join me in honoring doctors we've lost to suicide.
Wow! Just rolled in from a 36-hour road trip to Washington moments ago after facilitating an incredibly healing event to honor the lives of doctors we've lost to suicide in Washington. ? Honored to have been invited to facilitate the discussion before & after the Do No Harm documentary (view film trailer here) that exposes the hidden physician suicide crisis by two-time Emmy winning filmmaker Robyn Symon. In attendance were several families with loved ones honored in the film: Drs. Bryan Whitemarsh, Shawn C. Kelley, Matthew Seaman with spouses present Shannon Whitemarsh, Vince Nethery, and Dr. Linda Seaman in a powerful panel discussion highlighting how this global crisis impacts doctors & patients in Washington.
Of the more than 1,300 doctor suicides I've investigated on my suicide registry (3 more just submitted this week), there are nearly 30 from Washington. I invited all to attend. Eternally grateful for the courageous words of those family members who were able to stand on stage and speak on behalf of their loved ones tragically unable to receive the help they needed despite being surrounded by so many caring physicians in their hospitals & clinics.
Families shared their greatest moments of despair on stage in front of nearly 200 medical students, residents, and medical professionals. Thanks to Yakima Medical Society, Central Washington Family Medicine Program & Pacific Northwest University College of Osteopathic Medicine for hosting the event and sponsoring the film screening that would not have been possible without the incredible planning and organizational power of Hannah Udell OMS2, Dr. Kim Wadsworth PGY2, Program Director Dr. Katina Rue, Dr. Kay Funk (aka Rosie the Riveter). ??????? Shout out to all the folks who drove in from hundreds of miles away to see the film: Terry Rice NP, Dr. Neil Golan, & so many others plus great to see Dr. Yami Lancaster (who was celebrated in the film for her amazing ideal clinic in Yakima!) ??
What an awesome display of appetizers before film & dessert buffet ? ?afterward (with amazing home-baked brownies and treats made by Kim, Hannah & other students). Plus everyone got a free book: Physician Suicide Letters—Answered (that includes chapters about many of the subjects featured in the film).
Our conversation began at 5:30 pm as people trickled into the auditorium and ended at 11:00 pm as the last few of us left the med school and then several of us reconvened in the morning at 9:00 am and continued the conversation while watching the Yakima parade ? from our reserved Hilton breakfast suite right on Main Street!
Wonderful to have Rica Amity PhD and Bridget Beachy PsyD present to help students & residents with mental health needs during & after the film. ?
So essential to provide a safe and open environment to process emotions after the film screening and to have a solution-oriented local panel discussion to highlight what is being done in Washington to address the crisis. Recent research indicates that Washington State continues to be adversarial with physicians suffering with mental health issues on their initial licensing applications and several present in the room shared how medical board mental health questions had harmed their loved ones stigmatizing and punishing them for occupationally induced psychological distress. Washington is a grade F state in Physician Friendly States for Mental Health: A Review of Medical Boards.
THE GOOD NEWS! This year the Washington State Legislature unanimously passed a Healthcare Whistleblowers Protection Bill. Yakima physicians are also presenting resolutions at the Washington State Medical Association annual meeting on October 12–13, challenging the Washington Medical Commission and the Washington PHP and asking for specific enumeration of physician suicides.
Fact is sometimes physicians are let down by the very systems that they support. Systems have let suicidal physicians down in their times of greatest need and are to blame for their deaths. When we rely on systems to help people we are in grave danger if systems fail. When physicians (who have lost so many colleagues to suicide) are told to be more resilient by a system that is failing them and violating their human rights, we all continue to suffer. Systems don't save people. People save people. Heartless systems with disenfranchised workers will always fail us.
My greatest hope is that specialty societies will come together to honor the physicians they have lost to suicide, that local communities (hospitals, med schools, med societies) across the USA & the world will come together to honor the doctors they have lost to suicide. I'd love to help honor my brothers & sisters in medicine in any way I can (& have devoted my life since 2012 to this cause). I've been running a free suicide helpline for docs & med students for 7 years now. As always, I am here to talk. Reach out. YOU ARE NOT ALONE.
Please join me in breaking our silence & examining the root cause of each suicide so we can prevent the next needless death. If you'd like help organizing an event to honor physicians who have died by suicide, contact me.
Poignant interview with Dr. Shawn Kelley's husband about her suicide
Read in-depth article on Matthew Seaman's suicide here.