Today is July 1—the day new doctors begin working in our nation's hospitals. Do you realize new doctors work 28-hour shifts? Here's what you need to know: My dog groomer works 8-hour shifts. Over 8 hours, groomers are less attentive to panting—and pets die. My pilot can fly 9 hours. Over 9 hours, pilots are less attentive—and planes crash. Yet new doctors are forced to work 28-hour shifts. Ya see, labor laws protect pilots and passengers, pet groomers and pets. Not doctors or patients. Working more than 24 hours is like having a blood alcohol level beyond the legal limit to drive a car. Would you take your poodle to a drunk pet groomer? Board a plane with a drunk pilot? Why go to hospitals forcing doctors to work more than 24 hours? You deserve a well-rested doctor—and your doctor deserves sleep. Medical mistakes are reported to be the third leading cause of death. Sleep deprivation has led to patient deaths and physician suicides. Always ask your doctors how long they've been at work and boycott hospitals that abuse doctors and patients.
TAKE ACTION NOW:
1) Always ask your doctors how long they've been on shift. You have the right to request a doctor who is alert and well-rested. Your doctor has a human right to sleep. Boycott hospitals that abuse doctors and patients.
2) Document all episodes of sleep deprivation endangering the lives of medical professionals and patients depending on their care. Reference Human Rights Violations in Medicine: A-to-Z Action Guide. Medical mistakes escalate when doctors work beyond 24 hours as these sleep-deprived doctors reveal.
3) Never drive yourself home after a > 24-hour shift. Call Uber or Lyft. Doctors have been in fatal car crashes after long shifts.
4) If your workplace is unsafe, unhealthful, or hazardous due to sleep deprivation, contact OSHA and NIOSH. File a confidential OSHA (Occupational Safety and Health Administration) complaint to trigger an on-site inspection by a compliance officer trained to protect workers and their rights. Then request a health hazard evaluation through NIOSH (National Institute for Occupational Safety and Health). They will perform an assessment of physician work conditions and file a report with recommendations. Three employees are required to request a NIOSH evaluation. Your identity will remain confidential.
5) File a confidential complaint with the Joint Commission and ACGME to have your workplace inspected when sleep deprivation is a hazard to human health. Seek legal counsel for further help.
6) File a complaint with the New York State Department of Health under the 405 Regulations if you have suffered work-hour violations in New York, where medical trainees sustain greater assaults yet have greater protections than physicians in the rest of the United States. ACGME policies may be in conflict with your state laws. If you feel your rights have been breached in New York, seek legal counsel.
7) Let ACGME CEO Dr. Thomas Nasca know how you feel about his decision to allow doctors to work 28+ hours without sleep: Accreditation Council for Graduate Medical Education 401 North Michigan Avenue, Suite 2000, Chicago, IL 60611 or call 312.755.5000. Email Dr. Nasca: tnasca@acgme.org
Want to learn medical self-defense?
Here's how to protect yourself as a medical student, doctor & patient.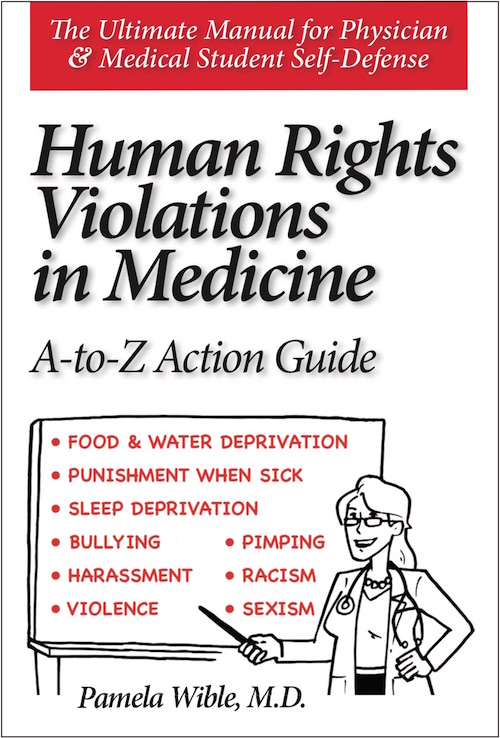 Need confidential help? Read Action Guide above, then contact Dr. Wible.