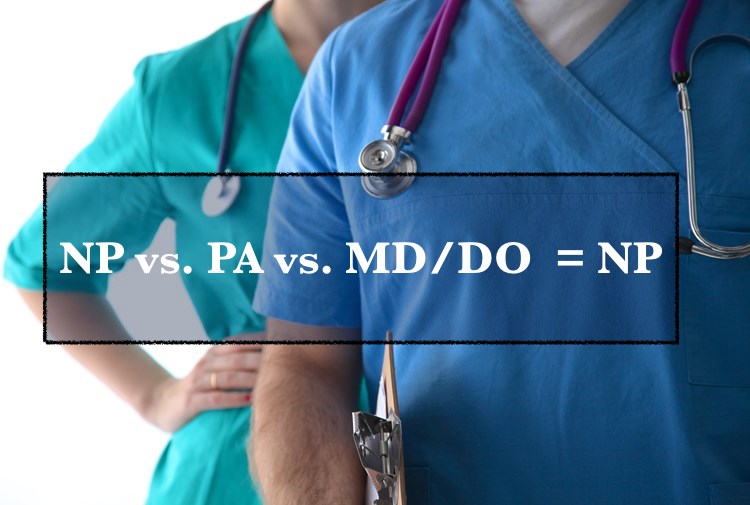 Ethan Stuart, RN, sent me this email.  I'm publishing (with permission) exactly the way I responded. Ethan has severe anxiety. I strongly recommend those with pre-existing mental health issues consider the mental health impacts of a medical education given the suicide crisis among medical students and physicians.
Ethan: Hi Pamela, I have a question about my future career choice, and even though it is more complex than what I will write here, I will try to hit the main points. You seem like a smart, understanding, and compassionate person.
Pamela: I AM! 🙂
Ethan: So I thought I would send you an email. 
Pamela: YAY!
Ethan: Basically, my struggle is this: I am a current RN and would like to do primary care in the future (family medicine). However, I am torn as to whether I should try to become a family physician or become a family nurse practitioner. 
Pamela:  My first thought is NP right off the bat.
Ethan: Here are the things that attract me to becoming a family MD/DO: #1 = Autonomy 
Pamela:
You can have autonomy as an NP – in your own practice. Listen to this interview I did with the
happiest NP in Alaska
. (Note: PAs actually can not practice with autonomy and require a collaborating physician so that makes the NP degree much more valuable in my opinion—especially if you want to launch your own independent practice one day!).
Ethan: #2 = Knowing that I became the best that I could be and didn't settle because it was hard (probably the main reason).
Pamela: There are NPs who are better than doctors. DEFINITELY less abused and have more self-confidence as NPs.
Ethan: #3 = The opportunity to acquire a deeper and wider knowledge base (probably the next main reason).
Pamela: Your knowledge base is directly related to your level of curiosity and your dedication to being a lifetime learner.
Ethan: #4 = Ability to practice internationally.
Pamela: Not sure about this one.
Ethan:  Here the things that attract me to becoming an FNP: #1 = Better work-life balance.
Pamela: YES.
Ethan: #2 = Faster/cheaper More flexible should my interests change I can work and go to school part time I can directly choose to study what I am interested in (rather than have to go through many rotations in medical school that I might not be interested in).
Pamela: YES.
Ethan: #3 = I must say, too, I am a person who does not want to train/work in a toxic environment, and I know medicine seems to have plenty of that. I see it daily as a nurse. I also have anxiety that can flare up pretty severely and tend to get burned out if I have to go through a demanding schedule for too long, as I naturally give a lot to people and have to have time to care for myself. If I could get down to the bottom of my indecisiveness, the thing that causes me the most uncertainty/anxiety, I think it would be this: I would like to pursue medicine because I prefer the medical model more and because I would like to be the best I can be, even if it is more difficult. But I am very worried about the price I would pay to get there and the toll it would take on me and my family—I am married now, and my wife will likely have kids by the time I would be in my training.
Pamela:  YOUR MENTAL HEALTH & OVERALL HEALTH will be WAY better as an NP.
Ethan: As you know, you can't help anyone if you can't help yourself. I don't mind becoming an FNP, as I think my dedication to learning will make me a great provider regardless. But I also am not sure I am philosophically on board with the nursing model per se, and it is mainly attractive me for PRACTICAL purposes, not intellectual ones.
Pamela: Your intellect can take you anywhere you want to go. Degree really doesn't matter. It's your initiative.
Ethan: The rub is I don't want to pursue being an FNP (or an MD/DO, for that matter) for the wrong reasons. Lastly, I also have many hobbies, and though I would enjoy the knowledge base that physicians have and the autonomy, I am not sure I would like the stress and any longer hours that comes with it. 
Pamela: NOT worth all the extra training. You could get an NP in an 12-18 month accelerated program for 10% the cost of getting an MD/DO. AND you can earn MORE than a doctor!! (see above video).
Ethan: And I realize one may not be able to have one without the other. I may just have to accept that there will be trade offs either way. What do you think? 
Pamela: I think you should design your dream clinic/practice FIRST—then reverse engineer the steps to get there choosing the fastest, least costly method to get there.
Ethan: Based on your personal experience as a family MD, what would you advise me to do?
Pamela: Go for your NP degree.
Ethan: THANK YOU for your time and for all your wonderful work. No doubt you are such a treasure to many. Most sincerely, Ethan
Pamela: Can I publish this on my blog as I think lots of people would like to know the answers to these questions. Also after you read what I suggest tell me what you decide. I'm not attached either way.
Ethan: Thank you for the quick response and specific answers. I honestly have known which path would be better for me personally for a while, but there has been that small part of me that doesn't want to completely rule out medicine because of the reasons I listed. Be that as it may, I want to be healthy and happy and do what's best for me and my family—which will make me a better provider and family member. 
And, of course you can publish this on your blog. I'm honored! You can even leave my name if you feel inclined, although I don't think it'll make me an overnight sensation. 
Will keep following all your great work. I just have to say—I really, really admire your courage. Thanks for leading the way—hopefully the rest of us can follow suit. 🙂 
What do you think? NP? MD? DO? PA? Other?

ADDENDUM 11/29: This is my advice for Ethan. My advice for you may be totally different based on your life circumstances. I love doctors. I love being a doctor. I loved my residency and the last 2 years of medical school. I am the happiest I've ever been in my life practicing medicine in our community-designed ideal clinic (solo doc for 12+ years). My greatest joy is helping all health professionals find their joy no matter what the "official degree." We are all valuable.