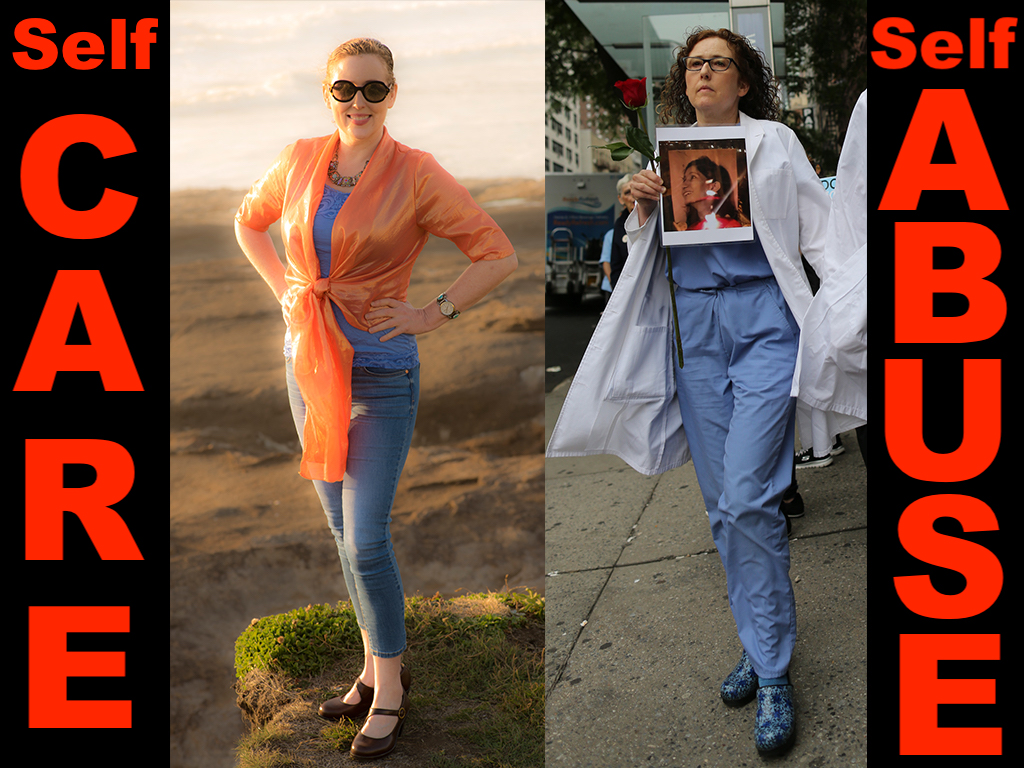 Yesterday I posted this on Facebook and was overwhelmed by comments . . .
Today I'm celebrating 30 days of weight lifting (with a personal trainer) & back on 100% plant-based nutrition that makes me feel awesome. YESSSSS!
I (finally) made the decision one month ago to start taking care of myself!!!! More than 3 decades ago (in high school) my mom asked me, "When are you going to stop taking care of everyone else and start taking care of YOURSELF?" I had no idea what she was talking about. Her question didn't even make sense to me. I thought it was normal to caretake & nurture others. I thought my gift of opening my heart & soul to care for special needs animals & people & anyone who needed my help was what I was born to do. Only last month did her question FINALLY make sense to me. AFTER 24 years of school (& 11 years of medical training). AFTER 26 years of being a family doc and taking care of everyone who needed me regardless of ability to pay. (Oh, and I chose family medicine over pediatrics or nephrology because I wanted to take care of EVERY organ system of EVERYONE in the whole world!). "When are you going to stop taking care of everyone else and start taking care of YOURSELF?" only made sense AFTER becoming so disillusioned with big-box assembly-line medicine, I nearly ended my life by suicide. AFTER losing so many med students & doctors to suicide that I've been running a free physician suicide helpline on my own since 2012. AFTER being determined to find out WHY my brothers & sisters in medicine were killing themselves. AFTER investigating the suicides of 1,300 doctors & med students. AFTER seven years of running myself ragged flying across the country to help suicidal med students & residents in crisis, leading free retreats for surviving family members, vigils for deceased doctors, and organizing & facilitating a giant free retreat for 500 docs in NYC last fall to prevent doctor suicides that ALMOST KILLED ME (yes, I had pneumonia & I kept working even when several docs surrounded me and tried to force me into going to the hospital, I would NOT go. Why? I HAD WORK TO DO to help save everyone else who was suffering—and yes, I was so sick & febrile that I was probably delirious and I did hear the angel of death whispering to me in the middle of the night, "Pamela . . . Come here Pamela . . ." ).
What kind of person does something like this? There IS a word for this behavior. *** THIS IS CALLED WORKAHOLISM *** One month ago I decided to STOP BEING A WORKAHOLIC the day after publishing Human Rights Violations in Medicine: A-to-Z Action Guide, a guide that gives actionable instructions for victims to SAVE THEMSELVES. Yes, I finally cracked the code on WHY my brothers & sisters in medicine are dying by suicide. Yes, I have a solution that will prevent 99% of future suicides among doctors. Yes, I have given those instructions to victims who can now save their own lives. SO I AM FREE!! I'm here. I'm happy to guide you. I'm still running my doctor suicide helpline. However, I'm no longer going to do the work FOR YOU. I'm no longer going to do the work of 100+ people. Yep. >>> I AM NO LONGER A WORKAHOLIC. I AM NO LONGER A WORKAHOLIC. I AM NO LONGER A WORKAHOLIC. This is what SELF-CARE looks like.
(& it's not a weekend retreat. it's not a massage, it's not a green drink). SELF-CARE IS A PERMANENT LIFESTYLE.
Have you suffered from workaholism that has almost killed you? Guess what. YOU CAN STOP THE CYCLE OF SELF-ABUSE NOW. TODAY. Who's with me?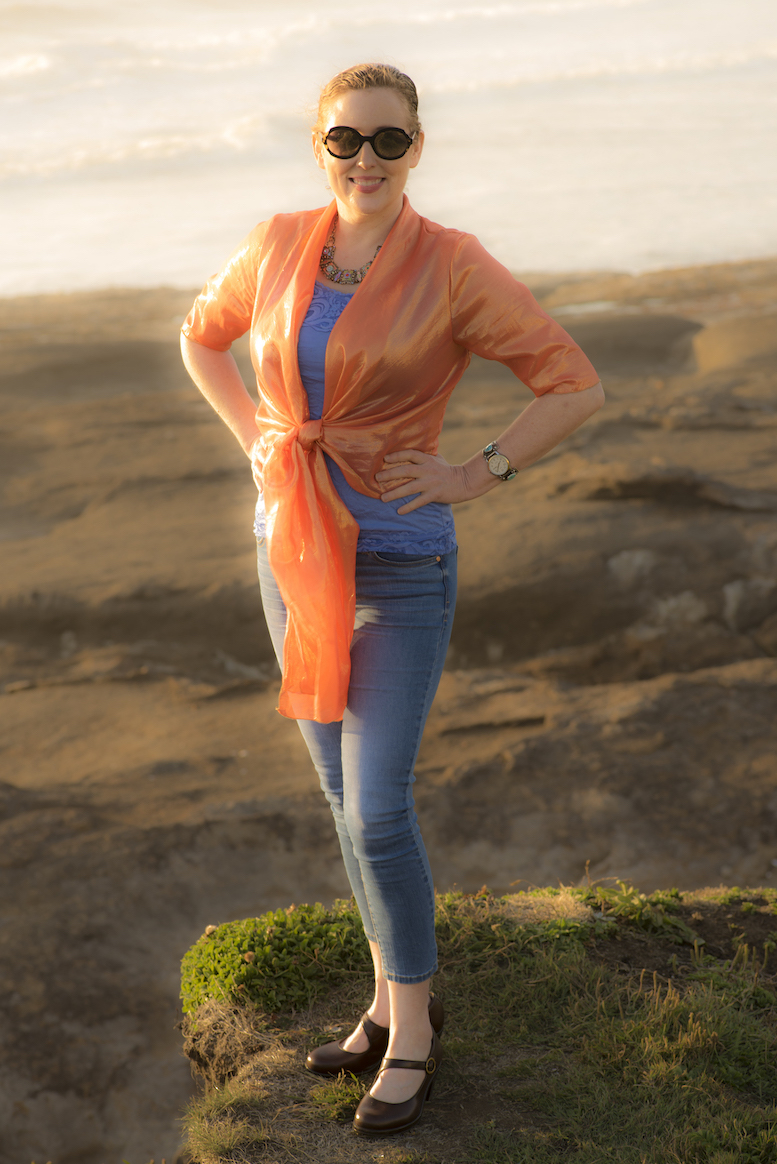 Above: This is me now—as a true role model for self-care (after nearly killing myself from workaholism = self-abuse).
Below: This is me last fall pointing up to the 33-story rooftop of a Mount Sinai building where a beloved colleague died by suicide. I was so determined to prevent the suicides of my brothers & sisters in medicine that I almost died by self-abuse in the process. Self-harm is not always as dramatic as suicide. Like our patients who die slowly by self-harm (no exercise, crappy diet), doctors can also die a slow suicide from self-abuse. Don't be a victim of your own abuse. I don't want you to land on this sidewalk with all our fallen physicians. Your FIRST JOB is to save yourself. Then save your patients.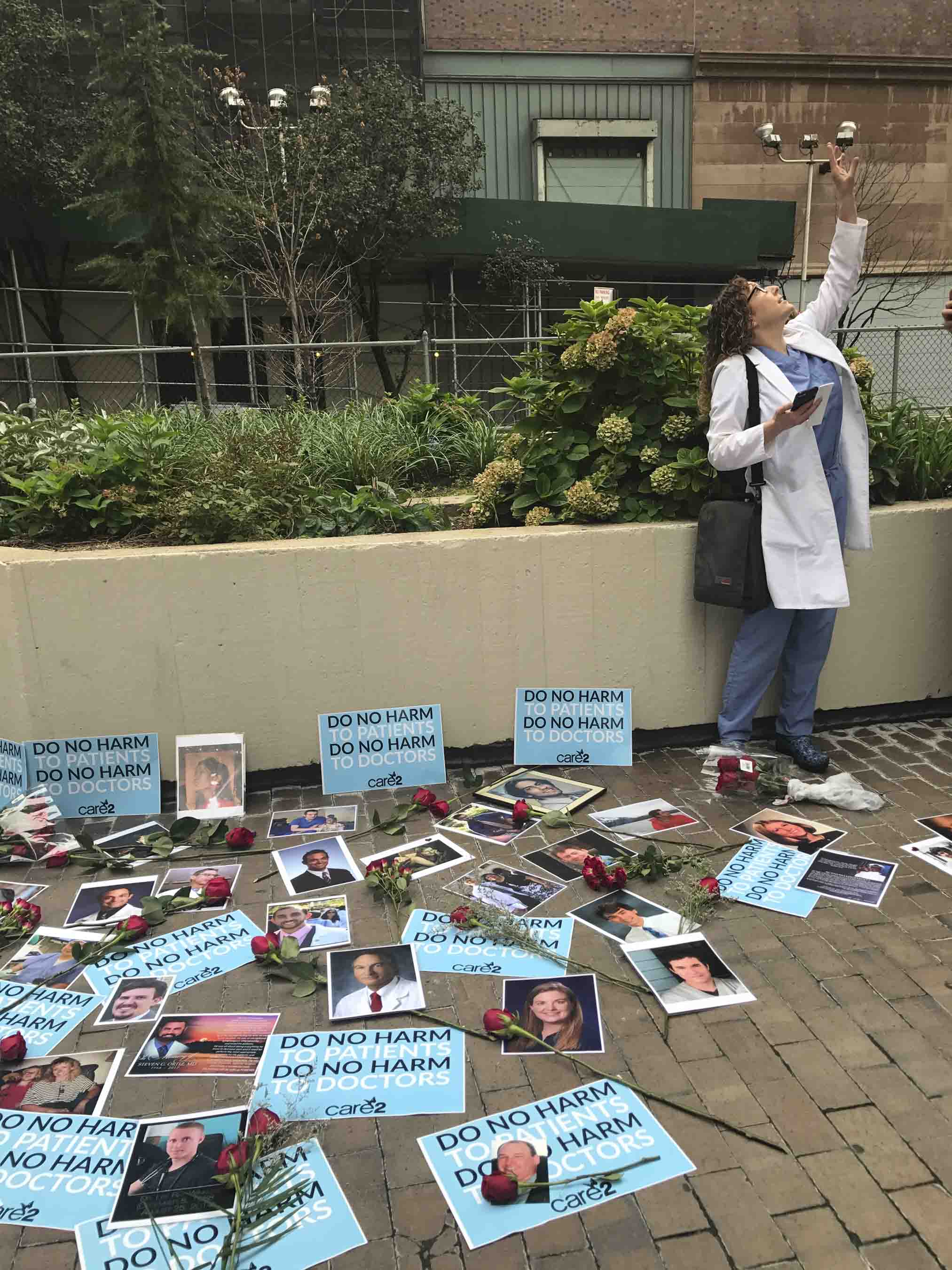 Doctors & med students—to learn how to take care of yourself so you don't die by your own hands, view this keynote: Physician Suicide–Prevention & Intervention.