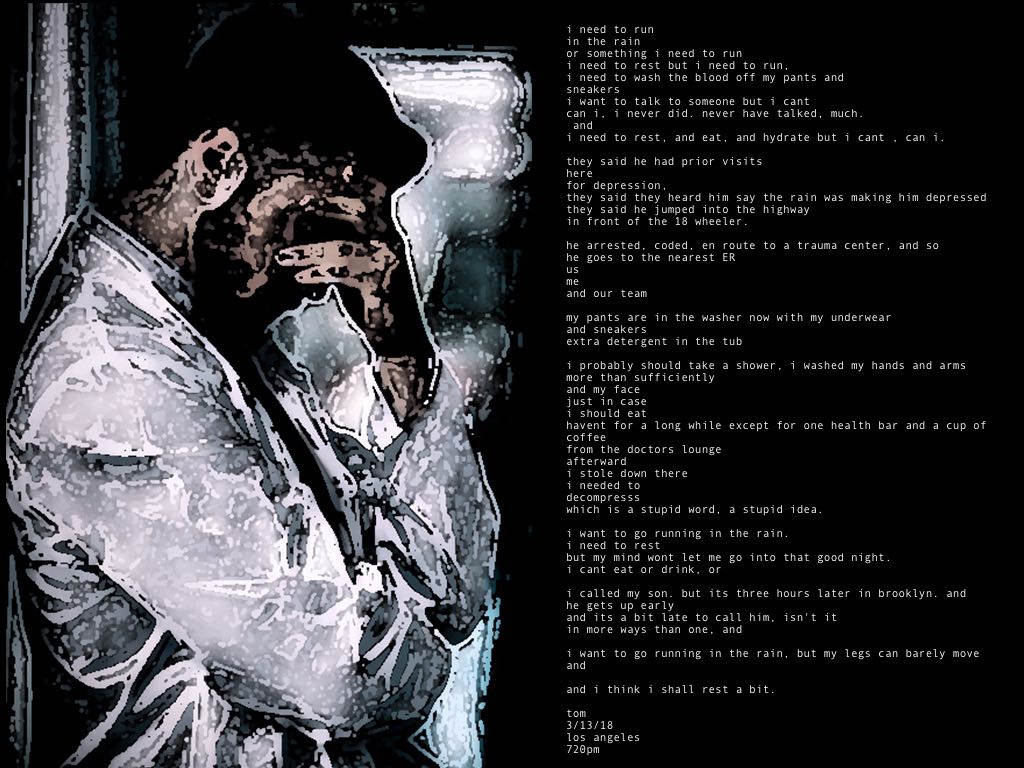 poem
i need to run
i need to run
in the rain
or something i need to run
i need to rest but i need to run, 
i need to wash the blood off my pants and 
sneakers
i want to talk to someone but i cant 
can i, i never did. never have talked, much.
 and 
i need to rest, and eat, and hydrate but i cant , can i.
they said he had prior visits 
here 
for depression, 
they said they heard him say the rain was making him depressed
they said he jumped into the highway
in front of the 18 wheeler.
he arrested, coded, en route to a trauma center, and so
he goes to the nearest ER
us
me
and our team
my pants are in the washer now with my underwear
and sneakers
extra detergent in the tub
i probably should take a shower, i washed my hands and arms more than sufficiently
and my face
just in case
i should eat
havent for a long while except for one health bar and a cup of coffee
from the doctors lounge
afterward
i stole down there
i needed to 
decompresss
which is a stupid word, a stupid idea.
i want to go running in the rain.
i need to rest
but my mind wont let me go into that good night.
i cant eat or drink, or 
i called my son. but its three hours later in brooklyn. and 
he gets up early
and its a bit late to call him, isn't it
in more ways than one, and 
i want to go running in the rain, but my legs can barely move
and 
and i think i shall rest a bit.
tom fiero
3/13/18
mereced
720pm
~ ~ ~
Wow. I really want to publish this.
or have you publish a book of medical poetry.
Can u?
Will u?
Did this suicide happen today?
~ Pamela
~ ~ ~
Yes, Pamela.
Confidentially, I am sick from it.
The warrior pretend shield has hardened.
But I slept an hour about. Deeply.
The " poem" I wrote as soon as I first got home.
It helps me.
It happened today.
You should see the poem I wrote yesterday before this occurred.
Slept.
Couldn't eat.
Went to the local gym and punished myself on the treadmill and other stuff.
Just got back.
Finally hungry.
Gently.
Thank you for you.
I've written about 2000, but have no idea how to publish.
You certainly may use it any way you think best.
Ps: YouTube: clamshell thoracotomy.
That is what I did simply with a scalpel , (finger thoracostomy bilateral, got a lot of blood from the right chest hence the pants and sneaker blood), and then with trauma scissors I cut right across from right to left across the sternum, had two techs pull up and down and explored for repairable wounds.
No cardiac activity, despite my hand massage.
Had a big gash on his head.
I had done maybe three unilateral thoracotomies over the last 30 years. 
This was my first clamshell.
I have been studying and preparing for this for years.
Running a real trauma code is something different.
Mentally I think.
Yes.
The trauma the horror is the young man who took his own life.
I just need t get tougher.
Mentally.
We are a community hospital (not trauma center) in California.
Our team did great, all of them.
You are magnificent.
I'll send you more poems.
Maybe an occasional happy one.
tom.
 ~ ~ ~
Sorry t email so late.
Just wanted t say thank you.
I think perhaps this trauma code might b affecting me more than I let on , even t myself.
Or especially to myself
Will call the therapist this weekend , shall use your link provided.
Don't worry
I'll b ok.
I just feel this uncertain rumbling below my surface.
Don't call.
I'll cry, and warriors don't cry.
Ciao.
Thanks
t.