See full KevinMD interview & transcript here.
". . . It is especially great to get people in the same specialty together. That's why I host specialty-specific peer-to-peer support groups. I'm not a surgeon. I don't know what it's like. They do. These surgeons are replaying every accident or bad outcome they've ever had in a 30-year career, like a videotape in their mind. They can't sleep at night . . ."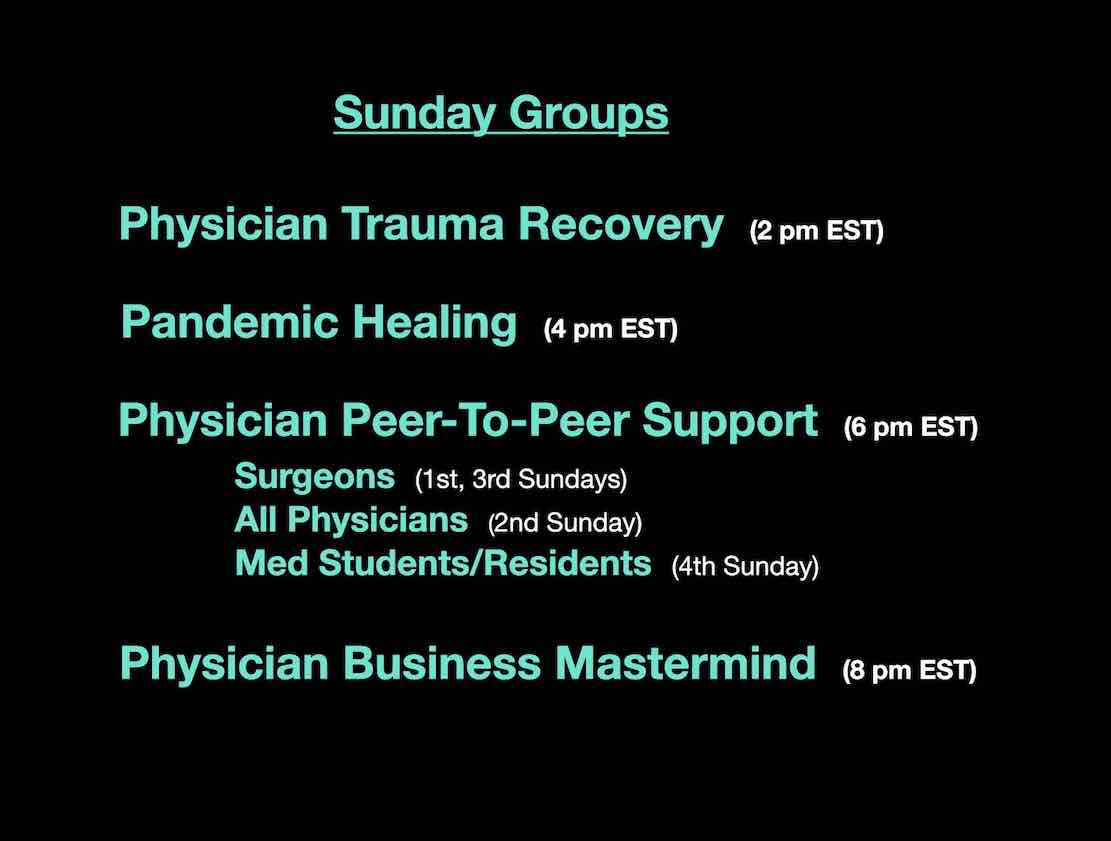 Sunday Support Group Descriptions:
Physician Trauma Recovery (11 am PDT/2 pm EST) is a group dedicated to helping physicians heal from personal or professional trauma including such as suicide attempts, childhood abuse, death/suicide of family/friend/colleague, residency abuse, workplace violence, professional and personal betrayal. If you'd like to heal from trauma among a group of loving peers, reach out.
Pandemic Healing (1 pm PDT/4 pm EST) is a cohesive group of physicians who have been meeting weekly for more than a year in a safe and non-judgemental environment on topics ranging from long-haul Covid, grief from loss of patients/peers/family to Covid,  job loss/mandates, early treatment, vaccine adverse events, and isolation.
Physician Peer-to-Peer Support (3 pm PDT/6 pm EST) is a weekly rotating group of targeted physician peer support groups including: suicidal/struggling surgeons (1st/3rd Sundays), all physicians (2nd Sunday), residents/medical students (4th Sunday). Additional groups will be added based on demand.
Physician Business Mastermind (5 pm PDT/8 pm EST) is an intermediate/advanced group for physicians in independent practice who have graduated from the Live Your Dream course. We've been meeting weekly for 5+ years and welcome those who want to learn how to launch ideal coaching practices or clinics (telemedicine or brick-and-mortar) and effectively use messaging, marketing, and media to fill their practices with ideal patients—so they can practice medicine autonomously with joy!
All groups are curated, confidential, facilitated by Dr. Wible, and last up to 90 minutes (generally on Zoom). Open to all physicians at $97/month, a nominal fee to subsidize support groups and free physician suicide helpline. Other health professionals (NPs, PAs) may join us as space is available. To join, please contact Dr. Wible.