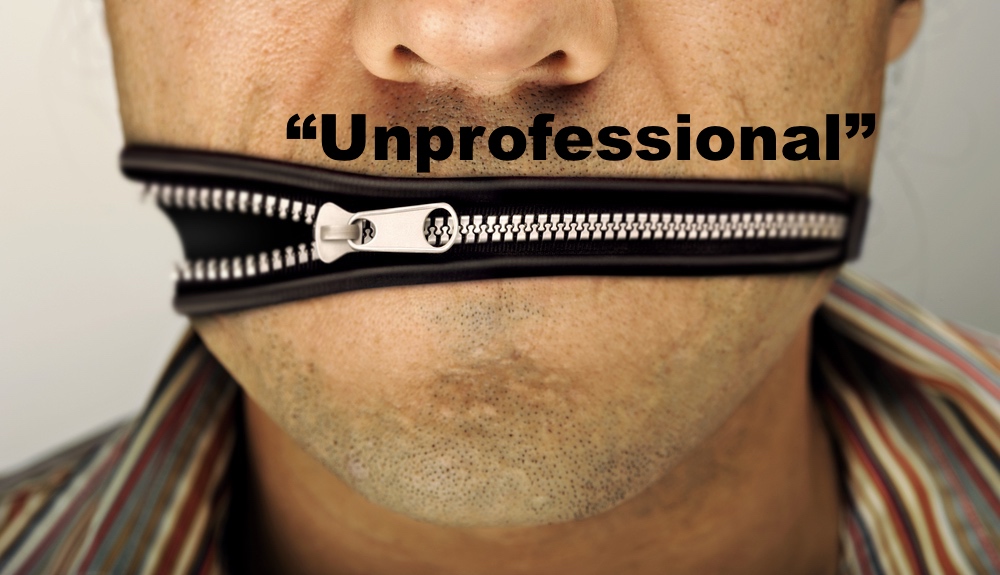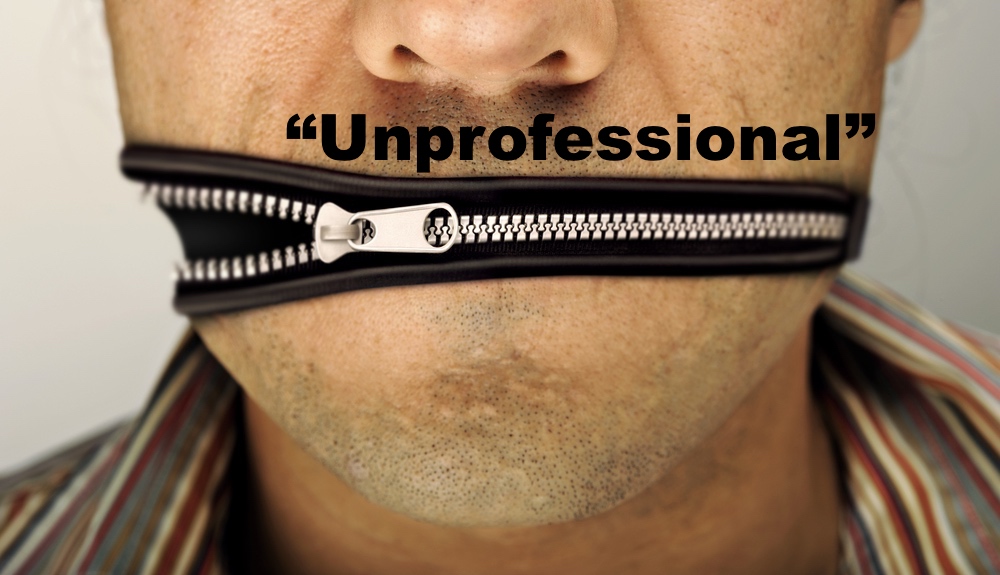 Pamela Wible: I just got this letter I want to discuss with my friend and colleague, Sydney Ashland, who's helping me answer all the letters I receive from medical students and doctors needing help.
So Jamie, an anesthesiologist, writes:
"Today I came across a blog post you wrote entitled, 'Words that Blame Doctors.' I saw this comment (see screenshot) about the use of the word, 'Unprofessional.' I too have been shamed for actions considered to be unprofessional and threatened with probation, which never happened, but you get the idea. Could you send me the advice you sent out in the email reply to this commenter?"
Pamela Wible: Sydney, what's your gut reaction to this letter?
Sydney Ashland: We often pathologize each other in medicine, because we are focused on diagnosing patients, finding the label for what's wrong with someone. In this highly stressed, unbelievably pressure-filled environment, when we are confronted with the truth or something that makes us pause, something that is unexpected, we have this knee-jerk reaction of pathologizing each other, trying to put a label on the other person, to quickly dismiss it, move on with our stress-filled lives.
Pamela Wible: Here's the actual definition of professionalism—exhibiting a courteous, conscientious or generally businesslike manner in the workplace. And for doctors and med students sometimes that extends to outside the workplace because they want to see what you're doing online and what you're posting on Facebook and all of that. So it is very invasive the way that professionalism is used with health professionals.
Unprofessional would therefore be not exhibiting a courteous, conscientious or general businesslike manner in the workplace. For example unprofessional attire. I think we can all agree you don't want to show up in smelly unlaundered clothes; unprofessional comments or behavior like cursing and screaming. We can agree on that.
Then there's the 'showing disrespect' to anyone, including attendings, patients, and staff. So the problem with disrespect is it's a little bit subjective. Hurting somebody's feelings. That whole 'disrespectful' category of unprofessionalism—that's the gray area where we get into trouble where medical students and doctors get thrown under the bus. Is it not pretty subjective?
Sydney Ashland: It is subjective. Any time we use labels in medicine to hurt each other, dismiss each other, we're at risk of losing our humanity and no longer being healers but perpetuating a toxic system. We need to be careful. One of the responses that people should have when they're accused, in this case, of being delusional is, "Can you give me an example of what you would consider delusional behavior? And what is your definition of delusional?" When you ask the question, the other person then has the responsibility to clarify for you exactly what they're talking about.
Pamela Wible: Yeah. I think a lot of the problem is our lack of precision with terminology and throwing people into these trashcan diagnoses like 'unprofessionalism.' I want to give some obvious examples because there are times when people do have lapses of professionalism such as dishonesty, lying, cheating, plagiarism. I think we can all agree on that. But with disrespectful behavior that has a negative effect on others—there's a gray area.
Sydney Ashland: Would you consider truth-telling disrespectful?
Pamela Wible: Absolutely not though there are more effective ways to truth-tell that will lead ultimately to much more success. People risk feeling blown off when talking to the wrong person at the wrong time.
Sydney Ashland: Sometimes what trips people up is when they feel like, "I am just trying to get to the truth, I'm just trying to ask a question," and they're confused because instead of having that question answered, this label—this projection or pathologizing happens. If you're looking for fairness, if you're looking to be respected then ask yourself the question, "How can I better communicate what I'm trying to in this moment, so that I can have a sense of fairness?"
Pamela Wible: Here are some examples of unprofessionalism' that medical institutions claim negatively impact others. The one that always disturbs me is the phone call that I had one day from a resident at a hospital who was written up for unprofessionalism because she actually cried in response to a difficult case. She was calling me to ask if I had any scientific literature to support her right to cry, or that it was okay to cry. Is that not strange?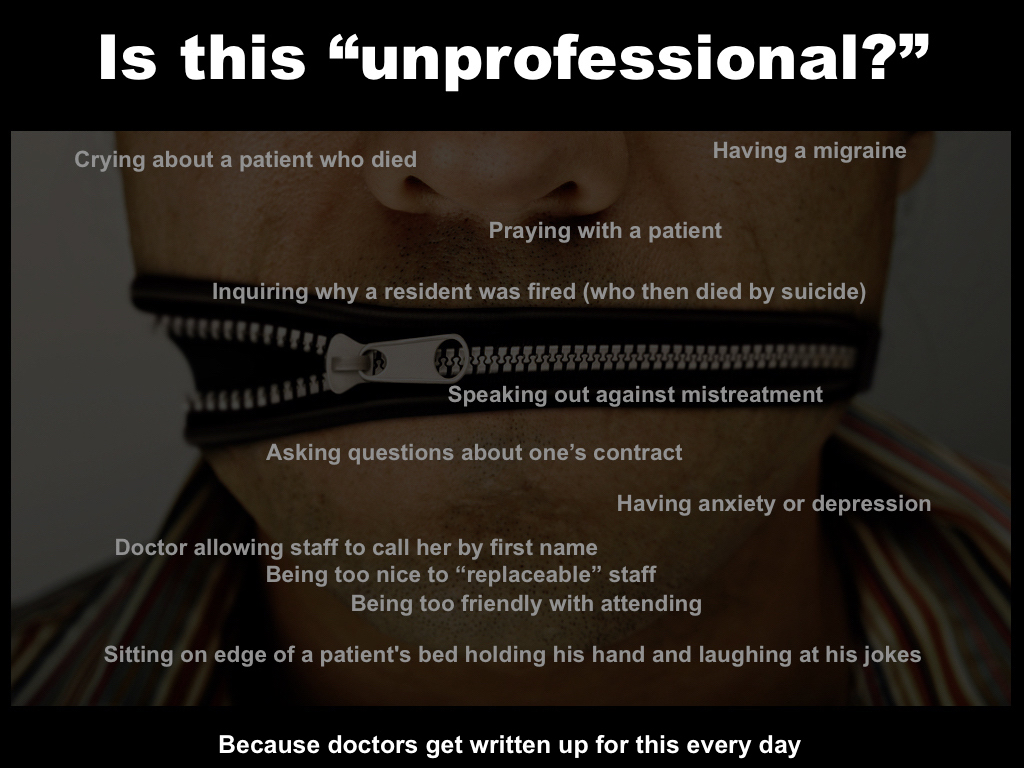 Sydney Ashland: I think we're very uncomfortable with strong emotions in the sterile environment like hospital or clinical settings. We want to feel like we can just intellectually process whatever is at hand and we really don't need to access those deep feelings because those deep feelings scare us.
Pamela Wible: Another example is from Physician Suicide Letters—Answered. A med student with migraines wrote me, "I was dismissed from medical school in the beginning of my fourth year because I had a medical condition that didn't help the school's technical standards. I suffered abuse my entire third year from residents and physicians telling me that I wasn't fit to be in medicine, that if I knew what was good for me I would just drop out. My school told me that being sick was akin to being unprofessional, and that I should give up my dreams of wanting to become a physician."
Sydney Ashland: And it's so ironic that this is happening in an environment where the whole industry is focused on health.
Pamela Wible: Another one. Extremely disturbing. A third-year peds resident died by suicide, actually shot himself after being fired by a residency problem, just a few months before graduation. This guy was an excellent doctor, didn't do anything to harm a patient. yet when his co-resident questioned what happened she was sent to the program director and written up as unprofessional and threatened to be sent to a psychiatrist for asking about her colleague's death.
Sydney Ashland: Wow. That's unbelievable.
Pamela Wible: Punishing doctors in training for having normal emotions, for having physical ailments, for not controlling their physiologic response to sadness. How is an illness a lack of professionalism? The last case is just direct censorship when asking about a colleague's termination leading to suicide.
Sydney Ashland: I think that sometimes those in authority have a hard time filtering what is appropriate and inappropriate. Some of what impedes this relationship between the superior and the resident or medical student is that the person in authority isn't sure how far they should take things. They weren't treated with dignity and respect and they feel like they're treating their medical students and residents so much better than they were treated. There's an inability to really trust that people can filter their emotions, that they can express their emotion and ask for a time out or a little space, that they can have a chronic health condition and still be professional and show up for work and carry their own weight. So I think that's part of the problem.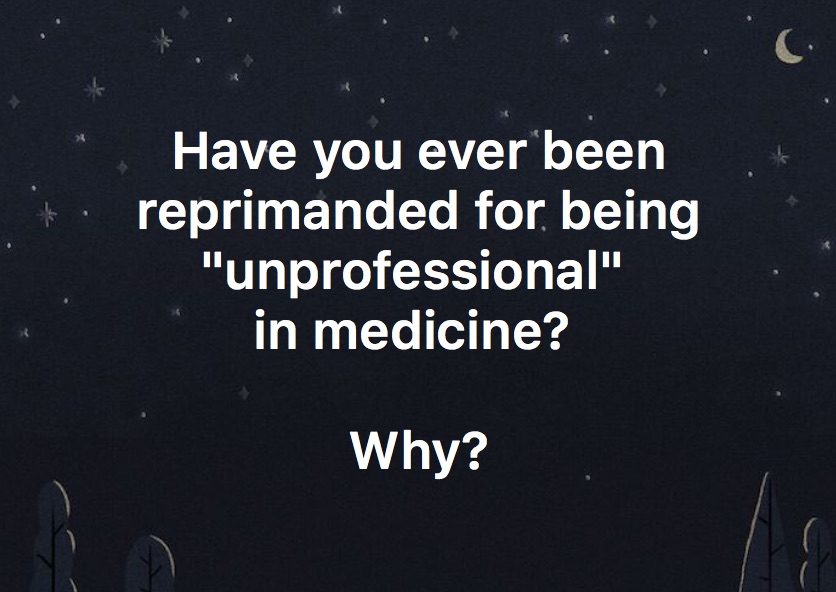 Pamela Wible: I posted on Facebook last night, "Have you ever been reprimanded for being unprofessional in medicine and why?" Lots of responses which I categorized into three areas. One is forced hierarchy and professional distance, another is human rights abuse and censorship and the third is natural physiologic responses. One woman writes, "I got written up for sitting on the edge of a patient's bed holding his hand and laughing at his jokes. I was told I was being inappropriate."
Sydney Ashland: That's breaking professional distance. When the person was really just being compassionate.
Pamela Wible: "I prayed with a patient." When the patient initiates and is going to be feeling more hope and help by attaching to a doctor and praying with them, what is the problem?
Sydney Ashland: There's no problem. That's a patient being vulnerable. It doesn't even have to coincide with your own religious or spiritual beliefs. You're there for the patient and you're supporting that patient and what they need.
Pamela Wible: Again, it's breaking through professional distance which I call professional closeness. Let's get with modern times and connect with each other without fear. Another one. "I was told that I was too friendly and that it was unprofessional because I tried to make small talk with my surgery attending as a medical student, was humiliated in the hospital hallway and told I was not going to be successful because of this."
Sydney Ashland: Wow. Reminded to stay in your place, and that's the forced hierarchy.
Pamela Wible: "Yes, in medical school, for suggesting I should keep my promise to help at a flu shot clinic for the homeless instead of attending a floof lecture by a big name they had visiting, which was made mandatory with only a few days notice because they wanted impressive turnout. When I told them I wouldn't go because of the prior patient care commitment, I was told I was unprofessional and would be written up in my file for it if I didn't go to this lecture."
Sydney Ashland: Ugh. You know. And the problem with that is then you force someone to come to a lecture like that, and you really fuel resentment and a lack of engagement in whatever's going on at the lecture.
Pamela Wible: And, "For being too nice to staff who they considered below me, basically admin didn't want docs to have good working relationships with those they considered easily replaceable."
Sydney Ashland: It's really sad to keep people in their bubbles, in their boxes, so that there isn't a sharing of information, a sharing of support for each other, and then people feel isolated and in that isolation, trouble begins.
Pamela Wible: The last one on forced hierarchy is, "Being my first year of practice in Colorado for allowing my staff to call me Karen."
Sydney Ashland: Some areas of the United States we're definitely breaking down those barriers where we are more comfortable identifying by our first name, but there are still areas where they're really resistant.
Pamela Wible: We're going through a culture change. We are breaking down barriers. People are having more direct relationships. It's actually okay to break down hierarchy and have more of a partnership with your patients, not be a dictator, have more of a partnership with your professors, and I think that is the modern way that we should be relating to each other. The danger in continuing to be in our own little cubicles is that divide and conquer is at play. We remain alienated. It's easier for power structures to take advantage of us and control us.
Sydney Ashland: And more mistakes are made in that model because people aren't talking to each other. People are afraid of each other. People resent each other. So, you know, it's so much more effective to have a wonderful working relationship with the unit secretary, to be able to talk to the lab tech in a way that is respectful and human, and then you will have people who will leave no stone unturned in helping you find that elusive diagnosis or get that stat test done in the midst of a really busy crunch.

Pamela Wible: So two examples under the next category—human rights and censorship. The first one. "Six months ago, I sent an email labeled 'feedback' to my manager at my part-time job. I work at a medical school part time as a community mentor. I explained that the contract didn't account for the hours spent working. This apparently was unprofessional." And I think a lot of times when students and residents are forced to work excessive hours and correctly identify the hours worked they are thrown under the bus with the term 'unprofessional' and punished for work-hour violations. Another one:
"During my internal medicine residency continuity clinic I had a patient turn around, block me in by putting his arms around my waist, and kiss me on the lips in the exam room. Understandably alarmed, I immediately went to my attending and told him. I made it clear that I did not feel comfortable reentering the room alone. He told me that I needed to work on my professionalism and boundaries. After that, I always grabbed a male medical student to shadow me when I saw a patient."
Sydney Ashland: It's so discouraging to hear these stories. I can't believe that the liability of lying on your time card is more important than actually having your physical space and your body be intruded upon and invaded by someone. That's where the disconnect between what is truly unprofessional behavior, which was the behavior of the attending or the supervisor who didn't help the student who had been treated like that with the kiss and the unwanted physical contact, I mean, that's the unprofessional behavior.
Pamela Wible: And why should you be written up as unprofessional for involuntary natural physiologic responses? Three examples:
"I nearly vomited while holding a cup for a patient to expectorate into when I was a med student. I was told this was unprofessional."
"When one of my pediatric oncology patients died, I openly cried on the ward. Written up, unprofessional."
"I cried when a baby died. Again, they didn't use the word unprofessional, but it was heavily insinuated. I wasn't sobbing, but just a couple of tears sneaked out."
Sydney Ashland: I hear these types of stories all the time, and natural physiological response can include fainting in the ED when witnessing terrible pain and you're putting in a chest tube and it gets really trauma-filled experience, and somebody faints, or somebody throws up. And instead of us just dealing with each other with compassion, like they do in the war zone when a soldier throws up or a soldier faints, his buddies or her buddies help restore her to her feet and life goes on, and that's what we need to do in these really stress-filled environments.
Pamela Wible: My purpose for discussing this unprofessionalism topic is not to demonize anyone. I don't want to create more obstacles. I want people to feel comfortable to really develop sincere relationships with their attendings and the staff and patients. Let's be in an honest, caring environment. Stop with counterproductive labels.
Coastal Physician Retreats—Every Month!

There are, however, legitimate lapses in professionalism, and this was something that was shared on Facebook by an attending.
"I've seen students Snapchat sensitive pictures that are on the screen in lectures and then also ask to go home around 2 PM on a seven-to-seven internal medicine inpatient shift to feed their parents' cats, and the list really goes on. Being compassionate is not unprofessional, but the term is still appropriate to use in certain circumstances in medicine. In my experience students are coddled too much these days and get away with almost everything. I think the pendulum has swung from malignant to apathetic. Just my two cents."
What would you say to this attending?
Sydney Ashland: This seems like very isolated incidents because that is not my experience when working with people. I think certainly there are the times where there's some black humor if you're working in a hospice or you're working in a morgue and there's a certain level of survival, coping strategies that can kick in. It's a fine line between that and truly unprofessional behavior.
Most of the people that I talk to are afraid to go to the bathroom. They're afraid to call in sick when they have fevers and horrible viruses. They don't want to pass it onto their patients, but they know that if they don't come in they will be told that they're not a team player. So I really do not experience these people as being coddled or apathetic. Actually just the opposite.
Pamela Wible: Two more comments from Facebook. From a doctor in training, "Professionalism is the weapon of a malignant regime in a residency." And from a medical student, "Our school uses 'unprofessional' practically anytime anyone speaks up against something the school is doing. Honestly the word has lost any significance for me at this point."
In summary, the truth really is in the details. We need to be very specific about why something is unprofessional. You need to ask, "What specifically did I do that was unprofessional?"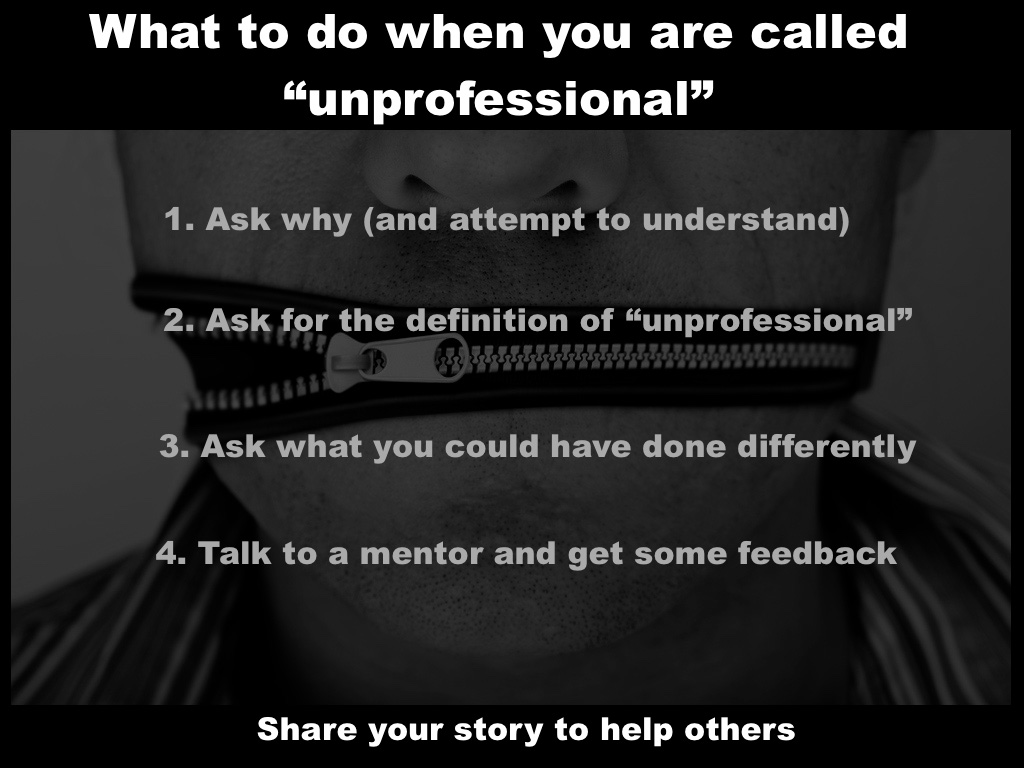 Sydney Ashland: There are cases, just as you said, where there are unprofessional behaviors, with someone who may just lack the filter that they need to understand the difference, or who are so overworked and under rested that they aren't able to really discern what's appropriate or inappropriate. But the more specific you can get, the more questions you can ask about what is perceived as the inappropriate behavior, and what you could have done differently, that's key, because if you know what you could do differently. And if there's no response that probably means it was a manipulation or a bullying technique. But if there is a specific response, then rather than be defensive, take it to heart, go talk to a friend, to a mentor, and get some feedback.
Pamela Wible: There's just immense pressure to conform and accept the current culture of medicine and medical training, but my message to anyone out there who is in medicine (especially if you're new to the field) is that medical culture needs to change. We actually need more disruptive medical students and physicians who are not afraid to ask, "Why?" Think independently. Ask questions.
This is supposed to be a learning environment where we all work together for the good of the patient and we all become healers, and more well-adjusted, not tormented by our training.


So I'm very curious what you think. Contact me or Sydney. I'll give Sydney a chance to share how you can reach her.
Sydney Ashland: My website is SydneyAshland.com. I have very flexible hours and segmented periods of time that I'm available, with 15 minutes, 30 minutes, an hour, whatever people need. And I'm very reasonably priced so even a medical student can afford $30 for 15 minutes to get sage advice and a mini action plan.
Pamela Wible: Sydney, I'm just curious if you could share with everyone what sort of categories of things that you handle on these calls?
Sydney Ashland: I deal a lot with people who are wanting to exit their current job situation and begin to create an independent practice for themselves. I work with students who are struggling with passing various step tests or who are having a hard time with an attending or within their school system. I work with residents in helping them to be a team player and also set healthy boundaries for themselves, and communicate in a way that isn't offensive or doesn't create defensiveness. I help people with PTSD, anxiety, because even if you've gone to a really great medical school, some of what you see in a hospital setting, some of what you are asked to do can be quite traumatic. So I help people to move beyond that, quickly integrate the experience, so that they don't spend years with a sleep disorder or with some dissociative issue.
Pamela Wible: I do want to be there for all the people reaching out to me. I answer every single email. I really do appreciate the time that you've taken to help those with emotional issues so that I can focus on the higher-level business strategy which is my true gift for the world.
Join our next physician teleseminar * Monthly coastal retreats * Spring/fall hot springs retreats