Dr. Kat Lopez: "Today I'd like to share with you some words used by the medical-industrial complex to blame doctors for the problems—including human rights abuses—that they are perpetrating upon these poor enslaved employees.
These words include burnout—blaming the victim who is enduring human rights abuse on a daily basis. RVUs. Work-life balance impossible to achieve. Benchmarks. Metrics. Inefficiencies. Efficiencies. Unprofessionalism. FTEs.
The word resilience is a frequently used word to blame doctors who are truly among the most resilient human beings on the planet and need no further training in how to be resilient; they simply need to be treated with respect and valued for the incredible value they have to society. Disruptive physicians who stand up and say no. Availability. Patient satisfaction surveys for 5-15 minute visits.
The concept of residents committing violation of their work hours for meeting the requirements of their residency programs. Patient contact hours which basically means working for free to complete the paperwork etcetera administrative work related to caring for the patients. Quality improvement metrics. Quality assurance. Maintenance of Certification—huge financial racket for unclear benefit in terms of patient care. Population health and its metrics. As well as our favorite, meaningful use.
Now the end result of these words that blame disempowered doctors for the abuses committed by the medical-industrial complex assembly-line medicine and corporate medicine itself is that unfortunately it creates disempowerment, hopelessness, feelings of being stuck, anxiety, and depression that at the end of the day, the year, the residency, the ten years—results in physician suicide.
Here we have an altar composed of our fallen brothers and sisters, beautiful photos of them and their families in their primes, as well as elegies to their love and their incredible patient care over the years of their careers."
Pamela Wible: "This is psychological warfare on really amazing physicians by a system that perpetuates human rights violations on some of the most beautiful people in the world. What do y'all think about that?"
Doctors: "Yes"
Pamela Wible: "Is there anything else you want to add Kat or anyone? I think this speaks for itself."
Kat Lopez: "I think this speaks for itself."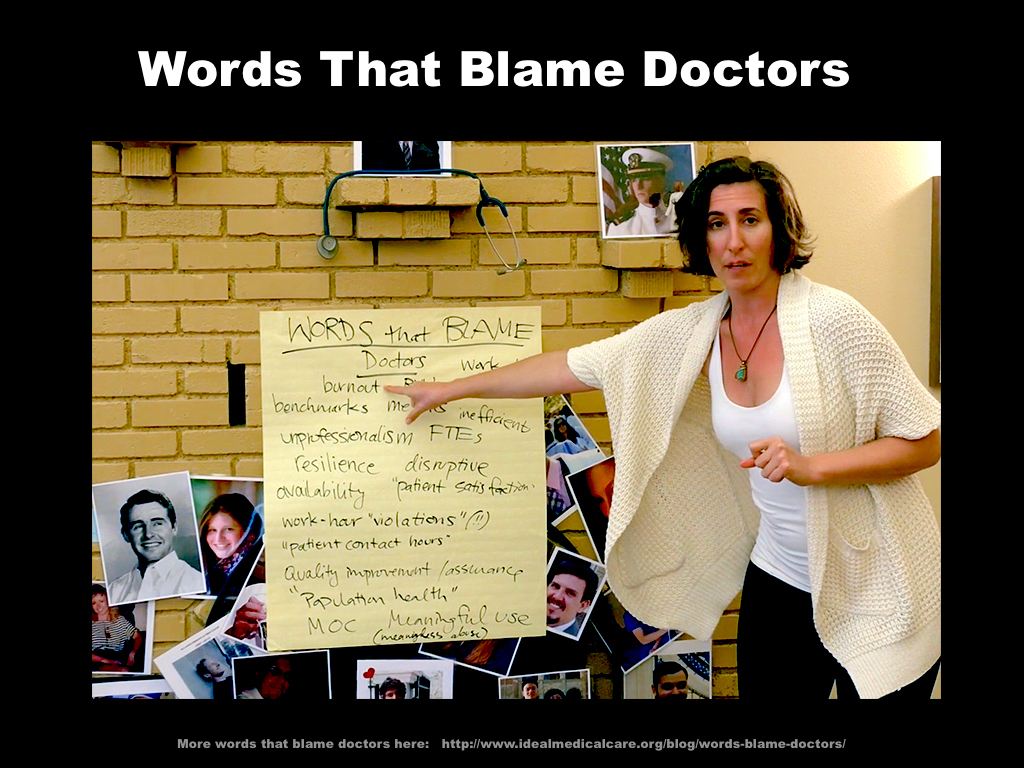 Can you think of any others? Please submit additional words that blame doctors in comment section below.
Pamela Wible, M.D., is the author of Physician Suicide Letters—Answered. Need help? Contact Dr. Wible. Photography & video by GeVe at our fall physician retreat.