Alexandra Friedman has been awarded $10,000 as the recipient of the 2017 Judith Wible, M.D., Scholarship for Visionary Women in Medicine. She is a first-year medical student at Touro Osteopathic Medical School in New York.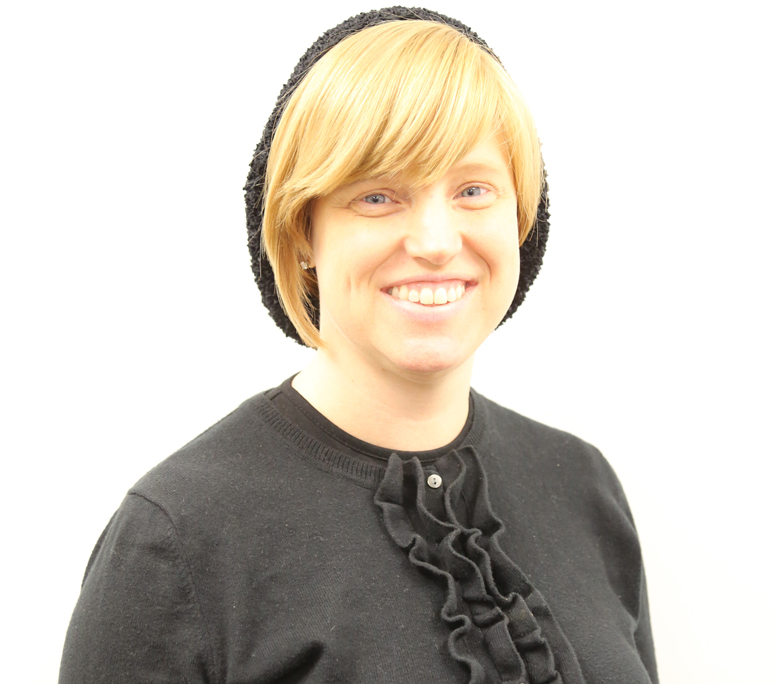 In her own words . . .
Describe yourself in three sentences: I had the relatively "normal" childhood of a girl from Kansas during the first 22 years of my life and then entered the MD/PhD program at University of Kansas. I did well in school, but due to health reasons I had to stop my studies. After a personal and spiritual journey, I am now married as a Chassidic Jew with a blended family of seven kids (five that I gave birth to, including four home births) and I am back in medical school 13 years later as a first-year student following a calling and a dream that did not go away, even though I tried to push it out of my mind.
Why do you want to become a physician? I have felt since I was a young child that being a physician was one of my life's missions. Although it is not the easiest or most lucrative path, I have never been able to separate myself from the identity of being a physician, so I feel I am meant to practice medicine.
Describe your ideal practice: I'd like to have an integrative family medicine clinic, working alongside therapists, life coaches, acupuncturists, and other health professionals, all in the same building. We would refer to one another and have team meetings to optimize care for our patients. I'd help women feel empowered to experience natural childbirth (at home or in the hospital). I will offer culturally-sensitive programs for victims of sexual abuse and promote the benefits of integrative medicine (including osteopathic techniques) for trauma healing. 
Excerpt from Alexandra's essay: You may be wondering what a Chassidic Jewish woman is doing applying for a visionary woman in medicine scholarship. The stereotype of my culture is not exactly one in which women will be visionaries in medicine. As a girl from a partly Jewish family growing up, I had the same cultural stereotypes. However, with deep soul searching after my health issues, I found the Chassidic life makes sense to me. I've been a feminist since age 12 and the Chassidic lifestyle, when done properly, is one of the most woman-honoring societies to be a part of, and so that is why I am living this way. 
List the top three reasons why you need this scholarship: (1) I'm interested in being the best physician I can be and I'd like to hear Dr. Wible's thoughts on how to do that. (2) Med school is never easy, and for a non-traditional student with children it can be even more difficult, so I'd like inspiration from like-minded people which I would get by participating. (3) I have a family of nine and we are living on student loans meant for a single person plus my husband's minimum-wage 36-hour/week night job, so I cannot afford to pay for med school on my own.

Wow. I'm blown away that anyone can feed nine people on student loans, follow an ultra-orthodox lifestyle, and excel in med school—so effortlessly!
When I notified Alexandra that she was a finalist, she wasted no time organizing her schedule, family responsibilities, and limited finances to fly out to Oregon and attend our medical student retreat on full scholarship.  She even brought her own kosher food. I've never been good at meal planning so I was especially impressed. (I could barely remember to put fresh water in my dog's bowl during med school.) 
Besides cooking, cleaning, and coordinating clothing so her boys and girls are perfectly matched every day by gender (a Chassidic tradition), this relatively normal girl from Kansas also founded a Loving-Kindness Renewal Center (a kosher health retreat in Arizona) where she helped women from all over the country through a kosher cleansing diet. She worked as a research intern at the Center for Integrative Medicine analyzing the effect of environment on antepartum, birthing, and postpartum women. When she was in med school (the first time) she launched a free clinic for the uninsured in Kansas City, was president of the American Medical Student Association (KUMC chapter and is now president of Touro chapter), founded Doctors' Notes (a singing group), helped organize the first annual anatomy memorial service to thank families of those who donated bodies to the anatomy lab, and the list goes on . . . all while raising a family, struggling with her own health issues, and ranking at the top of her class at a highly competitive MD/PhD program (and 13 years later she's still got all As with a 4.0 GPA and ranks #1 in her med school class). I have proof!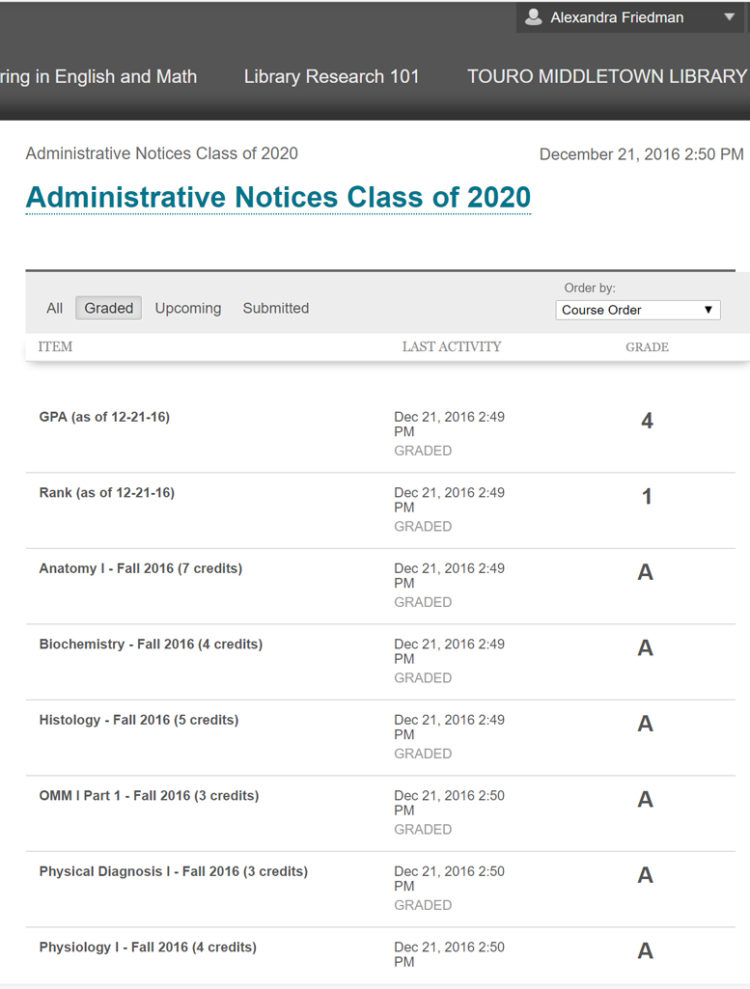 Then, in August 2016 (just a month into her first year at her second medical school) she organized a solidarity vigil for medical student and physician suicide awareness. Alexandra invited me to speak at this event and since I was already leading a vigil in DC, I took a train up to New York to talk with her classmates.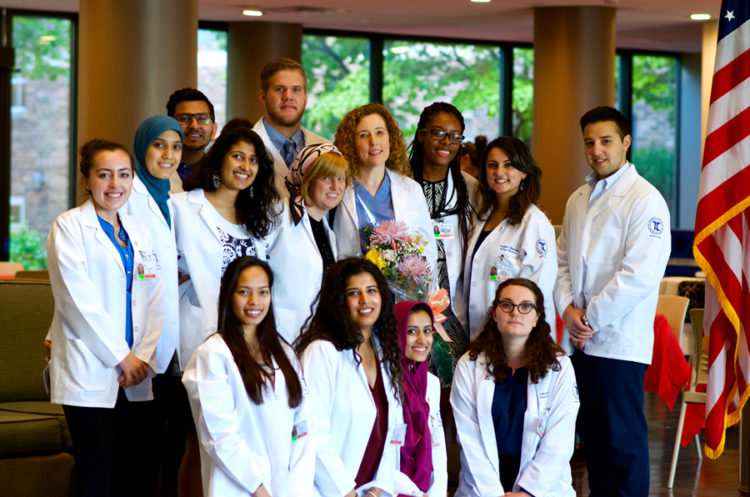 I met her husband and her youngest child when they picked me up from the train station. That's when I learned that not all men in her community approve of Alexandra's chosen profession. Some believe that her desire to be a doctor is how she is "running away from her true responsibility as a wife and mother." A few actually call her "lazy." Quite the contrary. What we have here is a woman who has mastered the art of work-life balance as a devoted wife, mother, and future physician:
"I don't study on Shabbos so that I can take 24 hours each week to focus on my spiritual well-being and connect with my family. Also I pray/meditate daily, I regularly read books, especially personal development and spiritual books, I eat vegan during the week, and always sugar-free to take care of my physical health. I eat dinner with my family every night and generally don't study in the evenings in order to spend time with my family."
Alexandra speaks only Yiddish at home (her children won't learn English until third grade). Here's an obstacle most medical students never face: Alexandra had to get special permission from her rabbi to use the Internet and drive a car. Smart phones also require approval; however, she uses an old flip phone which is considered kosher. She upholds ancient biblical teachings in modern day society while earning straight As in med school and leading a ton of extracurricular organizations. I wonder what she'll do when she gets her diploma.
After speaking at her school, I got a ride to the airport with Alexandra. At that time, I was able to flesh out the details of her ideal clinic (including outlining the financial model that would support her growing family). I have no doubt that she'll be successful in her one-of-a-kind integrative clinic serving the Chassidic community. In fact, she may be the first Chassidic female physician in the country. Maybe the world. 
Please join me in congratulating Alexandra Friedman—our 2017 Visionary Woman in Medicine.
Check out the cool thank you card from her kids!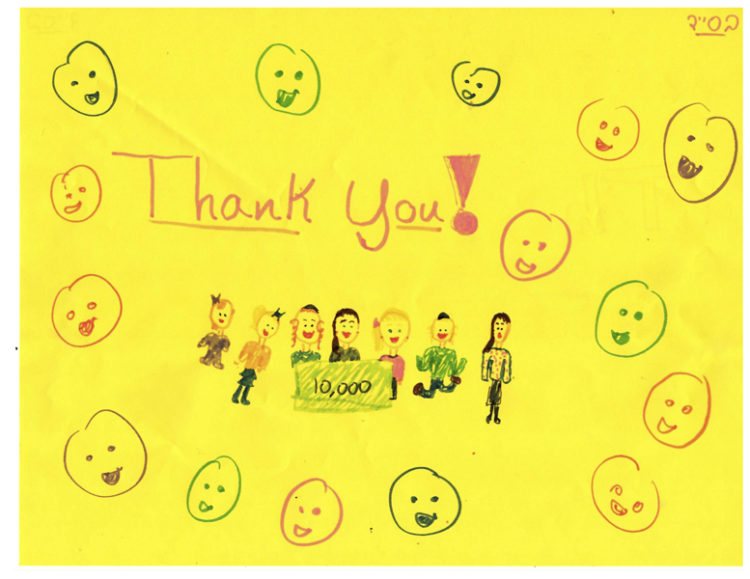 Applications now being accepted for 2018. If you are a woman in medical school with a vision, please contact Dr. Wible for a scholarship application. Images courtesy Elnaz Mahbub, Alexandra Friedman and her children.