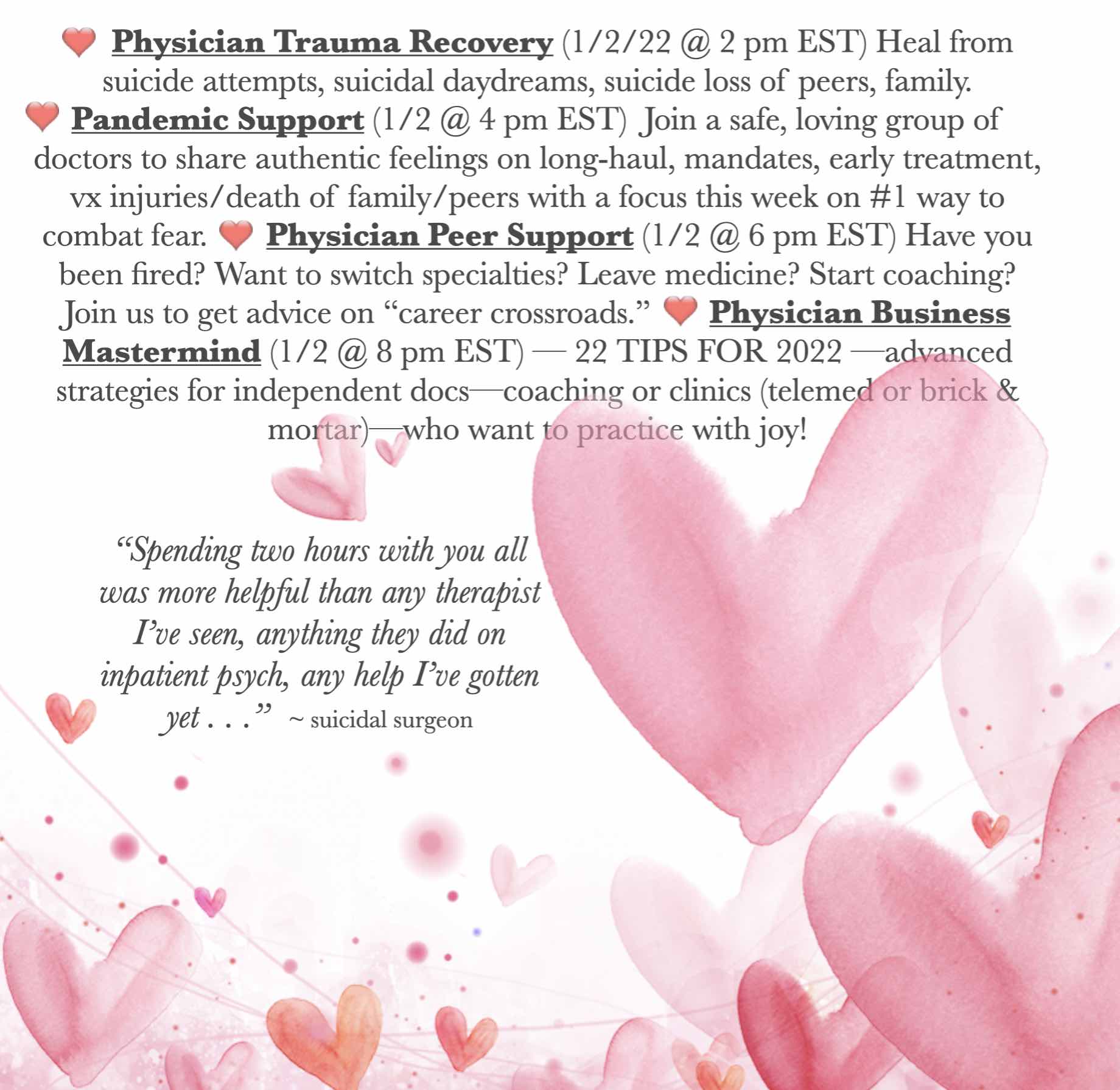 Sunday Support Groups for Physicians
Physician Trauma Recovery (2 pm EST) is dedicated to helping doctors heal from personal & professional trauma such as suicide attempts, childhood abuse, death or suicides, residency abuse, workplace violence, betrayal & more. Our focus on JAN 2 is SUICIDE DAYDREAMS, ATTEMPTS, LOSS & RECOVERY.
Pandemic Support (4 pm EST) is a cohesive, safe, non-judgemental group of doctors meeting weekly for a year to share feelings on long-haul, mandates, early treatment, vx injuries/death of family/peers. JAN 2 is YOUR #1 WAY TO COMBAT FEAR
Physician Peer Support (6 pm EST) is an all-physician group for professional & personal advice and validation on any topic.  JAN 2 is "CAREER CROSSROADS."
Physician Business Mastermind (8 pm EST) is advanced strategies for docs in independent practice (most are graduates of Live Your Dream 101) We've met weekly for 5+ years. Join us to launch your successful ideal coaching practice/clinic (telemed or brick & mortar) so you can practice medicine autonomously with joy! JAN 2—22 TIPS FOR 2022—(DR. WIBLE'S BIBLE—BEST BUSINESS TIPS from nearly 20 years of teaching > 600 docs to launch ideal clinics & live their dreams!)
All groups confidential & curated by Dr. Wible, up to 90 min. most on Zoom. Open to all at $97/month, a nominal fee to "support our support groups" & free physician suicide helpline. NPs, PAs, med students welcome as space allows. To join us, contact Dr. Wible.