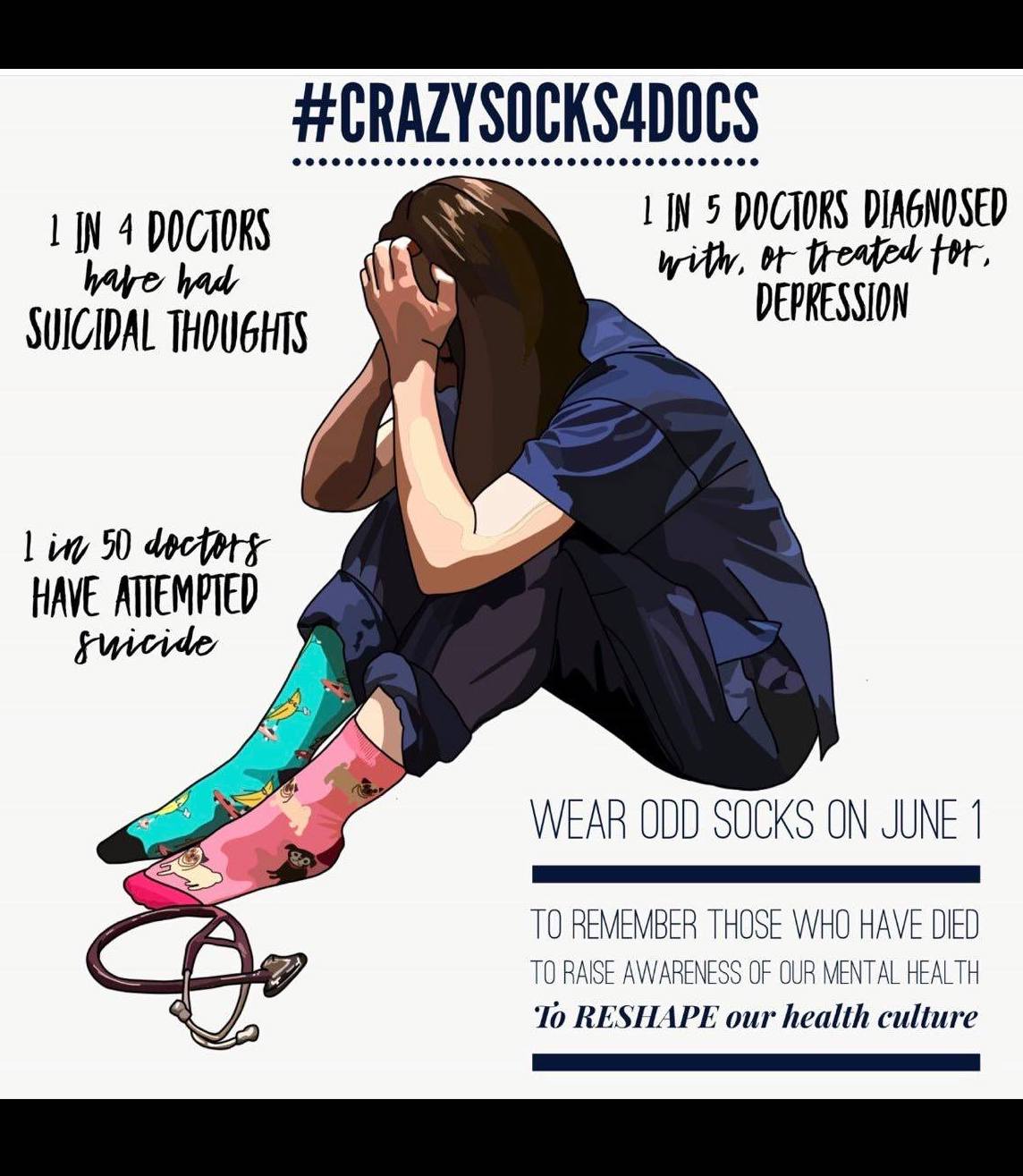 Did you know that June 1st is a day devoted to raising awareness about doctor suicide by wearing "crazy socks" and posting photos on social media with hashtag #CrazySocks4Docs? Though the concept seems strange, the goal is to normalize conversations about doctors' mental health. Please listen to my full podcast analysis here . . .
Funky socks? Such a surreal concept when I've devoted nearly every waking moment during the last 5+ years of my life to preventing these suicides through writing, speaking, film, TV, retreats, petitions—even running a suicide hotline out of my home. I've been on the phone with families in the immediate aftermath of losing their children to suicide in med school. I've flown newly widowed women to Oregon for private retreats to help them heal after losing their physician husbands to suicide. I've lost nine doctors in my small town to suicide. I was lucky to have survived myself.
Yet I've been so frustrated by the lack of serious response and even suicide censorship from many media outlets and medical institutions. Why not address the real issues underlying this epidemic? Could wearing mismatched socks actually prevent doctor suicide? It's probably the only thing I haven't tried yet.
After losing 3 doctors to suicide from one building—Mount Sinai sent out a mass email on May 30th asking their staff to "consider wearing odd socks" on June 1 to support "International Physician Mental Awareness Day" along with the image of a resident face palming with pugs on left pink sock and bananas riding skateboards on right turquoise sock.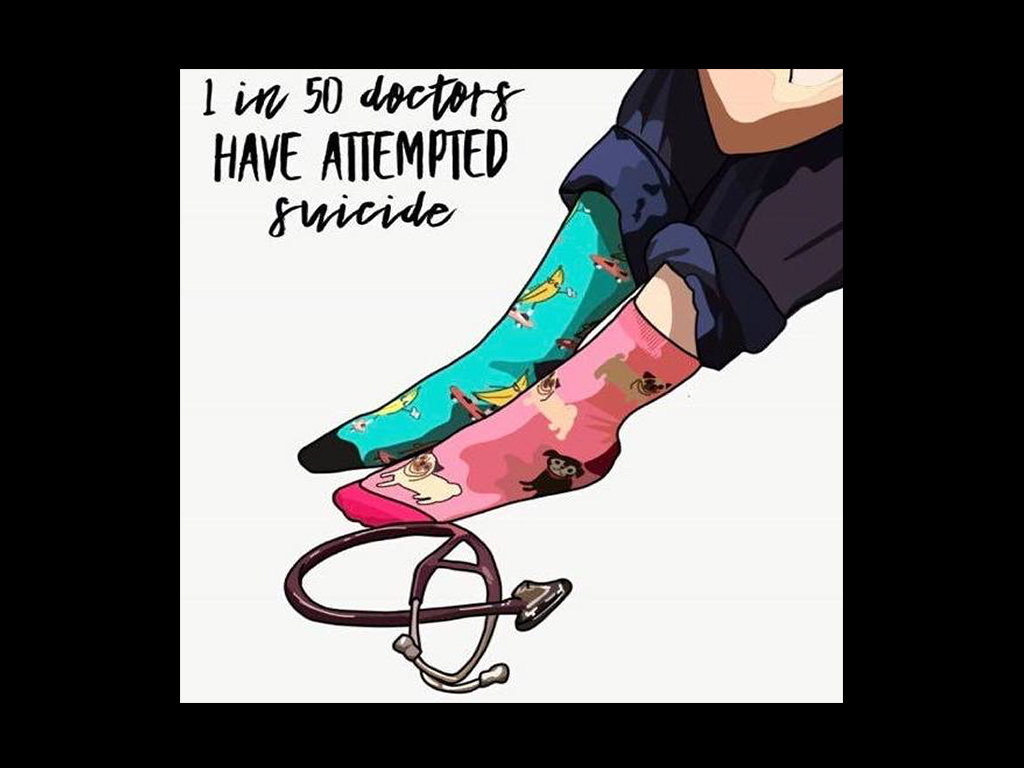 I just led a eulogy and 10-hour memorial service for Deelshad Jooman, the last doctor who stepped off the roof of Mount Sinai earlier this year. When I arrived, Mount Sinai staff told me if any media showed up to the memorial they would be arrested. Residents and staff were told not to share anything about the suicide or they'd be breaching their contract and risk termination. Doctors warned me of deplorable working conditions, of the dead doctors they keep seeing on the sidewalk, and they begged me to investigate and expose unsafe working conditions at NYC hospitals.
In the midst of rampant human rights violations in our hospitals, here are my top 10 thoughts on #CrazySocks4Docs and how you might celebrate:
1) #CrazySocks4Docs campaign was created by Geoffrey Toogood, a Melbourne cardiologist who wants to bring awareness to doctor suicide. I've been told his sock initiative may have actually saved doctors' lives in Australia. For that I am grateful.
2) "Crazy" isn't the best word to destigmatize a mental health day as discussed on this lively Reddit thread—My institution's innovative approach to physician suicide.
3) The antidote to censorship and secrecy IS awareness. Media, medical institutions, even families have shielded these suicides in secrecy for too long. Increasing public awareness and decreasing professional denial is a prerequisite for widespread culture change. We can't solve a problem that nobody knows exists. Hiding and minimizing or making a silly gimmick out of suicide is inappropriate and counterproductive. Socks are not highly visible and neither are doctor suicides. Socks hidden under slacks and shoes are not a great awareness strategy unless you roll up your pants up to your knees (see #10 for 3 things to do when you're asked about your silly socks).
4) Doctors are acutely aware of our suicide crisis. Most have lost a colleague to suicide. I just got a letter from an anesthesiologist who lost seven colleagues to suicide. Doctors report crime scene tape and doctors' bodies covered with tarps and sheets outside their hospitals and other physicians (often anesthesiologists) dead by overdose inside their hospitals.
5) High doctor suicide rates have been reported for decades. I've spoken to thousands of suicidal and distressed physicians over the last 5+ years through my suicide hotline and have a clear sense of what leads to doctor suicides. View Do No Harm film trailer to learn why our doctors are dying.
6) Physician suicide is a public health crisis. One million Americans lose their doctors to suicide each year. At Loma Linda Hospital 3 doctors died by suicide within 6 months. At Mount Sinai, 3 jumped from one building in less than 2 years. Just last month, 2 died at NYU within 5 days. Here's what I've learned from 757 (now 953) doctor suicides. Public health crises like Ebola require rapid response and intervention with daily body counts—real action not just awareness campaigns.
7) Medical institutions have been slow to respond. While individual initiatives involving colorful socks or ribbons may create conversation, medical institutions are tasked with saving lives via definitive action. Mandating wellness and mismatched socks or labeling highly intelligent victims with "burnout" fails to address institutional violence and human rights violations rampant in medical training.
8) Serious problems require serious solutions (and responses). While conversations may begin at a very superficial level ("Hey, cool socks doc!"), raising awareness must quickly move to action if we are to save lives today. Hospital administrators and CEOs have a real opportunity on June 1st to move beyond self-protective sound bites and talking points that blame the victims and take some responsibility for the system that sets so many doctors up to fail. Let's move from pugs on pink socks to collaborating on serious real-world suicide solutions.
9) Physician suicide is an occupational hazard that requires an occupational solution to chronic sleep deprivation (28-hour shifts!), bullying and hazing that endanger the lives of doctors—and patients. Physicians require access to non-punitive 100% confidential mental health care and protection by ADA, OSHA, and labor laws—without employer retaliation. Thankfully a legal team is now convening to enact real solutions.
10) Three ways to help prevent doctor suicide on June 1 (whether you choose to wear mismatched socks or not).

#1 – Share your story of the loss of a colleague (or your own mental health struggles).
#2 – Show film trailer of Do No Harm documentary (the film that some institutions don't want you to see).
#3 – Download & share free audiobook of Physician Suicide Letters—Answered.
And if you choose to use hashtag #CrazySocks4Docs please share what specific measures you are personally taking (beyond just displaying your beautiful socks) to combat the doctor suicide crisis.
Thank you for caring about our doctors.