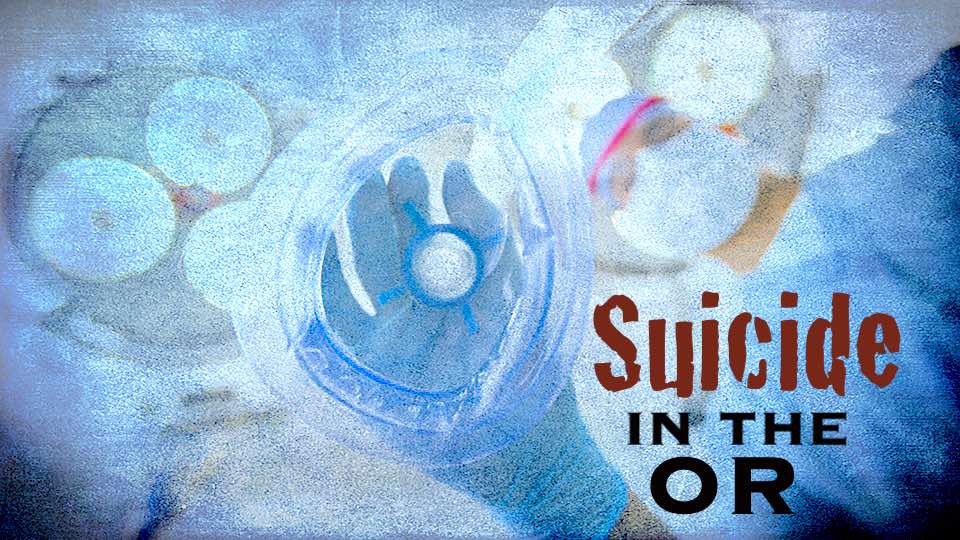 I just received this email:
"I'm a male anesthesiologist. I have been battling suicidal ideation for seven years and eight months. I vividly remember the day I was admitted. A colleague came into my locked office and saw me sitting at the desk with induction meds and an IV. My career was over and nearly my life. I know seven colleagues that have committed suicide, all male anesthesiologists."
I have several male anesthesiologists who have written me over the years about losing up to 8 – 10 colleagues (including CNRAs) to suicide. Mostly male suicide victims. What's unique about men in anesthesiology that puts them at high risk?
1) Anesthesiologists have access to painless lethal medications—that's #1.
2) Men are less likely to ask for help. And physicians—especially proceduralists—are the fix-it guys.
3) Anesthesiologists may develop addictions to handle the stress of their job. Alcohol, Rx diversion, illicit relationships.
4) Anesthesiologists have the highest rate of suicide completion of any specialty. Nearly twice as many as the next highest specialty (surgeons).
5) As compared to family medicine (and more relational specialties), anesthesiologists are less relational and their procedural focus is on medication. Meaning they have a closer relationship with the drugs they dose than the patients they care for.
6) If anesthesiologists are having a bad day, they may dream of switching places with their patients so they can escape.
7) Frustrated by endless bureaucracy, board certification, insurance credentialing, hospital privileges, OR drama, stressed surgeons, anesthesiologists can't just leave large medical institutions and launch cash-based clinics with autonomy.
8) All physicians fear having to answer mental health questions on med board applications, hospital privilege renewals, and to participate with insurance plans. Male docs may be likely to be in therapy due to cultural stigma.
9) Anesthesiologists have high exposure to vicarious trauma with patients who are suffering and sometimes dying during surgery.
10) Male anesthesiologists are less likely to cry and emote than their female peers. Women physicians may call a friend, cry on the phone, go visit a female relative, talk with their girlfriend.
11) Anesthesiologists are underappreciated by patients who are more likely to give thank-you cards and gifts to their surgeons and primary care doctors.
12) Medical education teaches all of us to internalize our stress and then punishes us when we ask for mental health help or have unexpected outbursts.
13) Men are more likely to lose their temper and choose an impulsive reactive way to handle stress (a function of testosterone). Even with a legitimate reason to be angry, they may be punished by hospital admin for any outbursts—then labeled as "unprofessional" or "disruptive" and may then be mandated to Physician Health Programs than can be very punitive.
See: "Unprofessional"—how one word is used to censor, harass, and intimidate doctors.
Recently, on Dr. Oz I was asked to comment on a surgeon who had "strangled a nurse" with an elastic cord and of course, I wasn't there and I don't feel like I could comment on the a case; however, since I was placed on the spot I researched what I could. Here's the situation: a surgeon is alleged to have strangling a nurse with an elastic cord. (NOTE: charges were later dropped as unsubstantiated). The issue as I understood it was related to a nursing medication error and the surgeon "overreacted."  Rather than blame somebody who is overreacting to a life-threatening situation that could injure a patient, I think we must address the system that creates an environment in which people (like anesthesiologists) feel trapped and so unsupported that their frustration leads to outbursts or other maladaptive and self-destructive actions—including intentionally overdosing with intravenous meds. (View 58-second TV clip below).