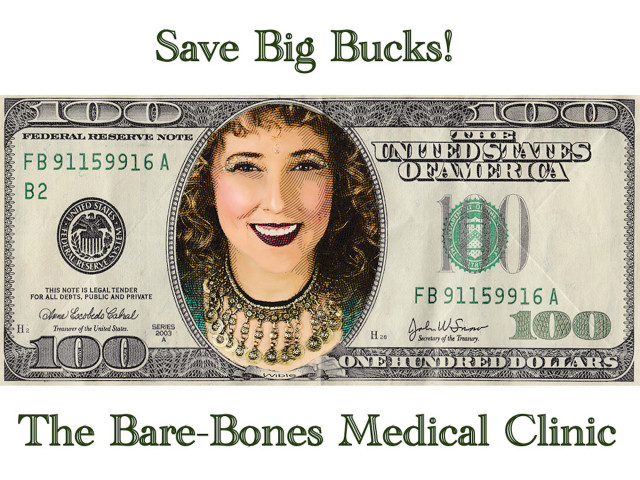 "It may sound silly, but what are the bare-bones requirements to practice medicine? I plan to launch a small, low-overhead, cash-only practice, but I'm having difficulty finding a clinic or physician to model."
No surprise that this doc who called me today is having trouble finding a role model. Most physicians work at high-overhead jobs they hate. Happy docs are in short supply. 
I'm an expert on bare-bones medical practices. In 2005, I wanted to know how low I could go and still operate a real clinic in America. My start up costs for year one? Less than $3000. I actually launched on day one for only $627. Here's how I did it delivered in a Las Vegas keynote. I've learned a lot of savings strategies since 2005. I've helped hundreds of docs launch successful ideal clinics (and one friend actually launched for $85!) So I'm pretty sure you can do better than me. Here are the basics.
Fast Track Your Ideal Clinic (20 hours step-by-step launch kit).
Bare-bones requirements: A state medical license. For cash-only, opt out of Medicare. That's really it. Optional: If you want hospital privileges or to be a "preferred provider" who's in-network with insurance plans, complete credentialing forms and sign contracts. Done. Want to be out-of-network like me? Skip it all and you can still take insurance. Do NOT make this complicated guys!
Bare-bones start-up costs: An office (mine: $280/mo in 2005, now $425/mo in 2015). Utilities and Internet (included in my rent). Cell phone (mine $68/mo). Malpractice is cheap (mine $1230 first year, $1978 now, divided/billed quarterly). Laptop (I owned one, you probably own one too). Furniture (chairs, table, decor from Goodwill for $200). Exam table (free to $1500, I splurged at $795, ignore if you're a psychiatrist). Premises liability insurance (included in most malpractice policies). Supplies (KY, gloves, scalpels, gowns for $300). File for LLC if you want ($50 most states).
Actually to launch on day #1 I only needed $627!
There's tons of FREE stuff for clinic start-up including free medical equipment from retiring docs/ hospital overstock. Seriously, you can get pretty much anything from morgue tables to NICU incubators for free! I created a free EMR on my laptop. You can get free business cards online. I use a free e-billing clearinghouse (officeally.com) to submit claims—and I get paid in a few weeks. Easy! Labs provide free supplies (Pap collection kits, urinalysis containers). Want more free stuff? Just Google "Free ____" and fill in the blank. 
Let's assume you have your medical license and DEA from your last job. You already have a cell phone and a laptop like most Americans. So if you're opening a small, low-overhead, cash-only practice, with no staff or on-site lab tests as a sole proprietor, you can do it bare bones for less than $3,000. Even less than $2000. Want to really go bare? Skip malpractice insurance and take off $1000+ per year. Take another $1000 off if you're a psychiatrist since the only equipment you need is two chairs and your brain.
Congrats! Now invite me to your open house!
Want more cutting-edge business strategies? 
Get a copy of my free No B.S. Guide to Launching Your Ideal Clinic. 
Need help? Schedule a strategy call with Dr. Wible.
Pamela Wible, M.D., is a physician business strategist who founded the Ideal Medical Care Movement. She was awarded the 2015 Women Leader in Medicine for her pioneering work in medical care delivery and medical student/physician suicide prevention. Photo by GeVe.