I've never been a small-talk doc. My therapist calls me "the Dr. Kevorkian of medical taboos." I'm most comfortable discussing the uncomfortable—topics that scare most physicians. In my TED talk, I bust through three taboos: human sexuality, physician-patient intimacy, and doctor suicides.
Taboo #1: Sexuality. Americans are oversexualized and sexually repressed. And that's not healthy. When I'm at ease with human sexuality, patients are free to express their sexuality. I care for polyamorous couples, sex workers—even married virgins. Why would patients disclose such intimate details they've never shared with other doctors? I'm nonjudgmental and accepting, so patients allow me to see who they really are. That's healthy. And fun. Yes, I even offer Pap parties: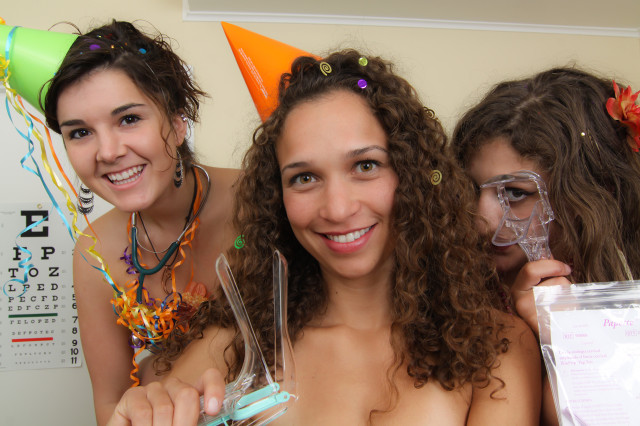 Taboo #2: Intimacy. So why aren't more doctors and patients having fun? Frankly, they're scared. Intimacy means in-to-me-see. When doctors fear patients, patients fear doctors. Fear begets fear. And our fear-driven health-care system is ill equipped to deliver health or care. Maybe that's why our doctors feel so, well . . . unwell.
Taboo #3: Suicide. Doctors are beyond frightened. They're burned out. Many doctors (and medical students) are depressed—and suicidal. The fact is: nearly one million Americans will lose their doctors to suicide this year. When would be a good time to discuss all the doctors and medical students who die by suicide? With more than 100,000 views, my TED talk would suggest the time is now.
In many cultures, those who travel into forbidden territory are ostracized. But sometimes, the public demands—even craves—the truth. My TED talk is more than a truth-telling sermon. When I was invited to deliver a TED talk, I was instructed to change the world in 18 minutes with one, new, big idea. So I introduced the world to America's ideal medical care movement—a grassroots revolution in which citizens are opening ideal clinics where patients and doctors can be comfortable, connected, and happy. The public excitement is palpable. And the media is abuzz.
The Washington Post asked to publish my physician suicide blog in their print newspaper and online with the TED talk embedded. When doctors commit suicide, it's often hushed up was the third most read national news story that day. Due to high readership, The Washington Post asked me to write another article. Huffington Post invited me to contribute Why I Kiss My Patients. The Daily Beast showcased the ideal medical care movement and my TED talk. A Reader's Digest article is coming in November. And Time Magazine just interviewed me for a feature.
The reaction in medical circles is equally inspiring. After reposting my blog, Physician Suicide Letters , the editor responded: "We have never had comments of that magnitude and it is utterly eye-opening for me." I am now the #1 top-trending author on KevinMD and my talk is listed the #1 TED talk that all medical students should watch.
Can a big idea get any bigger? Yes.
The producer of America Tonight discovered my TED talk and sent a crew from DC to film me for two days. An excellent 11-minute program on ideal medical care as the solution to the physician suicide crisis aired on prime time national TV with portions of my TED talk replayed! Though not accessible online, here's a much abbreviated print version of that story.
I thought my idea was just for Americans until I was named New Zealand's Compassion Hero . Then my TED talk was featured in the UK. I've been contacted by citizens from Nigeria to Singapore, Kenya to Iceland. Suicidal physicians, medical students and their family members from all over the world have reached out for help after viewing my talk. Doctors have thanked me saving their lives. Patients have thanked me for helping them develop healing relationships with their doctors.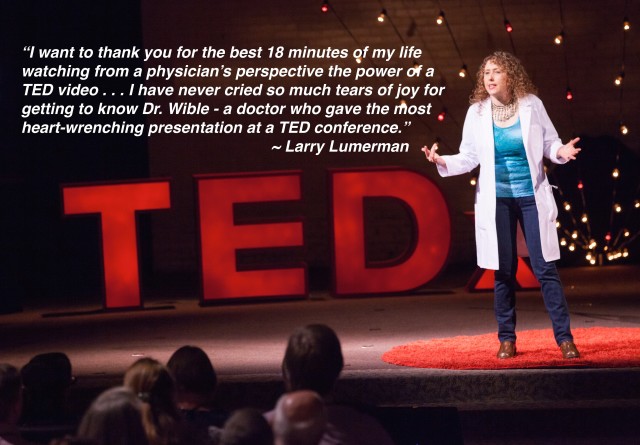 I'm a small-town doc with a big idea. People think I have a PR team. I do not. My TED talk has spread one inspired person at a time. In less than six months since my talk was uploaded, it has gone global. And this proves to me that one TED talk can change the world of medicine.
Pamela Wible, M.D., is a family physician who pioneered the first medical clinic designed by patients. Photos by Wind Home and GeVe.